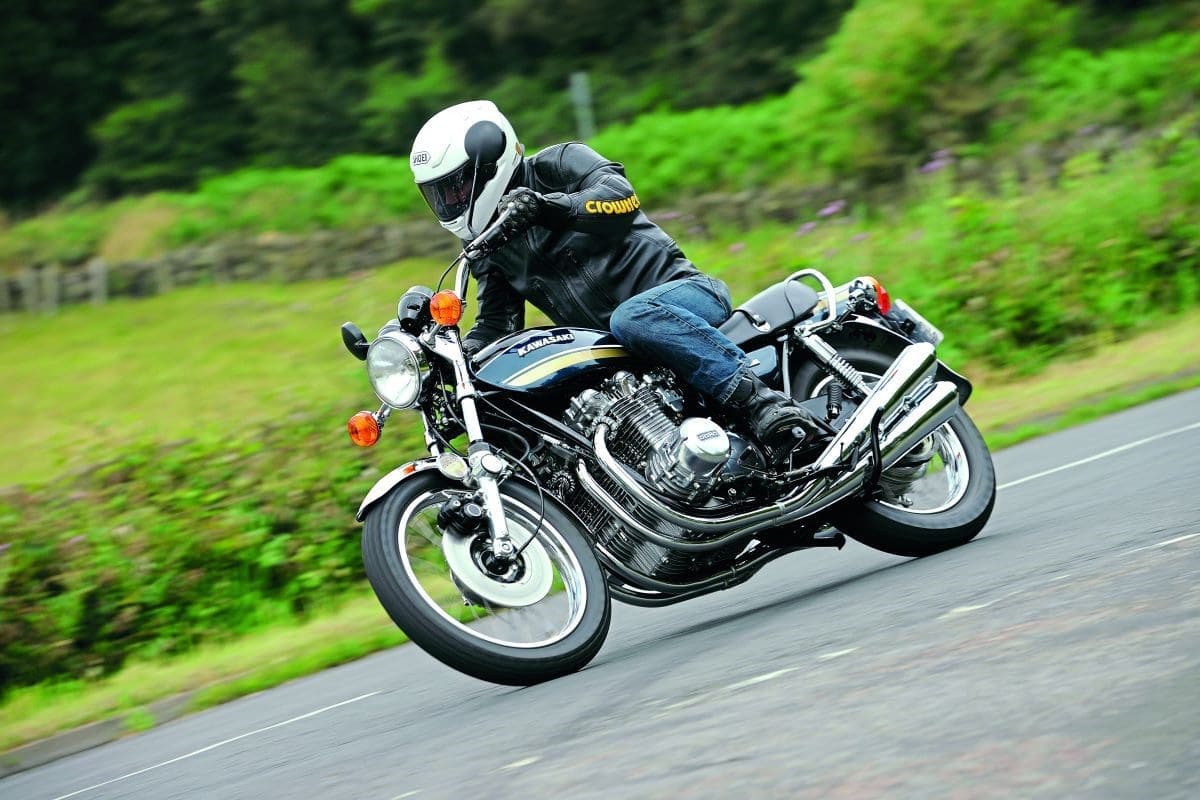 Kawasaki introduced the Z1 50 years ago, in 1972. We have a look at the early story of this, the original Kawasaki superbike
Words by Matt Photos by Kawasaki Japan and Mortons
1972 was not rose-tinted. The Watergate scandal hit President Nixon leading to his resignation, we had constant headlines of car bombs and murders with the Northern Ireland conflict, OPEC got together to push oil prices up, and American troops finally left Vietnam. All in all, we've had better years.
Meanwhile, Kawasaki Motorcycles was trying to build its brand in the USA. Honda had 51% of the market share at that time; it had seen the power of the American sales market and got over there early with its smaller bikes, then the CB450, double-overhead cam twin in 1967. By contrast, in 1972 Kawasaki's share was just 15%.
Kawasaki Heavy Industries had to make money after the war. Motorcycles were just a small part of this huge industrial company, with submarines, shipbuilding and even the Bullet train showing just how diverse its products were. But people didn't know who it was; they needed an identity which would only come from products for people, hence motorcycles. Japan also needed to bring in money, just like all other countries after the war. America was a huge market with potential – a huge potential for sales.
But AKMC (American Kawasaki Motorcycles) wanted 'Zapper' (big) motorcycles. So, in 1967, just one year after the Kawasaki W1 was launched, the engineer in charge of taking the BSA A7 copy that Meguro had licenced (Kawasaki had bought Meguro in the 1960s to help start the motorcycle division) from 500cc to 650cc, Mr Inamura, was given the role of designing an engine – not a motorcycle – that would stand out in the American market. Once the engine was working, then the bosses would look at a bike.
To get an engine running took one year – not bad. Remember the W1 was an air-cooled, pre-unit bike, yet just one year later Inamura had designed a 749cc, double overhead camshaft, unit-construction inline four. Now the frame and design could be looked at – Project N600 (a spurious name that means nothing, just born of corporate paranoia) was born, starting with the frame from the two-stroke, triple-cylinder bikes as a chassis.
N600 was taking shape. There were full-scale models and a mule test bike. But then in 1968 the mother of all sticks was poked through the spokes of Kawasaki's front wheel – Honda released the CB750/4. It destroyed, instantly, the Kawasaki American dream.
The factory was desperately disappointed but had to make some fast decisions. It quickly spoke to American dealers and riders to see if there was room for a rival – and the answer was yes. Japanese principles of that time favoured copying rivals, but management insisted that the new bike would be totally different to the Honda in every way. This new bike would be codenamed T103. Interestingly, they had looked at engines as large as 1200cc and more than 100bhp, but they wanted a reliable motorcycle, so in the end they ended up with 903cc and 82bhp.
The first mule used an H1 500 front end, seat, rear mudguard and other parts. Styling was to come from AKMC-hired design agencies, with early tanks and side panels looking very similar to the later Z1R. But the engine took precedent and the chassis was next, followed by tooling, manufacture solutions and production timing (the Meguro production line needed heavily modifying). Styling was not deemed important.
In fact, right up to production there were changes. Only a few weeks before, the swingarm was extended by 20mm, and badges were constantly argued over. Unusually for the time, the designer, Norimasa Tada, was to oversee the whole bike and not just the bodywork. He was given the job on March 1, 1971 and had to have it completed by March 31!
Both Tada-san and his main test rider, 'Big Eyes', were tall for Japanese; average height for Americans. This may have helped get the proportions right, and the black-painted engine, smooth fuel tank, side panels and tail were all Tada's work, while some elements were outsourced to design agencies. Tada also had to battle for details like the DOHC badge on the engine; Inamura said everyone would know it is a double overhead cam engine, but Tada wanted to shout 'performance' as much as possible.
Once it was finished, Tada had to fly to America to present it to AKMC, which had a reputation for being hard to please. Other than making the tank slimmer – "It looks like an expectant mother" – they were happy and it was go.
Testing began at the Yatabe circuit in Japan, but there was also road and track testing in America. This included 'destruction testing', literally trying to break them. So no one would recognise the bikes, gaffa tape was placed over engine badges and CB750 tanks and badges were used. Only once was the disguise seen through, at a petrol station, when a bike fan announced: "That ain't no Honda." One of the main testers was Paul Smart, who had extensive knowledge of rival machines of a similar size. He brought along his then girlfriend, Maggie, for the coast-to-coast rides through America. Bryon Farnsworth also helped in both Japan and the USA. All test riders had to be engineers too, as throughout the tests the engines would be pulled out of the bike and laid out on a piece of carpet, then stripped to check tolerances and wear.
Paul didn't help this clandestine testing regime when he entered a Californian three-hour endurance race with a Japanese test rider and won! They both made a sharp exit after the chequered flag…
Launching the Z1
In June 1972, Kawasaki invited four key editors of US motorcycle magazines to Japan – and in true Kawasaki tradition, it made them pay their own way to Akashi. They had no idea why until they were on the plane and were given the details of the Z1, so no one could rush the details into print. At the factory, the T103 had become known as the 'New York steak', as it was the largest you could have. The editors were allowed a minimal road test on these first four bikes with a special 'gold' key, before being shown around the factory, when the very bikes they'd ridden were shipped to the USA – for them to buy if they wished. One other was shipped out for the vice president of AKMC. Allegedly, only one of the keys still exists. The public in Europe had to wait until the Cologne Eicma show in September 1972 to see the Z1 in the flesh.
Other ways to get the Z1 into the public eye was at Daytona in '73, when it won no less than 52 motorcycle records, including top speed (160mph on a specially adapted bike) and 24-hour endurance. Production began at 500 units per month based on what was thought would sell, and this accelerated to an enormous 5800 thanks to the American dealers ordering so many.
The Z1 and that decision to build a larger engine than the Honda kept Kawasaki running in a market big H had thought was exclusively its own. Had it not worked, KHI could very well have pulled out of motorcycles altogether. It was popular throughout many markets, so Kawasaki had to develop better distribution, better training, and better parts networks to keep up with demand. By 1977 and the Z1000, the steam was running out for Kawasaki's superbike as rivals caught up. But the Z range would continue and still does to this day. There have since been any number of models in the Z range, from the 250s to the ridiculous Turbo, the GPZs and beyond.
Different models
Kawasaki and Honda went about their superbikes in different ways. The CB750 was a long-stroke, dry sump, 736cc engine running plain bearings and a single cam, while the Kawasaki was a wet sump, shorter stroke 903cc with roller bearings and twin overhead cams.
The Z1 first appeared in the UK in 1973, with a better-than-it-sounds yellow and brown or orange and brown, with the black barrels. Kawasaki claimed 82bhp at 8500rpm, 15bhp more than the Honda, which had not benefitted from any upgrades since being released. It only had one front disc as standard, but thanks to many reasons, price being one and the fuel crisis being another, only 44 were sold in that first year in the UK. But it didn't matter, as the USA was swallowing as many as Kawasakis could float there.
The Z1a came out in 1974 with new colours but no black engine, as the finish had not lasted well. There were also new carbs introduced within the year. The Z1B was introduced within a year, losing the automatic chain oiler thanks to a sealed chain, and the Z900 appeared in 1976, but this had a lot of developments. Bodywork, electrics, clocks, frame and brakes were all improved. However, it had a fraction less power and more weight thanks to smaller carbs and a heavier gauge frame. But this in turn helped improve the handling. The Z1000 came out in 1977, effectively a Z900 with a big bore. But by now the other Japanese factories had caught up and Suzuki in particular was the new favourite.
Restoring a Kawasaki Z1
Most Z1s went to the USA, but many are being imported into the UK as a project-in-waiting. It can seem like a great, effective way into that poster bike from when you were younger. A project can look appealing but do your homework. Yes, the engine and gearbox are extremely tough and yes, many, if not most, parts can be found, but at a price if you're looking at parts such as tanks or exhausts. But it is a popular bike so there is plenty of help, lots of information, and lots of parts. Just know this isn't going to be a cheap rebuild. Consider looking for a restored one from a specialist, as once you've restored one you may as well have saved your time – and money. And if you're not necessarily after a Kawasaki, a Honda CB750/4 can probably work out a cheaper, large Japanese bike.
Is the Kawasaki Z1 a bike you will enjoy? It's fast for a 50-year-old bike, though the brakes are also the same age. And the handling was, well, at the bottom of the list when they built it, so don't expect fast riding. Longer rides are well within its remit though, as is pillion riding. It looks beautiful from any angle… you will get admiring glances wherever you go and current prices mean you should get your money back should you ever sell.
Happy birthday, Z.