Some things look like they were always meant to be. Shane Venn shows us around his remarkable special; a modified wideline Featherbed frame housing a Harley Sportster motor, built by Dave Degens.
Words and photography By Adam Bolton
Café racers, rock 'n' roll and the resulting counter culture are all steeped in a long and fascinating heritage. It's a vital and charismatic part of British motorcycling and social history and in fact I count that in the last year there have been at least two books published on café racers.
The whole culture finds itself currently very much in vogue, and bike magazines are full of shots of gleaming aluminium tanked motorcycles here and shiny brand spanking new black leather jackets there.
On the other hand, for many people the culture of rock 'n' roll, bikes and cars hasn't been just a passing bandwagon but a lifestyle, for life, and Shane Venn is one of them, wearing his passions on his sleeve as boldly as the tattoos on his arms.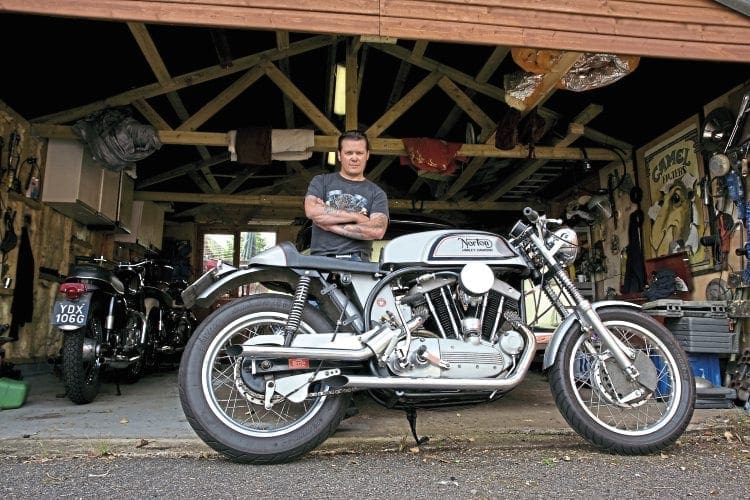 Shane shows me photos of him as a teenager with his mates, cool, rockin' and looking the part. "The music came first for me," he explains; "1950s rock 'n' roll, Sixties stuff, I loved it all, and we'd go to clubs to dance and hear the music. By 1983 I was driving around in an old 1950s Vauxhall Wyvern, a lovely old car."
One look around Shane's fine double garage, which he purpose-built himself to house his collection, reveals that his passion has remained strong, and the Wyvern has been replaced by a Cadillac – not just any Cadillac, but the finest cruising Caddy there is, a 1953 Coupe de Ville, and its impressive proportions take up half the available space.
Another huge Yank motor is the 1957 GMC stepsider pickup next to the garage, in primer and patina. Then there are Shane's bikes.
Shane's a precision engineer and CNC turner, so "it helps when building stuff", and like most engineer's personal vehicles, Shane's 'stuff' is fabulous.
"My first motorcycle when I was young was a 350cc Triumph 21, and I've loved Triumphs since then. I've now got a 1968 Triumph TR6C Trophy, and a 1957 T110 pre-unit." Nice bikes too, restored and ridden by Shane. But it's Shane's café racer I've come to see and a handsome motorcycle it is too.
Read more and view more images in the June 2019 issue of CBG – on sale now!
---
Advert

Enjoy more Classic Bike Guide reading in the monthly magazine. Click here to subscribe.
---