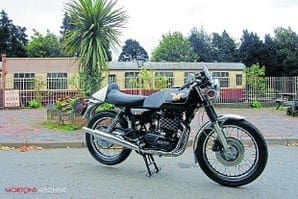 Some of us have some funny ideas in this old motorcycle world we inhabit but few are more likely to generate an increase in temperature beneath the collar than the subject of brand loyalty. For example, some reckon real Nortons only came from Bracebridge Street and rotary Nortons aren't Nortons at all. Others reckon true Triumphs were only ever made at Meriden ('forgetting' they were Coventry before…) and as for Hinckley after, well, they just don't count. Likewise can a 'real' Royal Enfield be built in India? Then there are Scotts from Shipley and Birmingham and, dare I say it, even Derby to a certain extent, if you lump in Silk. As for AJS, plenty reckon a 'real' one wasn't built after 1931 and the move from Wolverhampton. Oh yes, it's good fodder for the clubroom arguments – and a subject on which every classic enthusiast will have an opinion.
So, is a marque the same just because it has the same badge on the tank? That's the big question really. A recent case was the Manchester concern that seemingly has the rights to call itself 'Norton Villiers' and as such can badge up Chinese imports with the Norton logo – does the Norton Owners Club accept them as real Nortons? Some said yes, many said no. The same applies to Fluff Brown's AJS company. He bought the rights to the AJS name, so is entitled to call whatever machines he chooses to market 'AJS,' therefore anyone with a Chinese import AJS has as much right to join the AJS and Matchless OC as anyone – and indeed a Chinese-built one features in the 2010 AJS and Matchless OC calendar, surely to the chagrin of some although at last year's Jampot rally I did see someone on one, though I digress…
So, what's the point of all this? Well, the point is Brian Greening's Harris Matchless G80, which you see here. Is it really a Matchless? It wasn't built at Plumstead, but based on the argument above, then yes it is – and the 'Jampots' have accepted it as such. The fact that it's basically the same as machines built by MZ, Jawa, Armstrong, Harley-Davidson and even CCM is irrelevant, it's all about what it says on the tank.
This oft-maligned hybrid really came about because of Triumph. In the interim period between the closure of Meriden and the launch of Hinckley Triumph, Les Harris (proprietor of Devon-based Racing Spares Company) was allowed to build the T140 Bonneville under licence from Triumph's new owner, John Bloor. However, it was made perfectly clear that once a new range of Triumphs came on stream (or when the five year licence expired, whichever came first) Bonneville production would have to cease.
For a long time Harris had been at the forefront of manufacture and supply of Triumph spares, at a time when the Meriden mother-company was producing little. As such he was in a prime position to take up the Bonneville mantle on the Co-Op's demise. Production began in 1985 but as emissions legislation bit ever deeper, supplies of crankcases began to run low and the new company's launch became imminent, Harris pulled the plug on the Bonneville in 1988.
The Bonneville was essentially hand-built using a number of bought in components such as Paoli forks and shock absorbers, Brembo disc brakes, Veglia instruments, Italian made wheels, fuel tank etc. These units were bought in bulk quantities and so it made commercial sense for Harris to utilise them post Bonneville. In fact, his new company Matchless Motorcycles was formed mid-1987. As with the Bonneville, the design head was ex-Meriden man Brian Jones, and the development hack bike was presented to selected dignitaries and press in June of that year.
The only serious part of the whole machine that was home built was the oil bearing frame – nevertheless, it was a good looking machine, with steeply raked twin shocks and powered by the venerable Rotax 500cc sohc four valve single, as found in most of the machines mentioned previously. The Matchless sported 12v electrics and there was the option of engines with or without electric start. It was offered in silver, black or metallic burgundy.
It was well received but the plaudits did not transform into sales. One reason could be that, as with all hand built machines made up of bought in components, it was too expensive at £2700, some £500 (say approximately £7000 and £1300 today) more than a similar Yamaha of superior specification. It was also the wrong machine, as traditional, sensible machines were out of favour – the market wanted sports bikes.
Brian Greening and his older brother Mark are well known on the classic and vintage scene, with a terrific collection of machines of all ages. They, along with their brother Keith, were raised among cars, commercials and bikes as father Francis (known as Howard) started FH Greening and Sons (a very busy garage and recovery business) first in the village of Twinning and then to Alderton, Gloucestershire, where they've been based for 30 years.
"This Matchless lark all started at the Manx Grand Prix some years ago," says Brian, "I saw an MZ Silver Star, on German plates, and really liked it, so I kept my eye out for one and eventually one came up in Classic Bike Guide, over in Kent. It was a bit rough, it had been under a sheet outside for 18 months or so, the tyres were flat and perished, but I bought it anyway. That was in 2001. I rebuilt it and restored it, the engine wasn't bad but a chap offered me a brand new unit, so I bought that and fitted it. I've done it in traditional Norton colours, silver with red and black coach lines. I've called it a 'Nortax' – in fact it's better than the Matchy." The fuel tank was temporarily off the Nortax at the time so I had to take his word on it.
Brian continues, "I'd decided then to see if I could find a Matchless G80 version and believe it or not, there was one in the very next issue. It was in Dover and by the time I'd called he'd already had eight previous calls. I told him I'd have it and to hang on to it until Sunday when me and Mark went down. All the way I kept thinking, 'What have I done? If eight people don't want it it's going to be a pile.'
As expected, it was indeed rough but Brian bartered the seller down to £800 and brought it home, setting about the restoration immediately.
"I did it more or less back to standard and ran it like that for a while. I went to my local Cotswold VMCC section club night on it and one of the blokes there then told me that he'd got one in his garage, which he'd had from new and was prepared to sell. If I'd known that was only a few miles away, I could have saved myself the trawl to Dover and back and all the work!" Brian bought it and put it on the garage forecourt, where it was sold within the day.
Though perfectly acceptable, Brian reckoned his G80 wasn't 'tarty' enough and so set about changing the image to the café racer style. Stripping it down again he carefully painted the black centres of the wheel rims and coach lined them in red without stripping out the spokes. Only an extremely close inspection gives the game away. I questioned the mix of Avon Roadrunner 110/90 H18 rear and Michelin A48 19in front – Brian's response was simple. "Because someone gave them to me." I could see Clarky, on photographic duty for the day was impressed – obviously a man after his own heart!
'A second fuel tank – actually a Moto Guzzi Spada item – was picked up at the Cheltenham autojumble and the spray shop, just up the industrial estate from the recovery depot, painted it gloss black for a tenner. The smart transfers came via Bob and Marcia Derrick's Classic Transfers.'
A second fuel tank – actually a Moto Guzzi Spada item – was picked up at the Cheltenham autojumble and the spray shop, just up the industrial estate from the recovery depot, painted it gloss black for a tenner. The smart transfers came via Bob and Marcia Derrick's Classic Transfers.
Brian wanted to add a second disc to the front forks, so contacted Racing Spares. He says, "They weren't very helpful at all, simply saying that they didn't sell to the public. So I got onto the dealers listed in Mick Walker's Matchless book but none of them had any either."
The Brembo disc is 10in diameter (250mm) and as Brian was looking around the jumble stalls at the Stafford Show, he spotted a similar pair, which was at least the same diameter. He explains, "They were from a Honda, so I bought them, then had the holes welded up and machined out, then drilled out in the right places to suit the hubs. I've upped the size of the master cylinder from 12mm to 16mm and fitted braided hoses to cope with the extra load."
The seat pan is the same one as used on the Bonneville. "I saw this bloke advertising bespoke seats in Classic Bike Guide, I can't remember his name for the life of me and he's never seemed to advertise again, but I sent him the seat with the design I had in mind and he made a superb job. This is just a cover that the lads across the way made in alloy," says Brian, pointing to the hump on the tail of the saddle.
The Tomaselli handlebars were also from Cheltenham autojumble, again 10 quid's worth of bargain.
Walking around the bike, Brian enlightens me on some of the more salient points. "I made that little adaptor to fit the standard pipe into a Toga Goldie silencer. The Nortax is even better, it even twitters on the over run. I made the mudguard stays and that little mud flap and a pal was given a bag full of samples of these gold anodised screws, he didn't want them and they fitted a treat, so I used them and reckon they look real good against the black engine." I have to agree. He continues; "I took off the engine breather set up and fitted a K&N filter on it, same as on the Dell'Orto carb. The Paoli shocks were naked springs but I got some shrouds for an Ariel, from John Budgen, and they just set them off nicely with that period look. The rear light unit is off the later BSA/Triumphs." He then set me a little challenge, pointing to the tidy little badges on the side panels he asked, "Do you know what they're off?" I had to concede defeat but arch BMC-Rover man Clarky came up with the answer. "Rover 75." Right first time!
The smart footrests were purchased but Brian turned up the gear pedal knob to match – it's such attention to detail that makes the difference.
With apparently no need to tickle up the carburettor, it was simply a case of turning the key and pressing the button – except it wasn't, this engine has no electric start. What's more it's got the standard left foot kick-start, which I must admit I found rather awkward. On the cam cover there's a tiny glass port hole which, when a white section appears, indicates the piston in the right place. It took me a few kicks to get the knack but Brian could manage a first kick start every time.
The clutch was feather-light and the gears one down, then four up on the left foot. Being reasonably familiar with the Rotax engine, I buzzed gently through the gears, short shifting but not letting the revs drop too low, as the engine is not high on torque and can tend to shake about a bit when laboured. Nevertheless it was quickly up to 60mph and flicking through the various left-right-left traffic islands and sweeping bends was terrific fun, the bike feeling completely planted as I braked and accelerated away. The overall feeling was very much akin to a lively 350cc Gold Star but with better brakes and an extra gear!
We chose the Toddington Railway Station as our static back drop and seeing as it was a non running day for the working museum, the secretary, the delightfully named Anna Twinberrow-Carr, very kindly allowed us to use the platform, though she did get a little excited when Clarky, labouring under the incorrect notion that it was merely a museum, wheeled the bike onto the tracks, only to learn rather quickly that it was still an active line…whoops!
Though closed to the public, the Matchy gathered a small crowd of workmen, museum staff and sundry passers by, all keen to know more about the new looking bike with the familiar old logo on the tank.
With statics complete, we moved off the beaten track to the nearby magnificence of Stanway Hall for a few action shots. A picture perfect country estate with sweeping, open roads through tree lined avenues, which gave me an ideal opportunity to enjoy the Matchless using all the road before having to behave myself again as we joined the main drag back to the awaiting owner. Brian loves his G80 and I can see why; it's an excellent package, can be picked up cheaply these days, the engine is bullet-proof with excellent spares back up and can deliver both fun and functionality by the bucket load. Shame it wasn't what was wanted at the time.