I'VE BEEN CONSIDERING getting one of the current generation of LED worklights for my unpowered garage for some time, but I find most of those on offer are more suited to builders than workshops, as they're bulky and awkward and hard to store.
This new Clarke Worklight is none of these things. It's roughly the size of a hardback book, with a folding handle/stand that you could hang on a wall or put on the ground.
There's a grab handle which Clarke describes as "ergonomic" – which is posh talk for saying you can get your hand around it. There's a single 1200 Lumen (whatever that means) 15w lamp that provides three levels of brightness.
The 25% setting is bright and will last for 11 hours on a full charge, the 50% setting is very bright indeed and will last for 4.5 hours, while the 100% setting has "oh my god I've accidentally looked directly at it and now I'm blind" brightness.
This will flatten the battery in two hours. It's got a Li-Ion rechargeable battery that you can charge with any 5v USB charger (no charger is included but a cable is, and most smartphone chargers will do the job).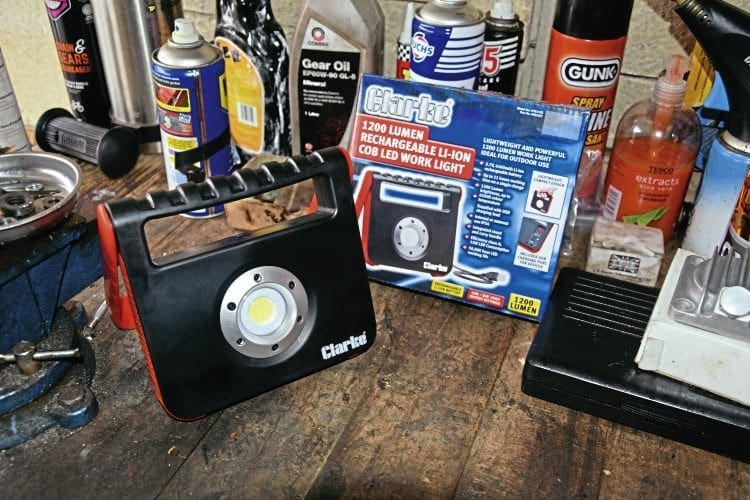 On the back there's a battery level indicator, a waterproof cover over the charging socket and, very neatly, a second USB socket so you can use it as a charging pack for a mobile phone, Go Pro, sat nav, or bluetooth speaker for your workshop. This little feature partly sold the lamp to me.
Handy for a workshop, but equally easy to pack away in a set of panniers or the boot of a car, this compact light doesn't feel as substantial as a builder's lamp, but is in all probability more likely to resist damage from being stepped on or dropped.
You could even use it while camping, as long as you didn't mind attracting low flying aircraft.
■ Clarke COB LED rechargeable worklight■ £23.98
■ Available at Machine Mart branches over the counter (check stock/opening hours first) or online at www.machinemart.co.uk
Read more News and Features online at www.classicbikeguide.com and in the June 2020 issue of Classic Bike Guide – on sale now!