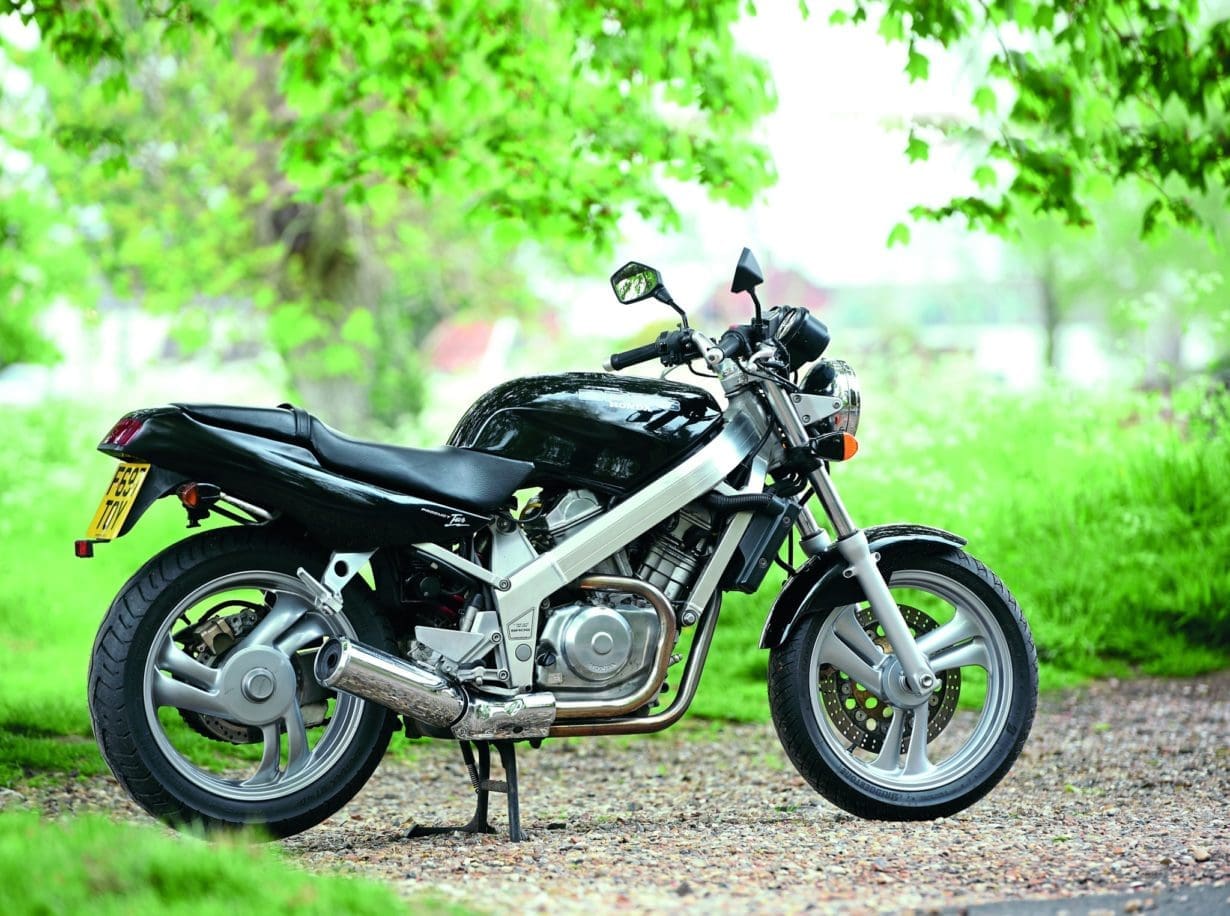 Underrated, undersold, overlooked and over here. The Honda Bros 400 or 650 is one of the greatest, best-looking bikes around, especially if you like your bikes small and nimble
Words and photography by Matt Hull
Thanks to Cat Pena for letting us photograph her great Bros 400
What is it?
Built from 1988 until 1992, this Honda was a fabulous answer for anyone wanting a small, lightweight, yet punchy naked bike with modern looks. A Honda what? Well, if you were in Japan, this model was called the Honda Bros: the Product One was the 650 (NT650) and Product Two applied to the 400 (NT400) model. However, if you were in the United States of America, it was the Honda Hawk GT 650 – there was no 400. And in the UK, well, we weren't deemed worthy enough to have either. The all-important Honda code was RC31 for the 650 and NC25 for the 400. And no one knows where the Bros name came from. Got all that?
Behind the confusing names and codes was rather an interesting bike that was not very – Honda. It wore a modern, aluminium beam frame that was of the time – look at the two-stroke Honda NSR 250 racebike of that period to at least see where the visual, if not structural, inspiration came from. The extruded sectional main beams gave rigidity, a Honda-only development and led between the cast headstock and down to solid-looking (cast and actually hollow) swingarm plates. It was narrow, very narrow, because what hung in between was a 52-degree, liquid-cooled, three-valve-per-head V-twin. The five-speed unit came as either a 398cc or 647cc and was relatively unstressed, with the 400 quoting 33bhp and the 650 58bhp (though the later has always been a little optimistic), yet had the V-twin usability of torque wherever you were in the rev range, up to the limit of 8500rpm.
Helping this neat frame and engine become a great package was fairly basic, non-adjustable forks at the front holding a wheel with single disc and four-pot caliper and the Bros' visual main course, its single-sided swingarm. It's beautiful, and when it first came out, eye-watering – only the ultra-exotic RC30 VFR750R had one. It was quickly followed by the VFR400 and both the VFR swingarms have rising-rate linkage suspension, giving the shock an easier time – the Bros has a direct shock, but then is lighter. The rear wheel is a pretty affair and the stumpy exhaust, which has a larger section hidden underneath in front of the wheel, gives full view of it.
Add a simple, bolt-on steel subframe, alloy clip-ons and footrests that give a sensible-yet-sporting position that only Honda can give, pop some basic clocks on and use that secret Honda-only seat foam they used in the Nineties to make some of the most comfortable seats ever, and you have a great, individual bike.
What's it like?
In a word, wonderful, yet unique – oh, that's three. Other than Honda painting the Bros in dull colours only a mother could love and with no graphics, they still stand out more than 30 years later. Simple styling, Honda quality, that single sider, and eye-catching wheels will have onlookers circling at a bike meet.
Start the V-twin up and it all sounds a little disappointing. The exhaust, despite its size, does too good a job of quietening it. Still, being a Honda, the choke works perfectly and it will quickly settle to a calming, low idle.
The gearbox is a five-speed so you don't have to flick through the gears as quickly as a modern bike – ride the V-twin torque. On any decent road you'll be up to fourth or fifth quickly, and the engine revs just raise and dip as you think it will, with seamless carburation. In fact, even if you accelerate as hard as you can, it doesn't feel hectic. Oh, and the Bros had a close ratio gearbox compared to the American Hawk.
The handling is what you'll hear about when talking Bros. But few explain why. The NT650 and NT400 have a short wheelbase, so Honda played safe with the front end, giving a slower rake and trail to the forks. This means you turn quickly with that light weight and short length, but it's not unstable thanks to the trail. The Bros wears tyre sizes to enhance this, not pub-bragging wide rubber that slows the turn. The small size of the bike means you're never fighting, not having to climb around the seat, and the sensibly-placed 'bars don't need pushing and pulling like a dog toy. Any B road or twisty A road is a joy – lean angle is no problem with confidence, providing everything is in good order, in bounds. Speed does not come into it; I cannot think of a non-sporty bike giving such feedback and confidence of lean. There's a reason Honda designated the Bros RC31 – RC is usually only for the sportsbikes.
Into the Metropolis the Bros still excels. A low first gear, instant punch; it's as thin as a fag paper and light as one, too. The tight steering lock and classy handling make you into a hooligan within the city limits. These were the samurai of the motorcycle courier warriors in the '90s.
Looking after your Bros is easy for the frequent jobs and a great introduction to home servicing. A canister oil filter, easy-to-adjust tappets and no fairing mean there's no excuse to keep your engine reliable. It even has a centrestand.
Who would it suit?
The Bros is the answer to many a rider's bike woes, as it has a 30in seat height and is about 4in wide, giving maximum footage on the floor. It also weighs around 175kg – 10kg less than Honda's CBR500R. And when you're riding, the tank is as narrow as you can find, with the handlebars nicely placed and not a stretch, so it is a perfect bike for those who find most bikes too high or too heavy. Most of the manufacturers sell a 3-500cc model, but they look like a baby bike – the Bros is a real bike – it's a V-twin – it's just smaller, that's all.
What's not so good?
Problems will come from age and that's because they are cheap; many examples will have not had what's needed spent on them. As an owner you have two issues – they were never imported as standard to the UK and there were never that many imported unofficially, so parts are scarce.
Tanks, rear bodywork, seats, exhausts, 400cc engines and wheels are going to have to be on your 'buy them when you see them even if you don't yet need them' list. Currently, you can't find standard piston rings – I'm looking for some.
Tyres are not an issue, but choice is limited because of odd sizes. The front is a 110/80 17, the rear a 150/70 17. Don't spoil the handling by going to a 120/70 like most bikes, but you can go up at the rear to a 160/60. Bridgestone BT46 are great tyres for the Bros' weight and come in the right sizes.
650 engine parts are simpler, thanks to the fact that the UK had many models that shared a lot of parts. We had the Transalp, the NTV650 Revere, even the Deauville that had similar engines – though note that some were shaft drive and others chain.
The tank is tiny at 12 litres brimmed, so sporting rides will dry your tank at under 100 miles – less if you've a rotten one that needs sealing. Forks may be simple, but that means fork oil and seals are all that is generally needed. The rear shock will have worked hard though without a linkage, because it has to have a heavyweight spring. Both Hagon and YSS do a replacement. Bearings, seals and brake parts are easy to get from the likes of Wemoto.
If the bike you're looking at has been standing and isn't running, check the tank for rust; the hoses and the carbs are a pain to get off. Do yourself a favour and buy new rubbers to make the job easier (you may have to buy Revere ones).
Lastly, the rear wheel hub needs twisting with an extra-large C spanner to adjust the chain (and it only needs a fraction of a millimetre to be too tight or too loose). The C spanner is something many don't have, so a hammer and chisel are often chosen, plus the hub seizes in the swingarm, mullering the toothed nut. Second-hand replacements are the only option.
Grey imports – the perfect storm
Cometh the turn of the Nineties, cometh the grey imports. Here in the UK, biking was sexy sportsbikes all the way until you were old – Harleys kept themselves to themselves, the old bike world rode in the week when everyone else was working or were stuck in the workshop, and adventure bikes weren't born yet.
The cyclic nature of motorcycling meant that young 'uns were coming into motorcycling again, pushed in part by World Superbikes and Grand Prix being televised, as well as a fairly buoyant economy. Unfortunately, insurance prices were also buoyant, meaning your average late teen or early 20-something couldn't afford to insure the 600cc sportsbike they could afford to buy thanks to finance and the Supersport bikes that were imported – Kawasaki ZXR400 and KR1 250, Honda's VFR400 NC30, Suzuki's RGV250 and Yamaha's FZR400 were too expensive and just for racers. All that was left was Superdreams and bikes that, to said young 'uns, were as exciting as nanny's knickers.
Meanwhile, over in Japan, the biking scene was different. Most riders wanted sportsbikes. And they wanted beautiful sportsbikes with the latest innovations, like aluminium race-styled frames, upside-down forks and huge brakes. But thanks to a strict government they were limited by law, keeping them to under 400cc and under 60bhp. And, most bizarrely, the fashion for these machines also went as far as their age – so if yours was more than a couple of years old, you were no one. The Yen was also weak compared to the Sterling.
This mattered to a young Japanese rider. So much so that there was no domestic market for these machines to the extent that they were deemed almost worthless and sometimes just left outside the dealers with the keys in. Fashion: an astonishingly powerful and sometimes dangerous power.
So, entrepreneurial Japanese dealers and auctioneers got together with equally wise UK dealers… and the UK market was suddenly awash with sea containers full of miniature exotica. As young 'uns, we snatched the dealers' hands off to get a slice of these amazing-looking, ultra-high revving machines. We looked the absolute whatsits.
Over time, the market flooded and the Yen recovered, making the grey imports less appealing. And strangely, the same never took off in mainland Europe. More recently the manufacturers have started making 250-400cc bikes for younger riders – 25 years too late – but they look what they are: cheaply made, poor copies of bigger models. Those grey imports from the '90s were real, exotic bikes that we could afford. And they still, rightly, have many fans.
I ride one
Cat Pena, 20, owns this beautiful Bros 400. She passed her CBT last July, rode a 125 for a few months, and then did her A2 training and test on a restricted Suzuki SV650 bike. Ironically, the SV is larger and heavier than the Bros! It is also older than Cat, so what made her go for a Bros and not one of the shiny, new bikes out there? "I'm in a bike group and a friend there had one his dad had owned since it was first imported. He is tall but wanted it to still be around so he could see it ridden. I was looking for something more modern, but with the single-sided swingarm, aluminium frame, and undated looks, I fell in love with it. And it's a V-twin. Even as a 400, it feels nippy! Trying to find bits can be tricky, but I like the fact that it sticks out and it's very resilient. And I can touch the ground. I don't like the small tank and it has no fuel gauge. But I've done loads of miles since getting it and love it!"
Modifying
Thanks to the Bros being a popular bike in the USA – remember, it was called the Hawk GT, and they are serial meddlers, mods abound – but parts are all getting scarce now. Start with fitting foam air filters, a re-jet, and fit a decent exhaust can for more response and have that wonderful noise released. If you really want to, fit CBR600F3 forks and front wheel for adjustable suspension and twin discs, different bodywork, VFR800 rear wheel for larger tyres, NTV650/ VFR400 fuel tank, or go as far as finding an Africa Twin 750 engine and fit that with flatslide carbs. But do your homework – there's a lot of tosh on the web that isn't true, like the Fireblade shock 'fitting straight in' – it doesn't, and even if you do machine it to fit, it will ruin your handling. Me? Mine was heavily modded by the end, but I wish I'd kept it standard but with adjustable CBR forks, tweaked carburation and a good exhaust.
The prologue
There is something about the Bros. It will be one of those bikes people look back to with happy memories. Reliable, and they are still so cheap – less than £1000 for a 400 and under £2000 for a 650. Despite its dimensions, it fits most, so more people can find out the hidden charms to the Bros. A Honda from when they were at their peak that doesn't rely on power, bling or money to give one of the best riding experiences I've had. What a wonderful bike.