FROM OUR ARCHIVES
Some bikes are icons from the outset. Not so this idiosyncratic 350. But it's strangely successful as a classic steed…
NO, IT'S NOT a BMW. If you find the charm of this British-built transverse twin to be utterly irresistible and actually buy one, then you'll also find yourself repeating those words over and again to slightly bewildered bystanders.
Consider yourself lucky. Owners of every other Douglas model have to put up with people asking them 'is it a Dragonfly?' because this is the only Douglas model to have made any real impact on the public consciousness.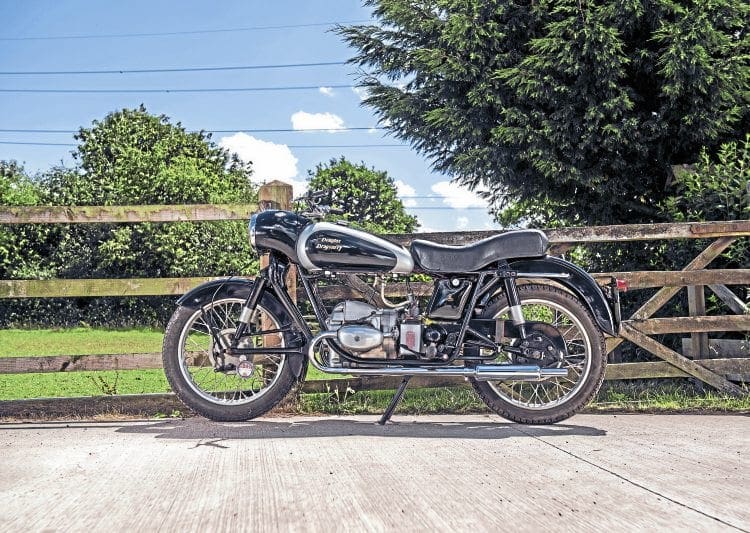 Entertainingly, owners of earlier Duggie flat twins tend to look down their snouts at the marque's last gasp and view the 'Fly as some form of inferior being – so they take it as a mortal insult if you mistake their magnificent 'Mark series' Douglas for a dodgy old Dragonfly. Hours of endless fun await…
The Dragonfly's story starts in 1951 when Douglas presented a prototype 500 twin. Its cycle parts were developed from those of the existing 350 MkV, with the firm's idiosyncratic torsion bar rear suspension and front Radiadraulic forks. The huge difference was the monster motor, which seemed to have been barely squeezed into the duplex frame. Although under the skin it shared many characteristics with earlier 350s, it looked wildly different as it had a befinned casting under the tank, which enclosed the magdyno and air cleaner. The shape of the cylinder heads and rocker covers changed too, becoming sleeker and more streamlined. It was a bold attempt at a handsome, touring motorcycle for the heyday of the British bike industry, but Douglas wasn't in a financial position to actually build it.
Instead, the 350 Dragonfly took flight in 1955, with leading link forks, four-speed gearbox, conventional swinging arm suspension and clean, simple lines. Although the Dragonfly was a development of the MkV, it also reflected the work done on the earlier 500cc prototype, and it aimed to revitalise the sales of Douglas machines. The designers set about tidying up the looks of their twin, attempting to make it appear as an intended whole thing and not a development of this-bit-here and
that-bit-there, as tends to happen over the years. But the changes were by no means simply cosmetic. Douglas was not having a great time of it and the Dragonfly would be its last chance to crack a mass market, so the bike had to be reliable – and compete with what the big factories were producing.
So the substantial, arc-welded duplex frame (from the Reynolds Tube Company) now carried an improved 348cc engine fitted with car-type coil ignition, AC generator and distributor, topped with a light-alloy casing to conceal the electrical gubbins. Inside, the engine benefited from a raft of upgrades, including a stiffer crankcase, bolt-through cast iron cylinders and heads and duralumin pushrods. The Radiadraulic fork was binned and an Earles-type leading-link system arrived, while at the back a 'normal' swinging arm finally got rid of the solo rider's jitters. Both ends were controlled by Girling units.
For some marque enthusiasts, the Dragonfly was a disappointment. It was physically bigger and heavier than its predecessors but no more powerful. The motor made something of a din, too, which seemed out of step with its intended genteel application. The Dragonfly was supposed to be a practical touring motorcycle. It wasn't engineered for breathtaking acceleration or ultimate high speeds, but it could just about maintain 65mph for mile after mile, incurring little cost and carrying its pilot and pillion in comfort. Surely this was good enough?
Apparently not. Motorcycle production stopped completely in 1957 when the firm's parent company opted to concentrate on churning out Vespa scooters. Its little Dragonfly didn't stand comparison with the sleek speed machines Edward Turner, over at Triumph, was turning out. When it came down to it, riders wanted high-speed glamour and performance after all.
In all, only 1570 Dragonfly bikes were built, of which maybe 1000 might possibly survive to this day. However, you've probably seen plenty of them at shows and events thanks to the efforts of the London Douglas Motorcycle Club. The club is the default spares supplier and source of all expert information for Dragonfly owners, and it is a credit to its dedication that the model is so swiftly recognised, and so many Dragonflys are still in circulation today.
Speaking of which, when you finally sit astride a Dragonfly you'll need to take a little while to acclimatise to its unique charms. It doesn't feel like any other British bike, nor a BMW, and only vaguely like a Douglas. Physically, it's much bigger than most 350s, a proper, full-size motorcycle. The vast, five-gallon petrol tank and frugal fuel consumption mean that it's perfectly possible to run out of petrol because you've simply forgotten to put any in this month.
The front suspension and 'fixed' nacelle won't perturb anyone used to modern motorcycles, although riders of old Britbikes find it strange that the headlamp doesn't swivel when you turn the bars. Riders become accustomed to judging speeds by 'feel' and engine note, because the speedo needle isn't exactly easy to see when you're on the move.
The 'funny front end' is stable and sure-footed at any speed, while the bike's low centre of gravity makes it a doddle at a toddle. Acceleration is languid (that's being polite) and braking is close to atrocious – so plan your deceleration with care – but you'll find that the Fly is capable of B-road cornering like a sports 650 thanks to its sophisticated ride. Similarly, the clutch action and cog-swapping should be sweetness and light.
The almost-square engine really does like to be revved and has proved extremely robust over extraordinary distances. Dragonfly riders on
60-year-old motorcycles regularly romp from one end of the UK to another without any mechanical mishap. It seems that the firm's original intention of building a comfortable, economical mile-muncher came true: the Dragonfly is one of those bikes that finally flourished as a classic.