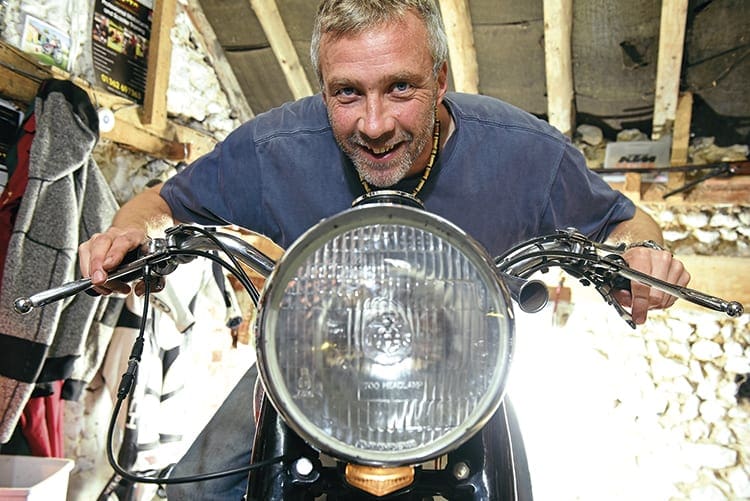 My first car was a Morris Minor. Bought it aged 15, learned how to restore it (badly) and loved it. Lowered, twin carbs and silly seats, I'd drive (badly) all over the country. When it broke I could usually fix it, or at least I could work out what needed fixing. Moggie owners are a friendly bunch and some other classic car drivers would give us the thumbs up, wave or smile. But to modern cars it was just an old heap, in the way. Beep. BEEP. "Get out of my way. My – (insert German marque here) – cost lots more than that so out of my way – I must get past!" – badly.
Bikers, motorcyclists, riders, call ourselves what you will, are thankfully not the same. We have our favourite types of bike, but last Sunday, blessed with cloudless, blue skies and perfect riding weather, I saw how inclusive our world of two wheels is. It was the Distinguished Gentleman's Ride, a charity ride around Suffolk which over 250 bikes took part in. Most riders took in the spirit of the ride, dressed in their finest cravats, tweed jackets and even shooting breeks, all in aid of a great cause. Gotta say though, the scooter riders trumped the bikers in the style-stakes – they looked sharp.
Before the ride everyone parked up. There were Indian Enfields rubbing footrests with Redditch examples, Harleys next to modern Triumphs, 1950s British bikes sitting beside 70s Italian bikes and 50cc learner machines with as many admirers as the 1800cc cruisers. Yet there was no snobbery, no looking down the nose and no bitching because 'That hub isn't original', unless my failing hearing didn't pick it up. It was purely a group of bikers gathered for a good ride on a sunny day, enjoying their bikes.
The ride was fun, but the ride to and from the meet on my own was the best I've had in years. My BSA didn't start first kick like it usually does, but the late September sun was high and it felt picture-perfect. I'm 40 miles from the meeting point, but being Sunday it was quiet and I had time, so chose a route other than just 'the fastest'. Cruising through the Brecks of Norfolk, trimming the timing and tuning the throttle I realised something had changed for me. I've had 22 wonderful years working in motorcycling, from courier to instructor to journalist, covering over one million miles on two wheels, but the emphasis has generally been on 'getting there'. Yet that day I had the same feeling I had with my Moggie (a lot of) years earlier – I was enjoying the experience of riding, timing gearchanges and listening to my machine to see if it was telling me of issues and knowing on my return I would have to check, adjust and fix at least something. And all at a speed to notice how incredibly beautiful that part of the world is. Oh, and that speed happened to coincide with a speed where my single wouldn't imitate a grenade…
Once home, a sportsbike-riding friend popped over to see how the bike had behaved after its 150-mile day. He 'doesn't do classics, can't get your knee down', but is nonetheless intrigued by their idiosyncrasies. So he nipped up the lane and back – in racing leathers – what a sight. And loved it. I tightened my loose mudguard and checked the plug while he made tea. Badly.
Biking. Modified or concours, scooters or bikes, classic, retro or modern, if you enjoy it, that's enough. You're included. Be good.
Matt Hull