The original Indian Scout would have been amongst those bikes that created the original bobber style, so what of its 21st century offspring?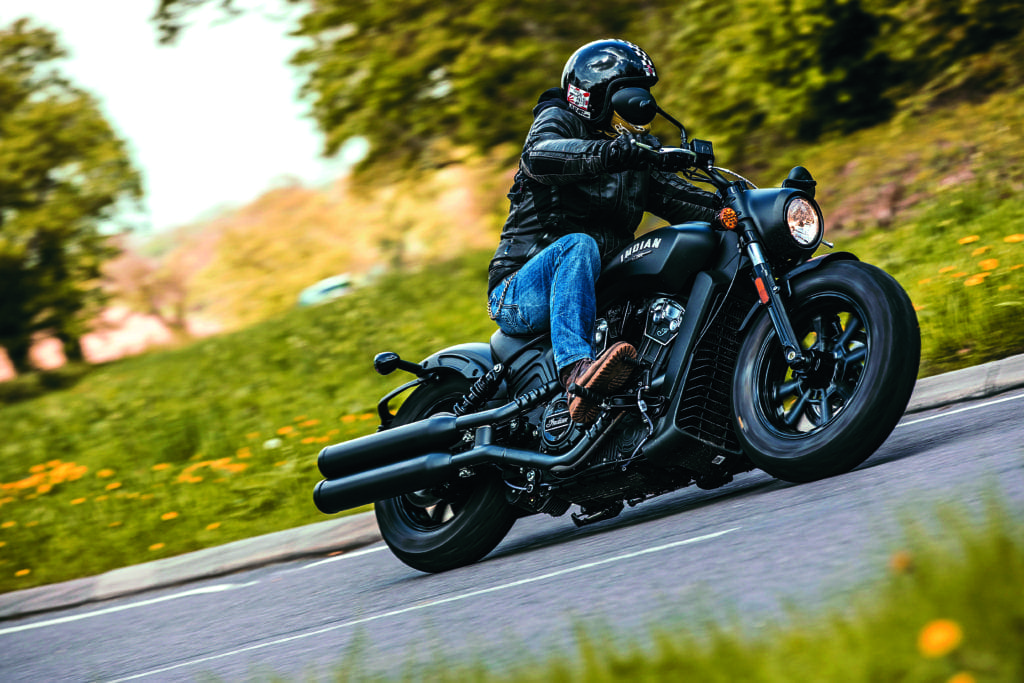 While other brands have already claimed the 'Bobber' epithet for their own products, Indian are probably more justified in its use than any other manufacturer, aside from Harley-Davidson. Students of custom motorcycle lore will know that the original bobbers were created after the Second World War, as returning GI Joes desperate for adrenaline kicks modified their bikes to compete with European machinery by reducing weight by 'bobbing' (ie, cutting down so they were smaller) the mudguards front and rear, and stripping off any other ancillaries such as racks, mirrors and additional lights. And not only did this apply to Milwaukee-built WLCs, WLAs and Knuckleheads, but also to the Springfield 'big twin' Chiefs and smaller capacity Scouts.
So, when the reinvigorated Indian – now owned and run by 'leisure vehicle' manufacturer Polaris – launched a new 1133cc Scout at the Sturgis motorcycle rally in 2015, it made perfect sense for them to use their heritage. And with the burgeoning demand for retro-styled bikes with cool names, came the creation of a Scout Bobber – a 'new' model that could be added to the range by 'bobbing' it to be a sportier version. Although, at odds with the desire to increase performance by the bobbing process, the new Indian is actually heavier than the standard Scout…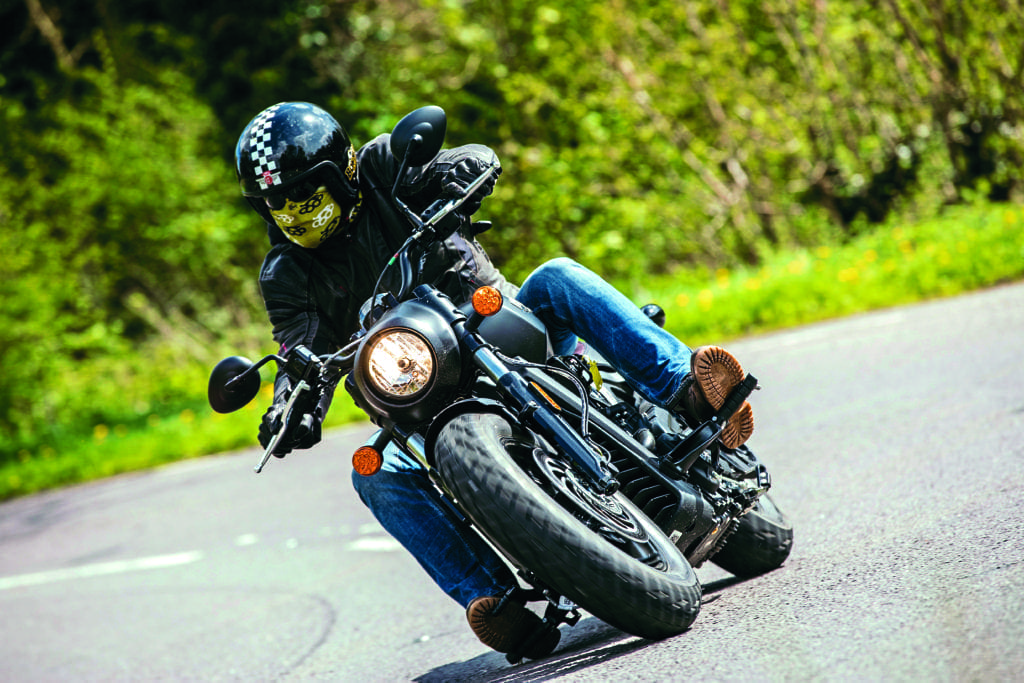 Want to read on? Then subscribe to Classic Bike Guide and read our magazines online!
The resurgence of the Indian name has been aptly proven by their current focus on flat track racing Stateside, with their FTR750 race machine not only being very successful but, to put it bluntly, handing Harley's backside to them on a plate. With the old adage of 'win on Sunday, sell on Monday' still applying in the home of the free and the land of the brave, Indian have a flat track replica lined up for production next year. And while that's all very much an aside, it does give a little insight into the development and direction of the Wisconsin-built water-cooled engine.
Unlike just about any other manufacturer producing a cruiser-style machine with a water-cooled engine, Indian didn't try to hide the water-cooled nature with a myriad of fins and covers, but instead chose to build a powerplant that clearly keeps its cool with H²O. Admittedly, the radiator is tucked away between the frame's front spars, but the engine itself is designed to look good without recourse to false finning or erroneous covers. The four valve heads are embellished with a letter 'I', with polished rocker covers that neatly contrast the satin black finish applied to the barrels and cases. Further gloss black detailing on the clutch and crank covers show that this was no rush job.
For more content, why don't you like our Facebook page here, or follow us on Instagram for a snippet of our striking pictures!
They obviously paid attention to the internals too, as while 94bhp isn't exactly pushing the boundaries for a vee twin of this capacity, for a cruiser it's amongst the best, and the smooth power delivery from ticker to redline puts many others to shame. It's really punchy and revs like no 'cruiser' engine ever should. But then, it's not a cruiser now, it's a bobber that is intended to have rather more of a sporting pretence.
The fat cast aluminium sections that neatly shroud the water-cooled powerplant's radiator are an unusual frame design for a cruiser, with the engine becoming a stressed member as the rear subframe – again cast aluminium – is bolted to the rear of the front frame and the engine. That cast design negates the need for sidepanels, and becomes an integral part of the design.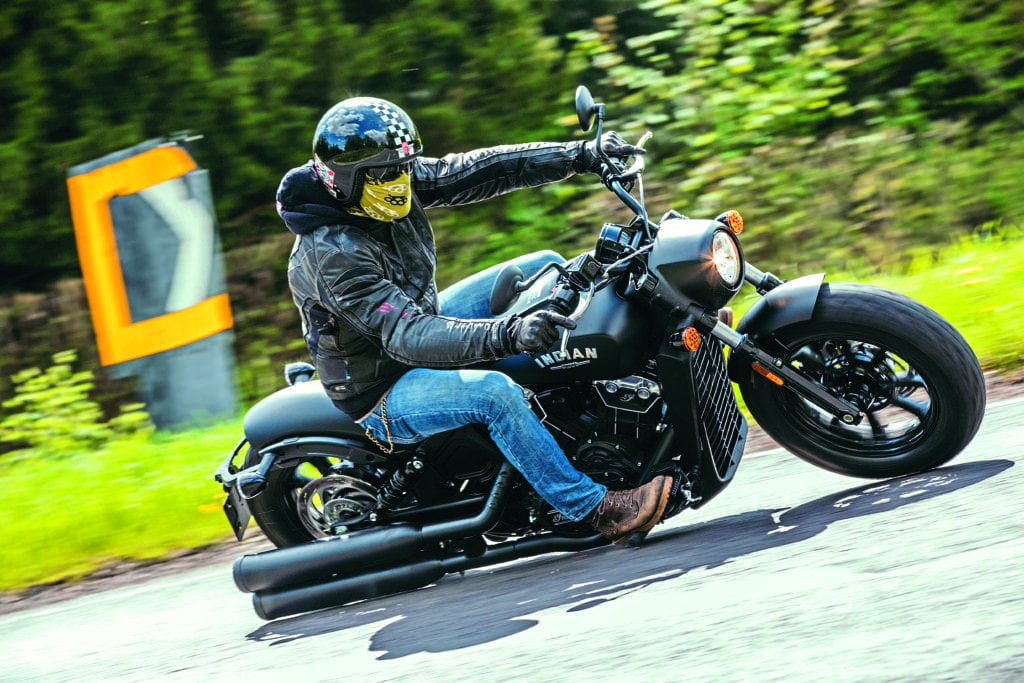 Aside from the bobbed mudguards front and rear, the Bobber also sits a little lower than the normal Scout thanks to shorter rear shocks with just 50mm of travel, and rolls on different wheels too, which could be the reason why it weighs a little more. Those fat Kenda tyres roll rather than carve through the twisties, right over to the point that something hard hits terra firma. Which doesn't take long; to start with it'll be the tip of a footpeg, shortly followed by the exhaust heat shield, the front cylinder downpipe and then the lower silencer on the right and the sidestand on the left. But the low centre of gravity makes for effortless feet-up manoeuvres, with confidence-inspiring agility that belies the cruiser style – it's an incredibly easy bike to ride around town.
While it sounds like a sewing machine at low revs, the airbox that sits over the top of the 94bhp engine gives a raucous roar as the revs rise. And, for a vee twin that revs to over eight grand, it'll pull high gears at low speeds too, although you'll need to snick down from top once you get below 40mph. And 'snick' is the right word for the 'box, as it's surprisingly smooth for an American vee – only the tap into first gives a clunk, and clutchless upshifts are a breeze, probably aided by the fact that the Bobber has a drive belt rather than a chain.
For more content, why don't you like our Facebook page here, or follow us on Instagram for a snippet of our striking pictures!
For my 5ft 10in frame, comfort isn't exactly conducive to touring, and limits a stint in the one-position-only seat to little more than 50 miles – although a quick stretch enables a further 50 miles, after which you'll be wanting to look for fuel. But if you're being frugal (over 60mpg is possible) and don't mind riding the fuel light for 15 miles, the tank can stretch to upwards of 140 miles. The clocks have a permanent speedo, gear indicator and clock, while the display scrolls through trip, odometer, temperature, amps and revs, all flicked through with a button placed where the 'pass' switch would normally be, which creates a little confusion when you try to flash someone out of a side road and only succeed in finding out what temperature the engine is running at…
Practically, it's not. Practical that is. Luggage? Er, no. Pillion? Er, no. Although the factory aftermarket parts catalogue lists a sumptuous (well…) pillion seat, a rack, a side bag, a higher '1920' rider's seat (sorry, 'saddle' in American parlance) and a pair of higher handlebars, so you can tailor the Bobber to suit your size and riding style.
It's a much more modern-feeling ride than, say, a Harley Sportster, and while it hasn't got the lowdown punch of a fully-sorted 1200 Sporty (ie with a decent set of pipes and an aftermarket air filter) it will outperform it in every other area. And despite the modern engine, many onlookers are fooled into thinking it's an older machine – that Indian badge on the tank seems to create an impression of age.
Compared to just about any classic bike, the Bobber is a breeze to ride – light steering and clutch, smooth power delivery, enough comfort for a reasonable commute or Sunday morning blast, and the ability to sit happily at a steady 80mph. Compare it to other new bikes of a similar style – such as the Triumph Bonneville Bobber or Harley Sportster – and it may appear to be a little expensive at £11,299, but the quality of finish is sublime, along with the build quality and they are keeping their value, with the only fly in the ointment being the cheap feel to the footpegs. But as any spirited riding will give them a short life, they can be replaced by Indian's own aftermarket version. And the engine outshines any of its competitors, whether in cross-town commuting or the traffic light drag race.
Nigh on a century after the Scout was initially launched (as a 610cc in 1920 and as a 750 in 1927), the Bobber still has the performance to shame its peers, all without any unnecessary and inappropriate fripperies such as traction control…
Looking for a modern classic that's a little different to a Hinckley Bonneville? You may wish to look West.
Want to read on? Then subscribe to Classic Bike Guide and read our magazines online!
For more content, why don't you like our Facebook page here, or follow us on Instagram for a snippet of our striking pictures!