Sandy Bloy has had an affinity with cammy Nortons since the tender age of 19. He found this model and it has been beautifully brought to the condition you see here
WORDS AND PHOTOGRAPHY: Stuart Urquhart
I was lost in a daydream. Suddenly the cockpit radio crackled (a text on my mobile) 'What's the plan old boy – over?' probed Squadron Leader.
'Leaving at 9am Squadron Leader,' I replied, '…should rendezvous with you around 10.30am, given a fair wind and no bogies… I'll be flying the old girl today sir, in the off-chance of some terrif pics alongside the old Spit – over.'
The radio crackles mechanically once again: 'Tally-ho old bean, will have the kettle on, all's quiet here… the Spitfire and Tiger Moth await your arrival – have a good flight, over and out.' The radio went silent (mobile text concludes as Mr Smiley pops up). I instinctively smiled back and flicked off my radio (phone)… the daydream ended.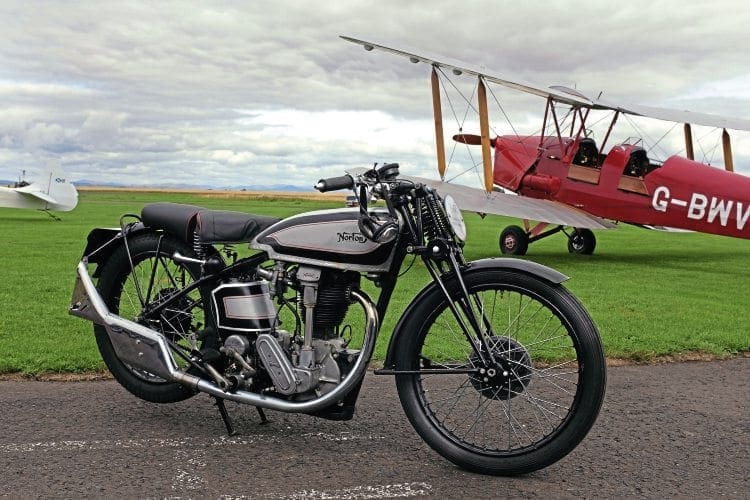 Day's forecast: Blue Skies
I was tingling with excitement – this was shaping up to be a blue skies day and one never to be repeated. Soon I'm thudding along the Tay Estuary on the old girl, a 1938 Ariel Red Hunter, and I'm reminded of my last visit to the Scottish Aero Club's open gathering.
Back then we were buzzed by a Spitfire that suddenly crested a forested hill, banked swiftly to my right, and then held a level course several metres above the silvery Tay. I recall I could clearly see the pilot's face, fixated on my Ariel as we snaked along the narrow road in almost perfect formation.
I stopped at the roadside as the Spitfire roared vertically into the sky and I fumbled hurriedly for my camera. As the screaming machine completed a shallow loop, it levelled out once again over the Tay and I fired off several shots – hoping that I'd managed to capture both plane and motorcycle in my digital lens.
Then the Spitfire banked gracefully, turned, and crossed the Tay in seconds flat, making a B-line northwards to where I imagined nestled Scone Airport.
Read more and view more images in the April 2019 issue of CBG – on sale now!