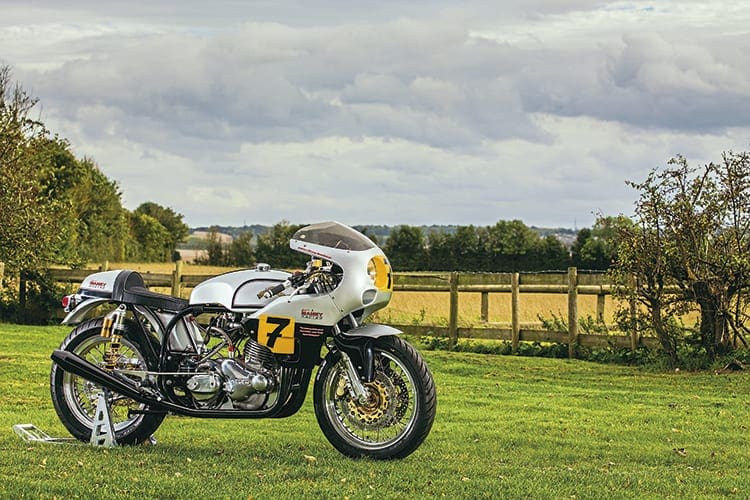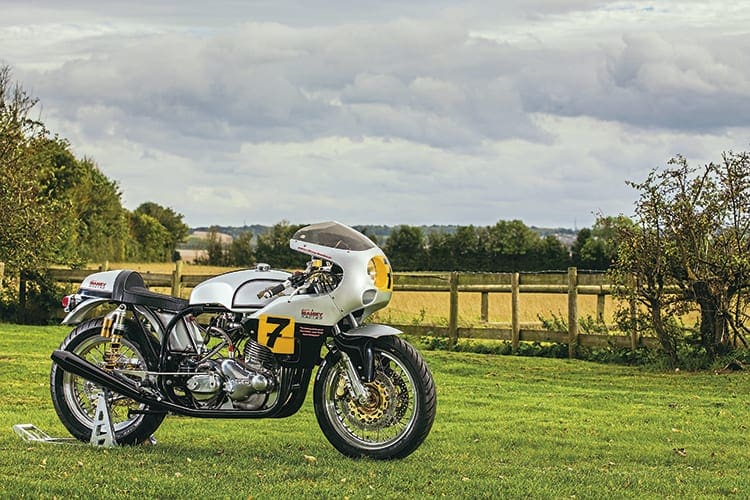 A perfect brace
When you commission your dream bike to be built from scratch, if you can't decide what you want, why not have two?
Words Matt Hull Photography Jason Critchell
Standing in the workshops of JMC Classics and Restorations, between a multitude of Vincents in various stages of undress, I'm faced with two very interesting machines. First glances confuse me – modern chassis parts, wide tyres and a gleaming finish blend with older style fairings and engines that are clearly old-school. As the lads in the workshop are frantically stripping carbs, I have another minute to take a closer look at these two intriguing, beautiful machines.
"They're for a client, Frank Hodder, a collector from Australia, who wants them finished and shipped over so he can show them at his daughter's wedding in a few weeks," explains John Mossey, who along with his small team, has created both these bikes to a tight, demanding brief. "He knows what he wants and money isn't an issue."
Oh to have listened more intently at school…
Metisse Triumph
Frank chose JMC to build him a Metisse Triumph and a Norton after he had bought a Norvin from them previously. "He asked if I'd build a particular spec of bike, I said yes… but it would cost and take time. Because he wanted everything bespoke and it was different to the Norvins we build, I knew there would be a lot of trial and error – but I never realised how much – and then he said he wanted two," says John, who isn't known for showing emotions, but was clearly relieved the two bikes were, at last, finished.
Stumbling blocks seemed to be in place from the start. The Metisse frame is made from 4130 chrome-moly steel tube which is nickel-plated once finished, but one of Frank's main requirements was a modern-sized rear tyre. A 150 section was specified on a WM4 rim, which wouldn't fit the standard Metisse swingarm, or the frame. So the bespoke frame had to be redesigned to accommodate a wider swing arm neck, with the swing arm pivot-plates widened by 1¾in (44.5mm). It also needed the top shock mounts moved out to be in line with the new swing arm, which was made by Seeley, as Frank didn't want the Rickman-style chain adjuster shims.
The wider rim didn't stop the hassles there. The frame also had to accommodate offsetting the engine by 20mm for the chain to have a straight run and the geometry was changed slightly to accommodate the 38mm Grand Prix Ceriani forks and the Ohlins rear shock units. Brakes again were specified, with Brembo 320mm semi-floating discs gripped by Brembo Goldline four-pot calipers. A twin-pot Brembo looks after the rear disc, again a semi-floating number.
The engine
John bought a Triumph T150, which gave him all the parts he needed, then he was able to sell the rolling chassis. The 750 triple was then treated to a full Peckett and McNab 850cc conversion including pistons, barrels, Megacycle race cams and gas-flowed race head with centre plug conversion (the original 14mm plug hole is bunged, with a smaller, 10mm hole drilled and tapped in the centre of the combustion chamber – the idea is to give a better burn and more midrange, though John isn't that convinced). Bottom end benefits from a polished and balanced crank and Carrillo rods, with power going through a belt-drive conversion to the Quaife five-speed gear cluster, with lower first gear.
Oh, and there's an electric start there, for ease.
Frank even specified the fuelling system, with a bank of three Wassell Mk.1 concentrics fuelling the engine and Pazon ignition providing the spark. But being such a unique set-up, John had problems with the initial fuelling. "We had to change the slides, needles and spray tubes just to get it to rev through the range, but luckily our experience got us there in the end. As the engine beds in there may be some small adjustments but it all works well together." The Pazon ignition system is totally programmable and runs a single-phase alternator with a rectifier and a warning set up in the dash.
Competition Fabrications made the exhaust system, which through no fault of their own had to be adjusted three times, as Frank wanted the downpipes to exactly flow with the downtubes of the frame. But because of time, the bike couldn't go to their workshop for them to offer it up as it was being formed. "It was all trial and error," says John. The end result though, is a seamless 3 into 1 system, perfectly following the brief.
Fairings on both bikes are from Walt Seigl, a custom design house from California, which had designed some retro fairings to fit the modern MV 675 range of bikes to give them a more traditional look. Frank saw them on the internet and he wanted the front fairing on his bike.
"They are similar in style to older race MV fairings – they'd tried to make an original fairing fit the modern MVs but it didn't work, so designed their own. They're made from glass fibre but are really nice quality and suit the bike just right," explains John.
The clocks are Smiths Chronometrics, but made to look like Ducati clocks and the paintwork was beautifully applied by FD Motorcycles in Great Dunmow, Essex. "They're the best," John simply says.
With the main bike parts in place, it was then a case of the seemingly limitless small jobs that had to be done by the JMC workshop.
"We had to make the wheel axles and spacers, the engine plates, caliper carrier plates, all the spacers, brackets, everything," says John. "He didn't want oil in the frame, so we had to make an oil tank and find somewhere to fit it. If it needs hanging off the frame we made it – all you get from Metisse is a frame. And the rear seat unit had to have Ducati 916 rear lights with LEDs." All the bolts feature wasted heads, all done individually – the detail is astonishing.
Read more in the December issue of Classic Bike Guide – on sale now