From the archive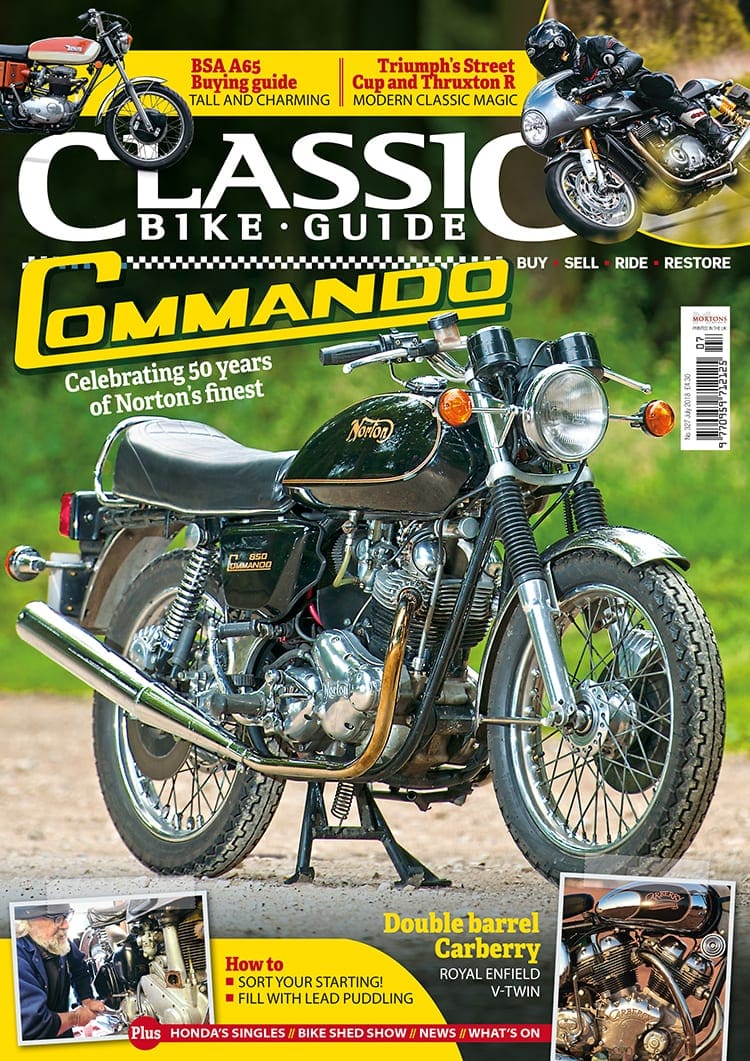 A charming reminder that we used to pick up hitchhikers
Carberry Double Barrel V-twin
The story behind one man's obsession with making India's largest production bike
News
Win a Royal Enfield Interceptor with the National Motorcycle Museum, Enfield bring out a new Pegasus and Draganfly launch their new online Triumph shop
What's on
There's lots of new shows this year – pick one and let us know what you think!
Bike Shed show
Shows are rarely as impressive as this. We pick a few of our favourite classic customs
Buying Guide – BSA A65
We look at the oil in frame A65 – it's tall, but it's also a great buy
Buying Guide – Honda Singles
Honda's four-valve single powered a number of machines, from off-roaders to café racers
New classics – Triumph Street Cup
We have a bimble out to find out what Triumph's Street Cup is like
New Classics – Triumph Thruxton R
For those who want something
larger, how does Hinckley's
top-of-the-range café racer perform?
Archive poster
Norton Commando engine in all its glory
Steve Cooper
Steve defends his compulsive bike-buying fetish by blaming poor adverts…
Paul D'Orléans
Our resident US correspondent looks into the future
Paul Miles
Paul gets tired of tyres
Norton Commando special. Happy birthday!
We celebrate the 50th anniversary of the Norton Commando by looking into the fascinating inception of the model, a good look around one of the first bikes off the production line and talk to our very own Frank Westworth about his near lifelong affair with all things Commando
What we've been up to
Oli changes his T140 bars, Matt gets stuck into a CG125 and Steve – guess what – buys another bike!
In the workshop – have a go at lead puddling
Steve tries his hand at filling with lead
In the workshop – how to improve your starting
Fed up with kicking your bike over? We look at how to get your bike starting effortlessly
Next month
We look at several unusual bikes from Bakker, Rickman and even a Triumph chopper. We also ride the new Brough Superior!
Reader ads
Let us tempt you – there's enough room for another
Last word
Frank recalls buying a bike he'd bought before and never really liked in the first place

Enjoy more Classic Bike Guide reading in the monthly magazine.
Click here
to subscribe.