AS BIG CLASSIC motorcycling events continue to vanish from the calendar, some major autojumbles have still been still operating.
Elk Promotions welcomed buyers and sellers at their venues in Kent and Sussex, with the most recent held on October 25.
Julie Diplock from Elk Promotions said: "Overall we had a great event, held over one day and with a mini-show. As to be expected with torrential rain and flooding on the Saturday evening and Sunday morning, visitor numbers were a little down on October last year, but the weather didn't deter the serious buyers and jumblers. We had around 150 jumblers and traders in the all-motorcycle autojumble, and everyone reported good business.
"Following the relaxation of Government rules we had a small display of machines in the main hall, which was well received by most, although I got a couple of complaints from people about the lack of exhibits – usually there's around 180 machines on display.
"However, folk were understanding when I explained that there are now strict limits on the number of people that can be allowed in the buildings, and we could not have held the full-sized show as there would have been very little room for visitors. Folk were great, and just really pleased to be out and spending their money."
The next Elk Promotions gathering should be The South of England Classic Motorcycle Event on Sunday, January 17 at The South of England Showground, Ardingly, West Sussex.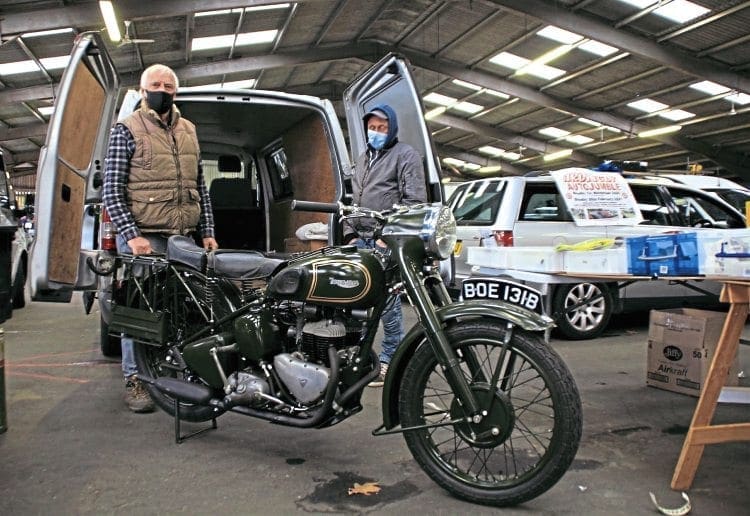 Until England entered a second lockdown on November 5, those jumbles still taking place were subject to ever-changing regulations, largely depending on the attitude of their local authorities. One jumble organiser was told he had to provide a helipad for an air ambulance at the event.
If lockdown is lifted on December 2 as suggested, scheduled events will include Rufforth Park Jumble near York, which has seen large turnouts every first Saturday of the month, and the Great North Jumble at the North Yorkshire Events Centre at Scorton near Catterick on the third Saturday of each month.
The 'Normous Newark and Kempton autojumbles have been cancelled for December. As we went to press, the next events will hopefully be Kempton, January 16, 2021 and 'Normous Newark, on Jan 31, 2021. As always, check websites or with organisers before travelling.
Sadly, the Carole Nash Classic Bike Guide Winter Classic scheduled for January 9/10 at Newark, which is held mainly indoors, has been called off. The Carole Nash Bristol Classic MotorCycle Show planned for February 6/7 is still on the calendar, as is The Classic Dirt Bike Show at Telford on Feb 13/14.
Read more News and Features online at www.classicbikeguide.com and in the December 2020 issue of Classic Bike Guide – on sale now!