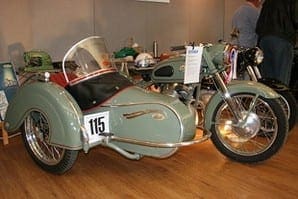 With the 'Ace' celebrating its 75th anniversary, Kempton promoters EGP Enterprises teamed up with the famous North Circular cafe to host a special 'Cafe Racer Corner', while the Ace took the opportunity to unveil the new Ace 1200CR Street Special cafe racer.
Bearing the legend 'Built in England, powered by America', the 1200CR was built in Bury St Edmunds, Suffolk, by the custom and speed shop Krazy Horse, in collaboration with Ace Cafe London's Stonebridge Motor Company.
The bike celebrates this year's twin anniversaries of Harley-Davidson's 110th, and the 75th of the Ace and was first featured in an exclusive CBG road test carried in our May issue.
Cafe Racer Corner featured a classy line-up of machinery ranging from a couple of modified Tiger Cubs, the bigger Triton twins, through to a modified Norton Rotary.
However, after much deliberation, expert judges Mike Jackson and Dave Degens of Dresda fame, awarded Ralph Avis best in show with his pristine 1974 Triumph Metisse.
Ralph said: "I'm a bit taken aback. I only finished the bike yesterday and haven't even had a chance to ride it properly. I took it for a spin around the block to make sure everything was working and then came here."
Ace Cafe's Mark Wilsmore singled out Ian Johnston's BSA Special for his own 'pick of the show'. The bike, which Ian said was 20 years in the making, features a T160 Triumph engine mated to a 1959 T120 gearbox and slotted into an A10 frame.
The show also featured a main hall packed with impressive owners' club exhibits, plus a huge autojumble, both inside and out.
Southern Classic show awards
Best in Show: Triumph Metisse, Ralph Avis
Best Cafe Racer: Triton, George Page
Best Stand: MV Agusta OC
Ace Cafe Award: Triumph BSA, Ian Johnston