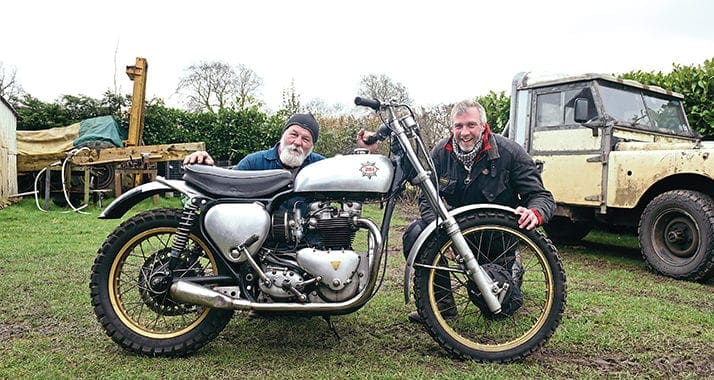 This month has disappeared in a melee of riding. The shows and meets are in full swing and feature bikes are everywhere. In no particular order, I've ridden a BSA A10 (lovely, everyday bike with plenty of go), a Triumph Street Cup (better than I thought it would be – a lot of fun) a Triumph Thruxton R (lovely, lovely, lovely), a Dnepr outfit (scary, heavy and slow but hilarious at the same time and bloody useful), A 750cc Harley flat-track racer (loud, exciting, no front brake), an AJS scrambler (my, what a giggle off-roading is on a classic), a Tribsa (my friend Neville's superbly sorted weapon – see below), a rigid Royal Enfield chopper (looked nice but tried to kill me when the gearbox seized), a new Brough Superior (the ultimate gentleman's transport – more next month) and, of course, my trusty B31. Oh, and some modern stuff. And a Sentinel vertical boiler steam lorry – but that doesn't count… They were all different, all appealed to different people and all offered different experiences. Some you may like the sound of, others you may not. But it just goes to show how diverse our world is.
Even the Enfield chop, which left a 25-yard skid mark behind me when it tried to catapult me off, was charming me shortly before it did its best impression of a striking workforce. The modified bikes were fascinating in as much as they showed the owner's interpretation of what they wanted from a bike. The classics showed me what it was like to ride these bikes before I was born and after test riding modern bikes for 12 years, how bikes have changed.
But it was the modern retro-styled bikes that really interested me. The design teams have a real challenge – to bring the ethos, spirit and charm of the old bikes and to use the latest technology to create a bike for today that feels like yesterday. Oh and make sure all the stringent laws on emissions, safety and sound are all adhered to. And make it to a price the marketing team tell you to, while also trying to make a little profit.
A modern bike will never feel like a bike from 50 or 60 years ago and thank goodness – at least they stop now. But you can jump on them, start them without exercising your hips, knees and ankles, ride them at the same speed the Chelsea tractors are going and get where you want to get to in comfort and on time. And before I hear 'they're not even British', personally I don't give a damn – there are bikes built in the UK – and they cost twice as much. What would you prefer?
I've also noticed that the last half a dozen or so collectors I've been lucky enough to visit – whose beautiful collections of bikes stir your cockles – all have a modern turn-key bike, for those longer journeys, for carrying a pillion or just for peace of mind. These modern bikes are also responsible for a large proportion of new riders getting into motorcycling. They look cool, you don't have to wear one-piece gimp suits like we used to when sportsbikes were all the 'thing', and for once motorcycling isn't about going at speed, which you can't do anymore anyway, thanks to too much traffic, too few people paying any attention to what they're doing in said vehicles and too many speed cameras.
Article continues below...
Advert
This new generation of rider, whatever their age, is essential. The traction engine world is having a massive issue where the cost, the skills needed and the logistics in owning such a handsome beast, are preventing a new generation coming in. And no new people means those machines will inevitably lose value. So, the next time you walk past a modern classic, don't snarl or mock. Be thankful that there is still a thriving bike scene, there are still people interested in this strange, selfish and sometimes dangerous pastime of ours and when your 'real' classic fails to start after repeated attempts, try not to look envious as that modern classic has its starter button caressed, only to fire up instantly…
Hope you enjoy your mag and be good.

Enjoy more Classic Bike Guide reading in the monthly magazine.
Click here
to subscribe.
Article continues below...
Advert