WORDS BY Alan Cathcart   PHOTOS BY Milagro
Moto Guzzi's latest interpretation of the V7 range offers modernised style and a model name from the history books
As a further celebration of its 95th birthday in 2016, Italy's oldest and most historic motorcycle manufacturer, Moto Guzzi, has introduced a new retro-themed addition to its three-strong entry-level
V7 II model range. This currently comprises the 744cc Stone, Racer and Special variants of its trademark transverse V-twin shaft-drive family, each with its own quite distinct character.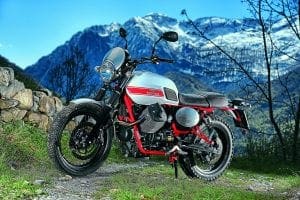 Likewise the latest member of that clan, representing Guzzi's entry to the burgeoning street scrambler market, which it dead-heated with Ducati in discovering first time around back in 1962.
Named the Stornello in homage to the strong-selling single of that name produced from 1959 to 1974 – the company's first dual purpose on/off-road model, which essentially kept Moto Guzzi in business long enough for its future survival to be ensured by the 1967 arrival of its soon-to-be-iconic V-twin shafties – the wire-wheeled new model is available in a limited edition run of 1000 individually-numbered units, retailing in Italy at an on-the-road price of €10,750 incl. 22% local tax. However, the Stornello i
s only available in Euro 3 compliant form, making the fact its two-into-one Arrow stainless steel exhaust doesn't meet the Euro 4 emissions norms which come into
effect at the start of next year, a likely reason for the limited edition run. If the Stornello sells well, expect 2017 to deliver a less expensive volume production version with more mundane hardware priced around €9000, and powered by the Euro 4 version of the V7 II motor that will surely debut at this November's EICMA Milan Show
Comments
comments