Current issue: May 2017 – Next issue: June 2017 (on sale: May 31)
RIDING LIFE
News, much of it. New oil can and even more excitement. Also a report on a super Scottish show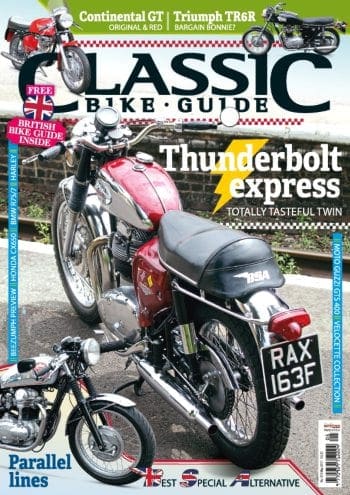 SUBSCRIBE!
Save a little money, get the magazine a little early. Thrills beyond imagination. Hopefully
EARLY WARNING
Get ready for the Beezumph Rally
TRIUMPH TR6
Better bet than a Bonnie. Perhaps. Almost
KAWASAKI W650
Truly unusual Rocket Gold Star replica
BMW R75/5
Entirely adequate Teutonic tourist
ROYAL ENFIELD CONTINENTAL
The original 250 learner flyer. In red
MOTO GUZZI 400 GTS
V-twin experts also tried a few fours. Unusual, too
HONDA CX650
From Maggot to Eurosport. A hard road
A VELOCETTE LIFE
From roadster to racer and back again
PAUL D'ORLÉANS
Mexican motorcycle magic
MARK WILLIAMS
The quest for affordable patriotism
PAUL MILES
All praise the modern bike?
BSA THUNDERBOLT
Bright red and shiny too. Just the job
HARLEY-DAVIDSON MODEL 17
Very scary eight-valve racer from way, way, way back
CLASSIC CLUBS
Visit the Morini OC, join in, ride more
ROYAL ENFIELD'S MANY BULLETS
A big guide to the most affordable old bikes
NORTON COMMANDO BUILD
Improving an 850, twin discs and an electric foot help
READER ADS
Here be temptation, lots of it
INK WHEELS
Co-ordination by Talana Gamah
FRANK WESTWORTH
Brakes for the brave

Enjoy more Classic Bike Guide reading in the monthly magazine.
Click here
to subscribe.