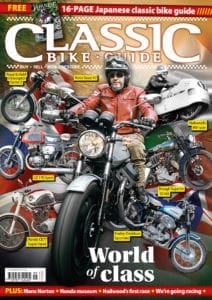 From the archive
CZ returned to the TT in 1956 after a 21-year break

Lawrence and his Broughs
Broughs may have become too expensive for most, but the riding stories of TE Lawrence are priceless

 A guide to Brough Superiors
We have a look at the main models from the famous Nottingham marque

Subscribe!
We're practically giving it away when you subscribe!

News
What's going on in our world
What's on
The weather's getting better so get out there
Buying guide – Harley-Davidson Sportster
It's been in constant production since 1957 and you can still buy one. A true classic
Buying guide – CZ 175
A bullet-proof two-stroke which is great fun, affordable and has a great following
Buying Guide – Yamaha   XS 650
The Yamaha is a troubled copy of the British twin, but you get a lot of bike for your money
New classics – Moto Guzzi V7
We try the latest V7 from Moto Guzzi. All that classic charm and looks, with modern ease
V7 rivals – Ducati Scrambler and Triumph Street Twin
We pop out on the Scrambler and Street Twin to see what they have to offer
The original – Moto Guzzi V7
We take a look at the history of the V7 family
Archive poster
Mike Hailwood as we all remember him

Steve Cooper
Cooperman bumps his head and questions his methods

Paul Miles
Miles takes a look at the future of the Vintage Motorcycle Club

Paul D'Orleans
D'Orleans opens a can of worms and looks at the custom scene

Hailwood's bikes
In the first part of four, we look at the beginning of Mike Hailwood's rise to fame

Royal Enfield Interceptor Series 2
We ride a gorgeous restored Interceptor and look back at what they said when it was new

Manx Norton
A lovely Manx Norton, ridden as it should be
Products
This month's must-haves. Got a birthday coming up?
Letters
We've had some great pictures sent in for this month's letters. Send in yours!
You meet the nicest people on a Honda
We pick out some important bikes from the superb David Silver collection
Workshop – We're going racing!
Starting with a wreck and a box of bits, can we make a classic racer on a budget?
Reader Ads
The sun is out – you deserve a new bike for the new season
Frank Westworth
Frank recalls being given an AJS – with a hinge in the middle

Enjoy more Classic Bike Guide reading in the monthly magazine.
Click here
to subscribe.