From the archive
We look at a couple of images from Rudge – the company that always trod their own path.
Machines that matter: Rudge Ulster
It was the racer for the masses from the company that always did things their own way.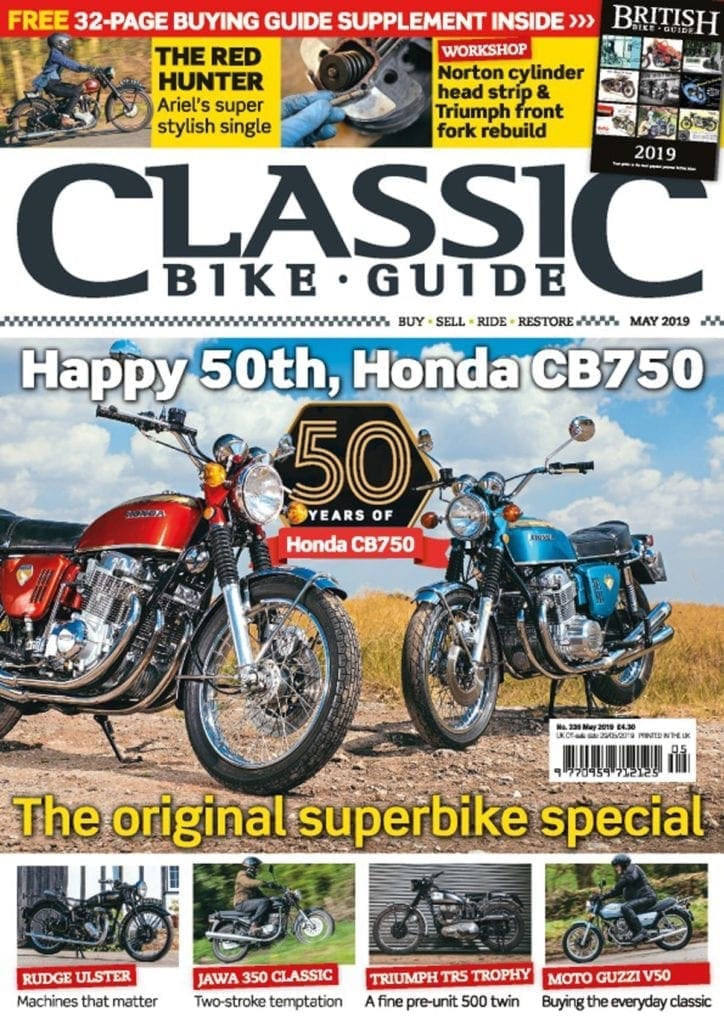 Subscribe!
Let us come to you, every month – saving money as well. What's not to like?
News
Bikes, shows racing and not a word about Brexit…
Letters
Tell us your stories, show us what we've got wrong and share a laugh!
Products
We find the latest products that may be of interest to you. It's a tat-free zone!
Buying Guide – Triumph TR5
Despite an engine that spent life as a generator in Lancaster bombers, the Trophy became a true classic.
Buying Guide – Moto Guzzi V50ii
It's handsome, usable and sounds great. It's also small, but packs punch. What's not to like about the V50?
Buying Guide – BSA Bantam Bushman
Loved across the world, but the Bantam Bushman was, and still is, a rarity in the UK.
Hailwood's machine – part nine
It wasn't all plain sailing for Mike the Bike. Rachel looks at when Honda paid Hailwood not to ride…
Then and now – Ariel Red Hunter
We look at how Ariel's super single was viewed when it came out and what it's like now.
What's on
Dust 'em down and head to a show, or feast on burgers and grab that part you need.
Archive poster
A look back at how they used to review new bikes, with the original Ariel Red Hunter.
Opinion – Steve Cooper
Steve looks back at when dealers would sell you all you needed to café racer your Japanese bike.
Opinion – Paul Miles
Paul faces an awkward decision – ride as is, or restore? Shiny or patina?
Opinion – Paul D'Orleans
Our man in the USA takes a fascinating look at the history of speed limits, and speeding.
Honda CB750 – happy 50th birthday!
We are lucky enough to ride one of the earliest production CB750s in the UK.
Sealey Honda
Colin Sealey made some great frames, but the one for the CB750 engine was his favourite.
Bimota HB1
This is how the Italians saw fit to use Japan's best engine
Jawa 350
We look at Jawa's new 350 Classic. What's it like and who would it suit?
How's that work? – Tyres
There's more to those black hoops than you think.
Rebuild your Triumph forks
Oli strips and rebuilds his T140 forks, at a show!
Project Norton
This month the head comes apart. There's some good, and some not so good news.
Reader ads
'Ooh, I always fancied one of those'. Buy it. You deserve it.
Frank Westworth
BSA Beagle – ridden one? We haven't, but Frank finds he's a soft spot for the little Beeza.
---
Advert

Enjoy more Classic Bike Guide reading in the monthly magazine. Click here to subscribe.
---