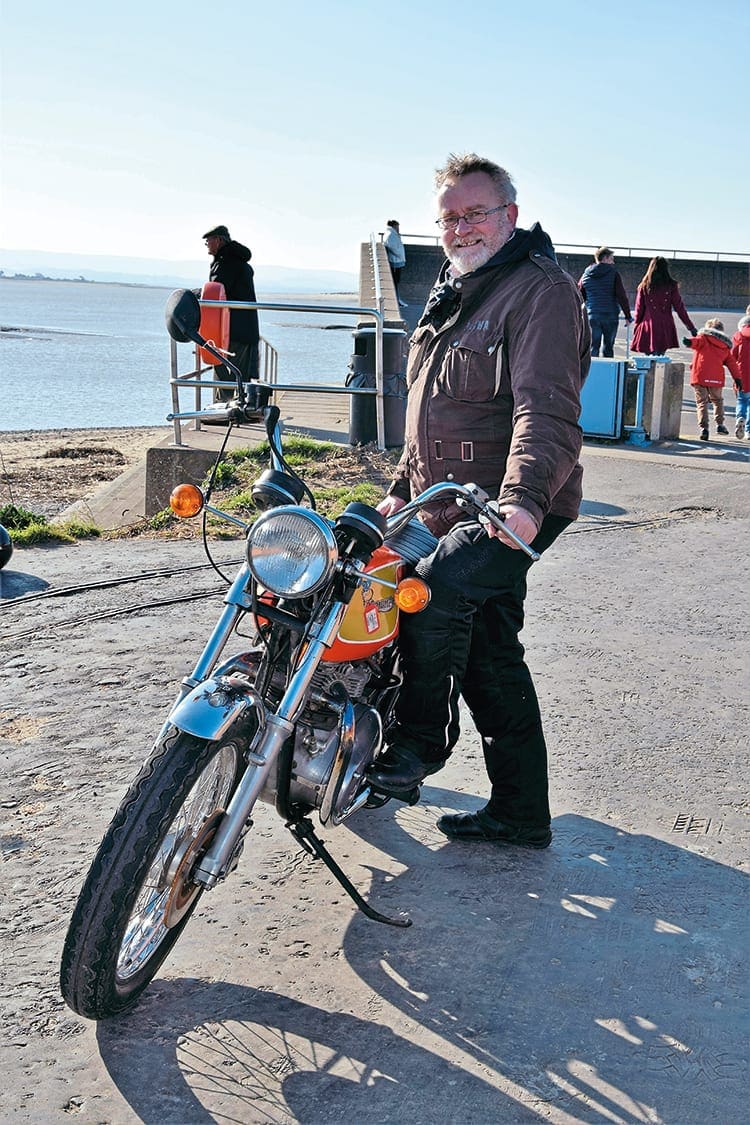 Snow will be what we remember about last month… but the sun was shining on me as I got to ride a brand-new Norvin. The bike was a revelation to me. I suffered from total sensory overload – the sound, the attention to detail and the sheer riding experience blew me away. Okay, so it is effectively a brand-new bike that features many modern improvements, but it still provided me with an amazing classic experience.
Needless to say, a bespoke classic such as this costs a lot. An awful lot. Start at £40,000 and keep counting if you want a few extras. When you break it down to the parts and the labour required to make such a machine, it's a bargain – but I fear my bank manager won't see it like that. If I could, I would, but I can't. Still, read more about it on page 12.
At the same time, Oli Hulme, Classic Bike Guide's staff writer (right) was buying another British twin, a Triumph T140, through an auction. He hadn't even seen it as he was bidding online, but took a punt and ended up winning the big Triumph. "I expected the bidding to increase way above my ceiling, but it just stopped," smiled a happy Oli. It was being delivered the next day and I awaited the phone call telling me it wasn't as good as he'd thought, but no. When the call came I could tell by his voice he was happy. "It's a cracker!" A 750, twin-carb Triumph, for less than the price of a basket-case 650 Bonneville! They just seem to be the forgotten Triumph and yet are reliable, have a great turn of speed and without much work, could be used every day. If you like the sound of a T140 we've got a buyers' guide on page 56 and a fascinating article on buying and selling at auction on page 64.
Meanwhile, pals at BMW dealer Lind have decided to buy a classic BMW R65. Their idea is to restore it, but for their customers to decide how it gets restored. It's a nice, unmolested example that could end up being modified into a café racer, or it could be restored to concours. Personally I'd like to see a sympathetic restoration, but it's down to the vote. However, the bike cost just £1600, for a classic you could still use every day. It even had the original Krauser panniers, toolkit and BMW pump under the seat. There's a buyers' guide on page 36.
So, although you can spend £40,000 and more (a famous racing Vincent sold for more than £600,000 last month – the most expensive bike ever), for £3000 or even less you can end up with a really useful bike that should provide you with a lot of fun. That's what has struck me this month – the classic bike world really is open to all members, no matter what preferences or how much you have in the bank. And thanks to the hundreds of small companies sourcing and remanufacturing parts for classic bikes, maintaining them is rarely a problem. Anyway, many find the locating of rare parts a challenge. There's a James Cadet that's been lovingly restored on page 100 – if you can find bits for a James, you can get bits for anything.
So when you next hear your modern bike-riding buddy complaining about their £400 major service, or how little their three-year old bike is worth as trade-in, see if you can tempt them into the classic world. They don't have to spend a fortune, and you'll have someone to ride with and borrow spanners from.
In other news, as we might say, here at CBG we want to learn more about you – our readers – so we can ensure the magazine and any products associated with it are as relevant as they can be. To this end we've created an online survey –
www.classicbikeguide.com – for you to complete.
By way of thanks from us for your completion of the survey, all respondents will be entered into a FREE PRIZE DRAW with a chance of winning a helmet and gloves from Held clothing.
Good luck in the prize draw… stay warm out there!
Matt Hull