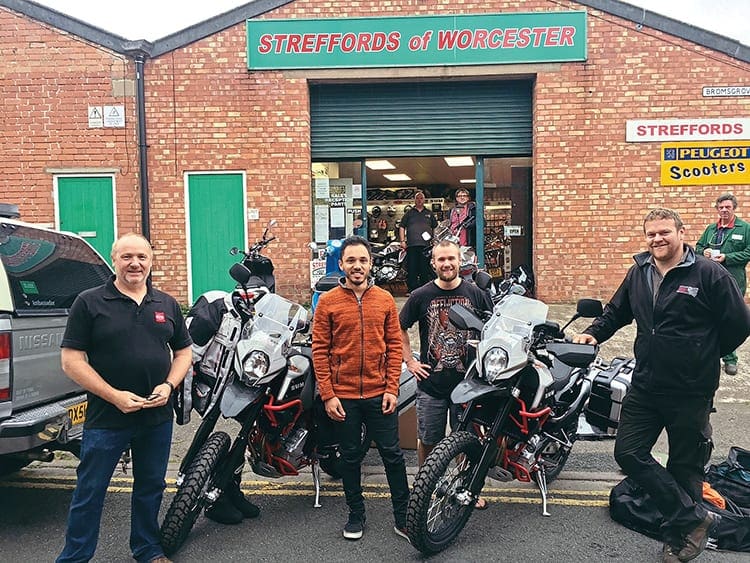 A BRITISH BIKE dealer has come to the aid of two Australian riders on a transglobal charity challenge.
Jason Baptist and Leal Minnis have travelled to Worcester from Queensland to collect two very special SWM Superdual motorbikes – models unavailable in their home country – before setting off on their round-the-world effort, riding from Worcester to Australia via Mongolia. Italian bike specialist Streffords of Worcester are supporting the ride, providing necessary motorbike equipment and accessories.
The challenge will raise funds for Go Help, a UK-based charity that helps children in central Asia and Central America to gain access to education and healthcare. Jim and Nathan Strefford, the father and son team who run the garage, have sourced many accessories and parts from all over the world, and prepared the bikes ready for long distance charity challenge. Jim Strefford said: "We were inspired by Jason and Leal to support their challenge to raise money for this great charity helping disadvantaged children.
"Streffords is an SWM dealer and felt that we are ideally placed to support them with the build of the bikes."
Jason Baptist said: "The guys at Streffords are absolute legends and have been incredible in helping us to prepare the bikes for our overland adventure. It will take us six weeks to reach Mongolia and onwards by boat to Australia.
"Our long-distance ride seemed like an ideal opportunity to raise money for this wonderful charity which gives children in need a good start in life. Plus, we get to purchase the SWM motorbikes we have wanted for a long time and, after returning home to Queensland, we will enjoy riding these special bikes on Australian roads."
Further details about the charity's work can be found at gohelpcharityrallies.weebly.com. Anyone wishing to donate to Jason and Leal's charity challenge can follow their progress via their Just Giving page at justgiving.com/fundraising/mongoliarallyteamsixtyfiveroses
For the rest of this story and more, buy the August issue of CBG