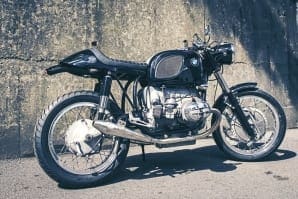 SOME BIKES ALMOST BEG to be given a café racer revamp, and if there's a list of convincing candidates then BMW airhead boxers must be near the top of it.
It helps that even in their standard incarnation there's an awful lot of engine on display.
It's a chunky lump which aesthetically benefits from being laid bare. It's a mechanically robust motor, too, famed for frequently clocking up 200,000 miles and more – although long-term owners do have to become reasonably adept at top end overhauls.
Ditching massive mudguards, filters, fairings and lumpy bodywork unleashes some of the torquey twin's previously unappreciated performance.
BMW's bigger airheads were never actually slow. A standard R80/7 was good for a 13.72 second standing quarter mile, 110mph top whack and effortless 80mph all-day cruising.
Yet they tended to be ridden with restraint, with the bike's intrinsic potential suppressed by legshields, panniers, waterproofs, passenger mod-cons and an oh-so-practical top box only slightly smaller than an aircraft carrier.
Junk that lot and you'll be surprised by how sprightly an old Beemer can be.
Read more in this month's edition of Classic Bike Guide