The Vincent Grey Flash is one of the most iconic British competition machines from the 1950s. Rachael Clegg discovers that the Grey Flash – so recognisable for its chalky livery – lived up to its name in every way imaginable
August 1951: it's the Auto Cycle Union's International Race Meeting at Thruxton circuit, Hampshire. The rain is lashing down, the sky is dark, spectators are sopping wet, but a certain teenager has baffled the crowds against all odds: John Surtees.
Despite the treacherous conditions at the Hampshire airfield circuit, Surtees has even beaten international motorcycle star Geoff Duke on some laps in the 1000cc race.
Surtees would, of course, go on to become one of the world's greatest motorsport racers ever – on two wheels and four – but in August 1951 he's a gangly teenage apprentice at Vincent on a fiver a week.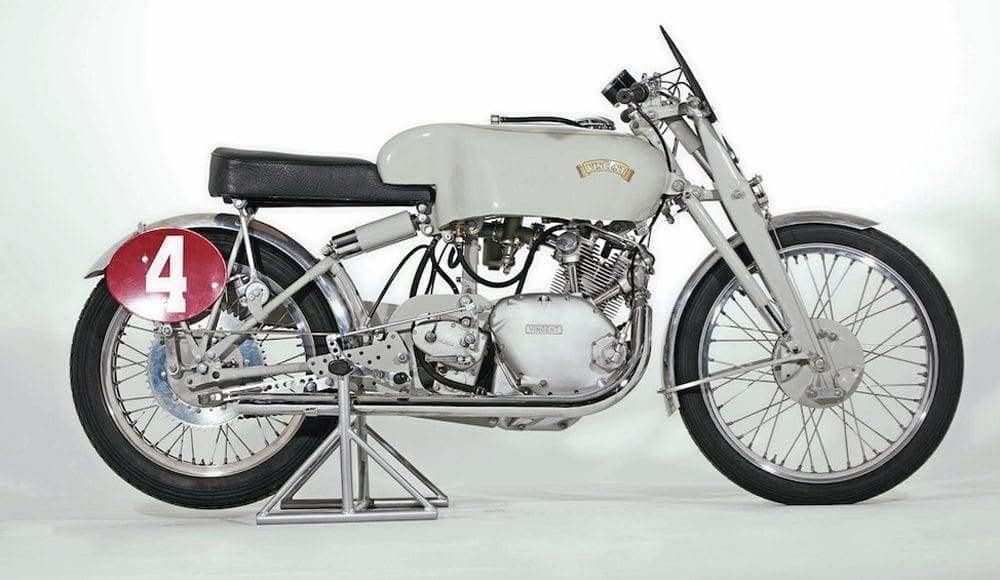 Surtees' machine is the newly-marketed Vincent Grey Flash, which is an apt moniker – it made its name by going very fast on this very grey day.
A report from that race, published in Motor Cycle on August 9, 1951 read: "The last event of the day, the final of the 1000cc event, brought no respite from the continuous downpour. John Surtees, on his Grey Flash Vincent, again distinguished himself.
He appeared in first position on the first lap with Duke in fourth. By the third lap Duke was second, but it was another four laps before he could reach Surtees.
However, Surtees would not let Duke get away and hung grimly on to his tail. Not until the last three laps could Duke make real daylight between his Norton and the Vincent."
Read more and view more images in the April 2019 issue of CBG – on sale now!