Mark Williams meets a man whose mission in life is making BSA's modest little workhouse a force to be reckoned with.
Photos by Alex Ramsay and Mark Williams
BSA Bantams… Who honestly hasn't owned one? I'll happily admit that I did, in fact it was what I learnt to ride on, a rigid-framed D1 which for some absurd reason I hand-painted white.
And gold. But despite their ubiquity – depending on whose figures you believe, between 270,000 and 400,000 of the little blighters were built in their various forms – they're little lauded by the classic cognoscenti.
But let's forget them for a moment, for the BSA Bantam Club has almost 1200 members – arguably the biggest single model outfit in the UK – and as an everyday ride, let alone a starter classic, it's hard to think of a better bet.
One man who certainly thinks so is Nick Bramley, a cheery soul who has successfully turned a hobby into a business, rather cunningly called Rusty Rooster Motorcycles, based in Kington just up the road from me in the Welsh Marches.
Explaining himself, Nick worked for various south London bike dealers from the early Eighties onwards, starting at Doble in Coulsdon, then Motorcycle City and later Cooper BMW in Tunbridge Wells.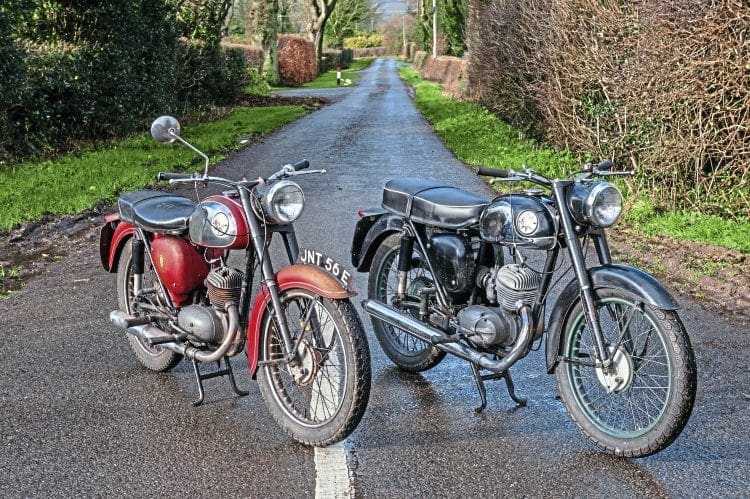 "And I came across a little company called T&G behind Aero-Suzuki in Norbury, which had a good business just doing Bantam repairs and spares, and taught me that specialising in something, and doing it well, was a good way to earn a living."
Fast forward two decades and because "spanner wrangling is a young man's game", Nick had given up his daily, 70-mile round trip commute from Bexhill-on-Sea to Tunbridge Wells and moved to Robin James Engineering in Leominster, where he applied his skills to all manner of the high-end restorations that James and his team were famed for. But when the boss decided to retire last year and sold the business to Dave Rosser, "I thought I could make a go of it on my own, with Bantams".
And why so?
"Well, I'd been racing bikes on and off for years," he explains, "mainly older Japanese two-strokes, but I had always wanted to have a go on something British, which basically meant a Greeves Silverstone.
But a good one costs upwards of five grand, so I remembered the guys at T&G, went to a few Bantam race meetings to see what was going on there and was pretty impressed. Most of the guys racing them have actually built them, too, and that's a big attraction for me.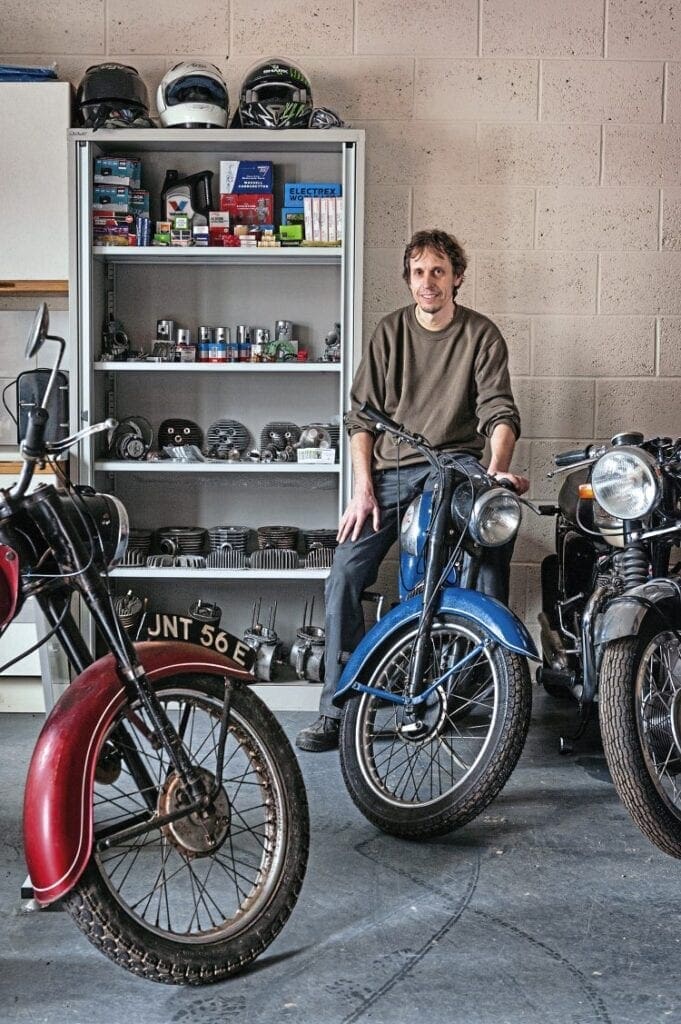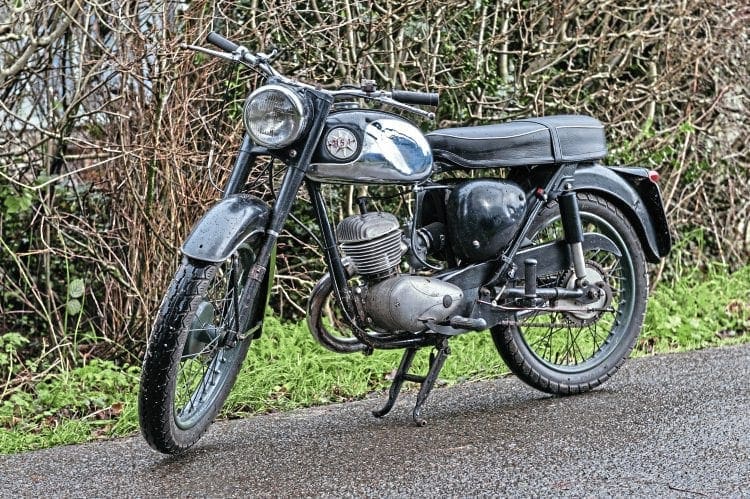 And the bikes are very strong, very durable and most of the good ones have been around for years.
"I then found a seasoned campaigner called Pete Tibbets, who had a bike to sell, but he wanted to check that I could ride it decently before he'd sell it to me! It's a D7 frame with Honda CB200 forks with modified internals and an NSR125 disc brake (all allowable modification), a close ratio three-speed box and an iron barrel engine converted to reed valve, which puts out around 24bhp. It's all evolved from the early days… a nice bit of kit.
"Anyway, first time out at Lydden I won a race, so Pete knew I was competitive and I knew that the bike was. And in 2012, when I was still at Robin James, we won our class in the VMCC's British Historic Racing division, after which people started asking me if I could do this or that mod, or get them this or that part, and that's where it all really started."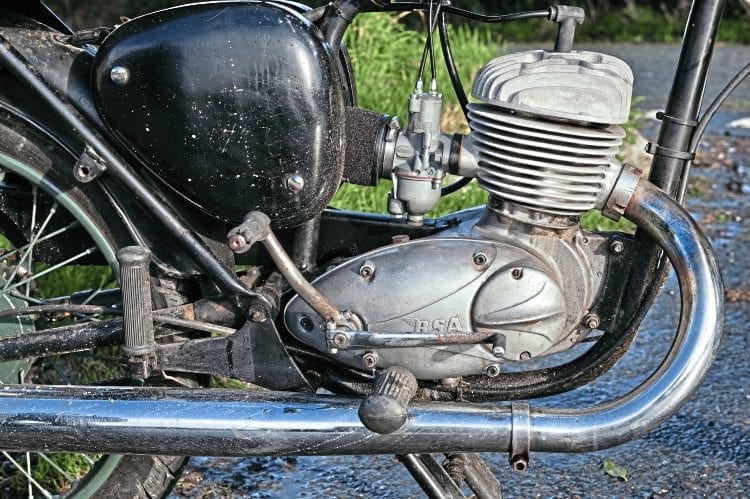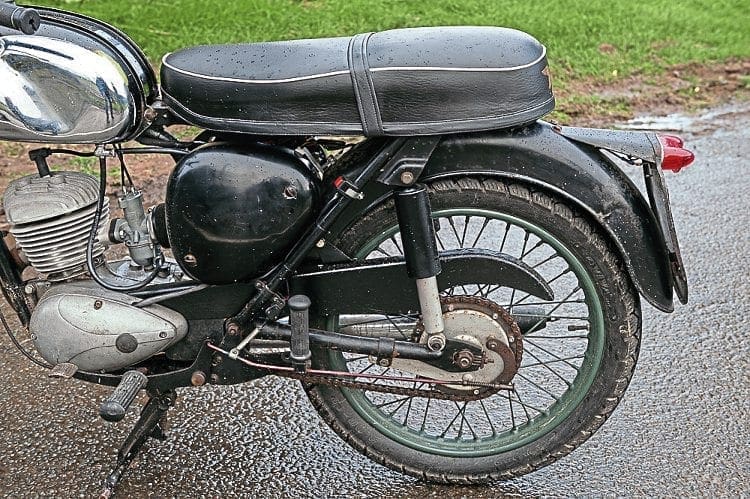 Almost inevitably, Bramley came across Rex Caunt, who makes CDI ignition and lighting systems and other parts for a range of classics, but specialises in Bantams, for which he also supplies specially machined alloy barrels.
As Nick explains: "He already had cylinders made for trials Bantams, which are very popular in classic circles, and one for fast roadbikes based on the D10, so we started with that and did some work on the port timing, carved it up a bit, made it more radical. And first time out I won my race, and in the p***ing rain!
"With Rex's engine in my chassis I knew we were onto a good thing. Lots of dyno work followed and we developed it over the season, supplying an engine to another rider at Cadwell, Rob Dewsbury, who was always up the front end all weekend and he didn't need to lay a spanner on it!
"Rex basically threw bits at me – anything I wanted to try he'd supply, and he was very supportive when I decided to take the plunge because, as he said, there's so much work out there. The trouble with Bantam racing is that people spend a lot of time at meetings working on them instead of prepping them properly and focusing on the racing. And that's where we can help."
But therein lies one of the hidden pitfalls with these little strokers – the much vaunted commonality of parts isn't necessarily so.
"People think too many of the internals are interchangeable," he warns, "but they're not: people put a D7 crank into an early bike or even into a D10 so they can run the later electrics, and they screw it up."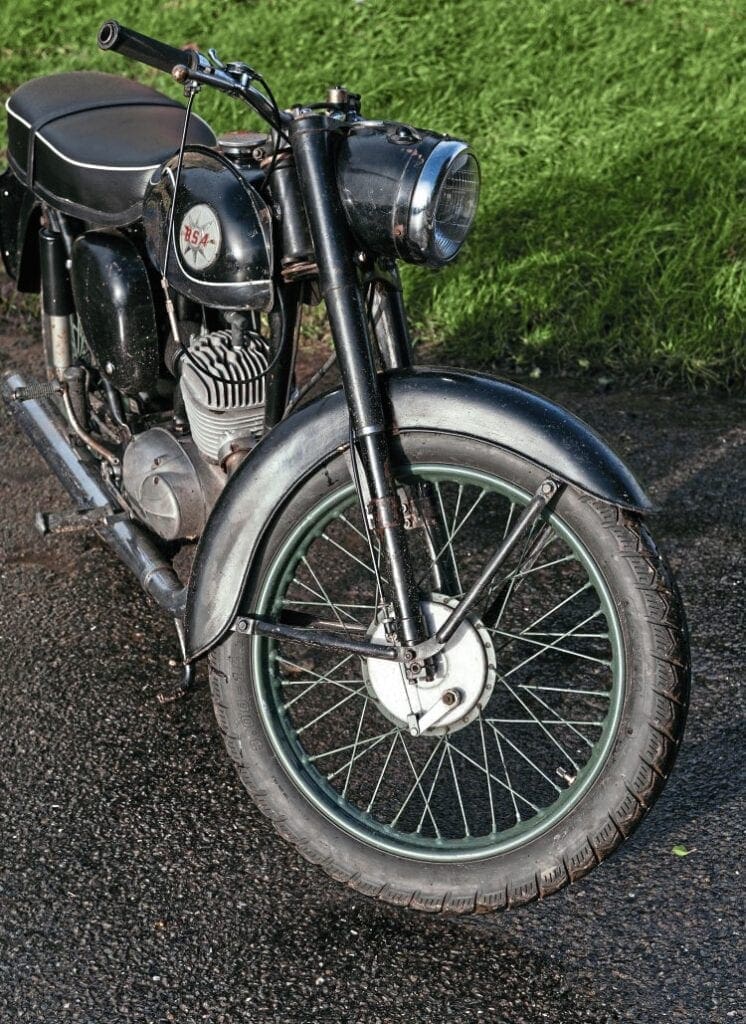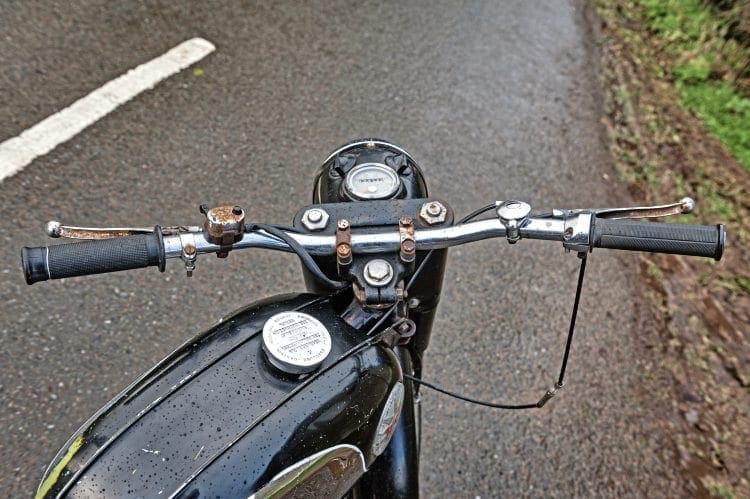 The main difference is in the cylinder stud spacings. The very early 125s had 52mm stud spacings, then they were stretched to 55mm stud centres, crossed between the D3 (150cc) and 125s.
Then, with the D7, they were 60mm stud centres, which eventually meant you could put the 175cc D14 barrels on D7s because they've got better porting, and run slightly faster.
The crankshafts aren't the same but they all run in roller bearings, and across the board they all have the same 58mm stroke.
Nick's development bike – he calls it his 'slave' – is a 1968 175cc D10, which BSA originally claimed as a Sports Lightweight putting out 10bhp, but in reality was much less.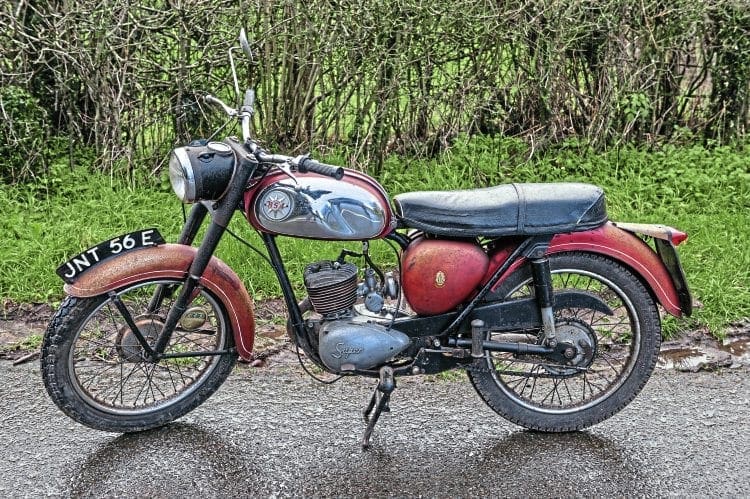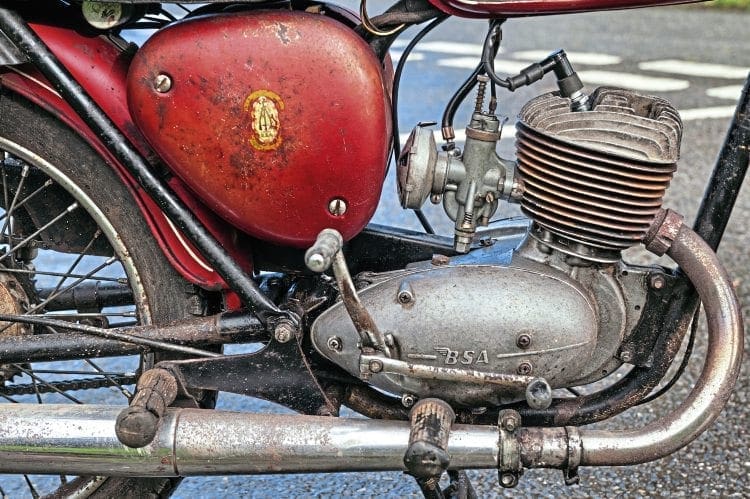 However, it's now fitted with Caunt's reworked 186cc alloy barrel, Nikasil-plated by Aptec in Gloucester and fitted with a Caunt forged piston that's essentially a replica of a Suzuki TS185 piston, except with a lower crown height and single ring. It fits the stock Bantam conrod exactly, although Caunt now offers a lighter but stronger roller mains version, which Nick obviously recommends.
Fed by an up-jetted replica Amal 626 carb wearing a foam filter, "it probably puts out 14-15bhp".
Mated to a standard D14 four-speed box and clutch, albeit using superior quality friction plates, I must say it was quite a revelation to open the throttle and feel a definite kick in the proverbial with a powerband that just kept on giving until prudence demanded that I change up.
True, the gearbox is as notchy as a 48-year-old motorcycle has every right to be, but the clutch is admirably light and one quickly acclimatises to what's on offer.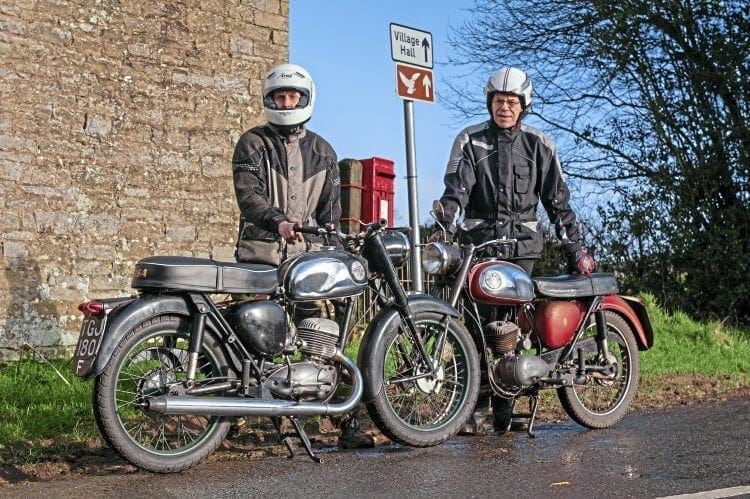 Which, of course, includes small, SLS brakes that aren't masterpieces of retardation but given the low mass of the machine, if not the rider, they were being asked to decelerate, they didn't cause any panic – even though this being Wales in the winter the roads were soaking wet.
I suppose while I'm on about riding impressions I should note that any lightweight of the Bantam's vintage is going to feel small and cramped, even by the standards of the 1970s and 80s Oriental and Italian fare I'm more used to.
The suspension is hardly of the magic carpet variety and the engine vibrates fairly boisterously.
This would be challenging on a long journey, even if a gallon of its 25:1 petroil mix (or higher, with modern synthetic oils) would last many a mile.
But for commuting or pootling down the shops for a six-pack of Smirnoff and 20 Woodies, Nick's little slave was more than up to the job.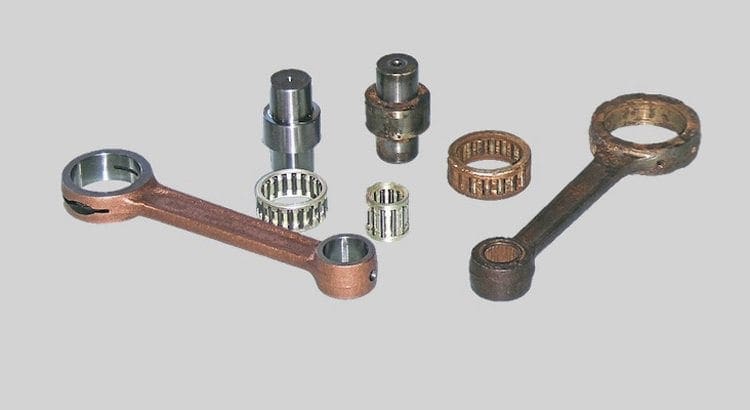 I should add that armed with Caunt's ignition system, the engine started first prod hot or cold, barely smoked – which was a surprise – and the 12v lighting and horn shone and hooted enthusiastically.
For my riding pleasure, or at for least comparison purposes, Nick also had a maroon, three-speed D7, originally registered in nearby(ish) Shrewsbury, which had recently left a customer's shed and where according to the tax disc, it had slumbered quietly since 1983.
Nick's brief was to keep the bike's antique patina intact – i.e. as careworn and rusty as befits the name of his business – but treat the mechanicals to a thorough sprucing up.
"This seems to be a bit of a trend," he smiles. "People want bikes to look knackered but run like they're brand new." Or even better in this case, because although it hasn't been fitted with the Caunt/Bramley alloy cylinder, it is fitted with a modern hi-silicon piston, 12v AC electrics – so no battery – and of course electronic ignition.
With its ancient suspension and brakes as yet untouched (and perish the thought the tyres), the D7 rides much like the black bike, but the deficits in power and tractability are significant and the relatively wide ratio gearbox notably more, ahem, challenging.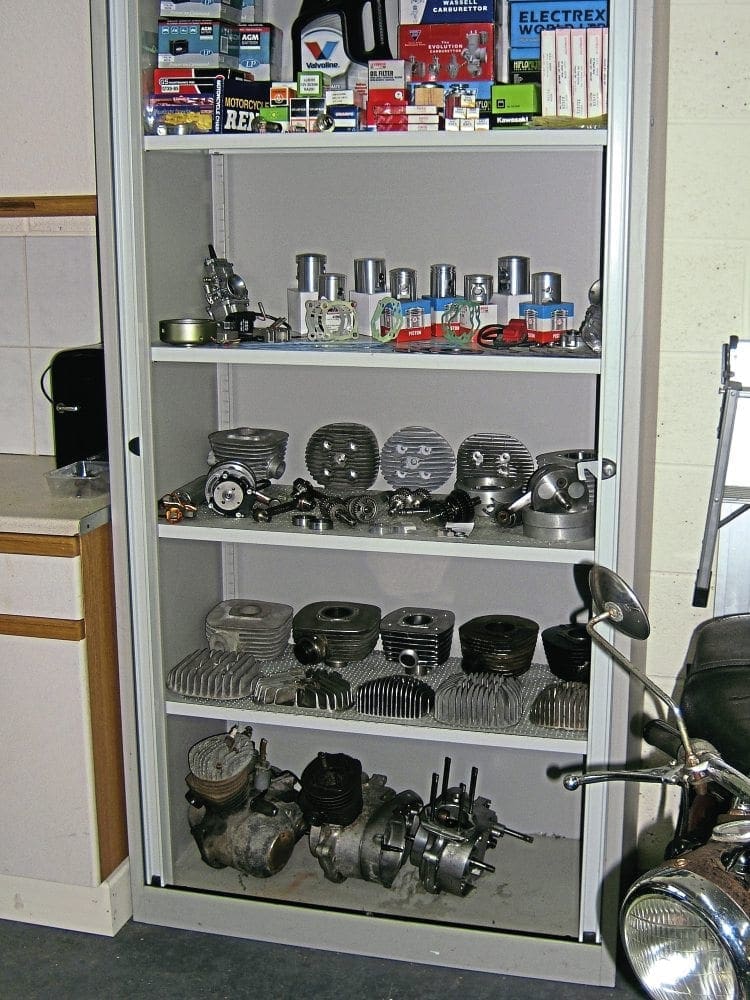 That said, three gears are really quite adequate for pleasant A-to-B journeying and when Nick's finished ministering to the bike, I'm sure its owner will be happy with what he's got.
I think I might be too. As Nick avers, if you just want to simply ride your classic and not spend umpteen years and squillions of quids restoring, say, a Norton Dominator or BSA Gold Star, a Bantam is the way to go.
A decent, instantly rideable B/D175 or D14 can still be found for under £1500-1600, and anything from £500 to a £1200 for other models, excepting original, rigid frame D1s, which command prices that according to the Bantam Owners Club, "are all over the place."
Because they're such a simple design, restoring a worn-out (but cheaper) example isn't such a lengthy and anxiety-prone proposition. Spares are easy to find and not madly expensive, and as specialists like Rusty Rooster and Rex Caunt attest, if you want to make 'em run and ride even better, the expertise and the parts are there for the asking.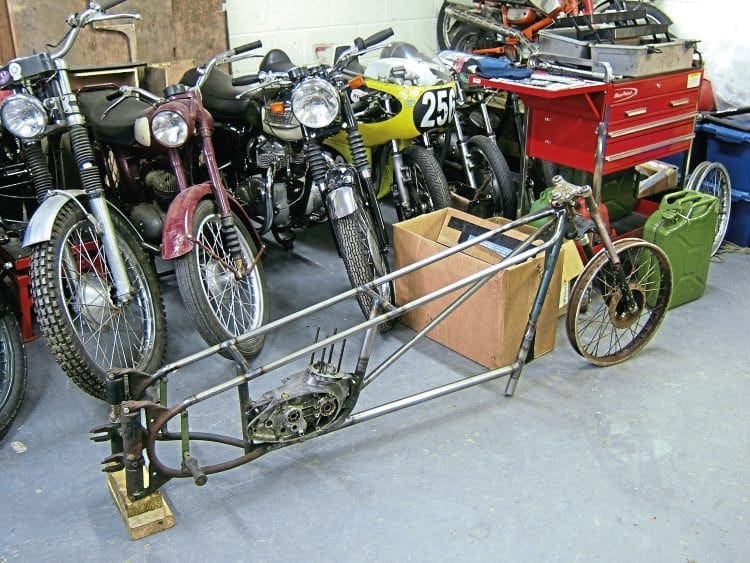 OUR FEISTY FEATHERED FRIENDS
The Bantam was based squarely on DKW's utilitarian little R125, whose design was legally filched by the Birmingham Small Arms Company as recompense for their efforts in the First World War.
Apart from relocating the gearchange to the right (and proper) side, BSA's three-speed Bantam D1 of 1948 merely junked the original's girder forks in favour of admittedly rudimentary telescopics, and clamped on a rather snazzy 'fishtail' exhaust of the variety more associated with the mighty Velocettes of that era.
The long-stroke 52x58mm engine, with its 6.5:l comp. ratio, wheezed out an alleged 4.5bhp when the 6v, 27W Lucas or Wipac generator and wear-prone contact breaker were operating with max efficiency, which in my experience wasn't that often.
The basic design was strong and solid and proved a firm foundation for all manner of subsequent models that can be summarised thus:
1954 D3
There was no D2 – BSA's numerical logic could prove wanting. 148cc, with the plunger suspension that had become a D1 option in 1950, and an alleged increase to 5.3bhp to help push along all that extra weight, although its alleged top whack of 45mph remained the same
1958 D5 Super Bantam
174cc with a claimed 7.4bhp and 60mph and swingarm suspension carried over from late model D3s, but wearing smaller 19-inch wheels
1959 D7 Super Bantam
Same engine but with more robust (ie. bigger) running gear and bodywork, most notably the headlamp nacelle with integral speedo and switchgear and 5 as opposed to 4.5-inch brake
1967 D10 Bantam
Although still a three-speeder, carburation and porting were improved to provide more oomph – 10bhp was the claim – and acceleration. The suspension was also improved and the Bushman, a fine looking off-road(ish) version with high swept exhaust system, was introduced, apparently to entice Australian sheep farmers
1968 D4/14
The '4' denoted a four-speed gearbox, which with its yet more powerful engine catapulted the Bantam into 60-65mph territory, a model superseded a year later by the winningly named B175, later the D175, which continued in production until 1971 when BSA caved into the inevitably superior machinery coming in from Italy and the Orient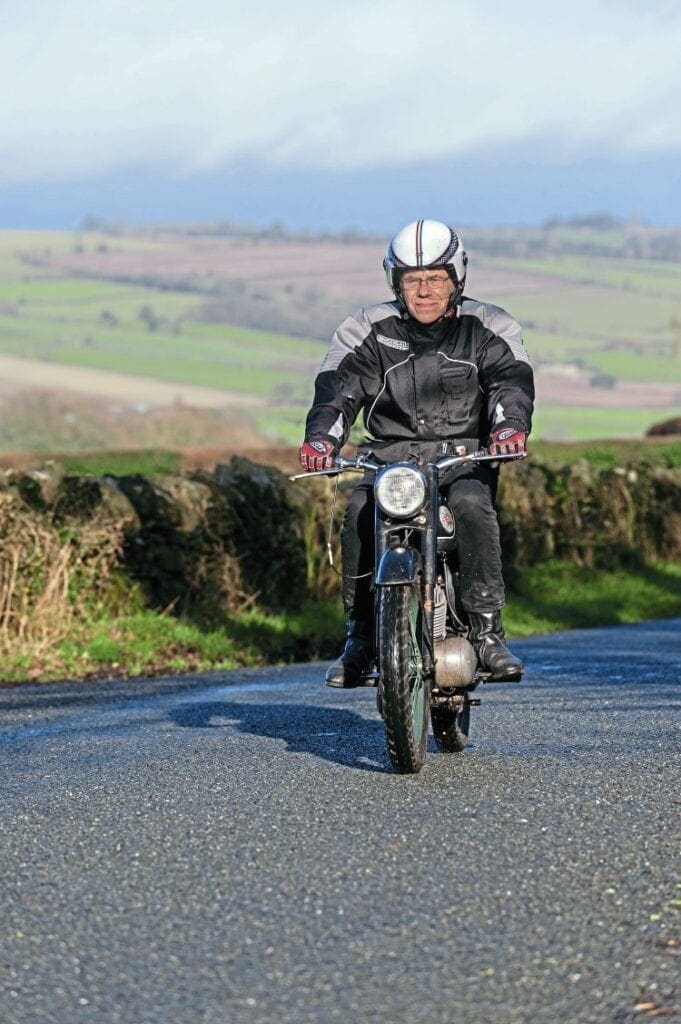 Useful info
Rusty Rooster Motorcycles01544 239209
Rex Caunt Racingwww.rexcauntracing.com
BSA Bantam Clubwww.bsabantamclub.com
Read more News and Features online at www.classicbikeguide.com and in the latest issue of Classic Bike Guide – on sale now!