A Thunderbolt from the USA
WORDS AND PHOTOS BY PHIL MATHER
Imagine, for a moment, that it's 1962 and you're in the market for a brand new motorbike. BSA has recently launched its all-new, unit-construction twin-cylinder range and so you're off to the Motorcycle Show at Earls Court, London, filled with anticipation.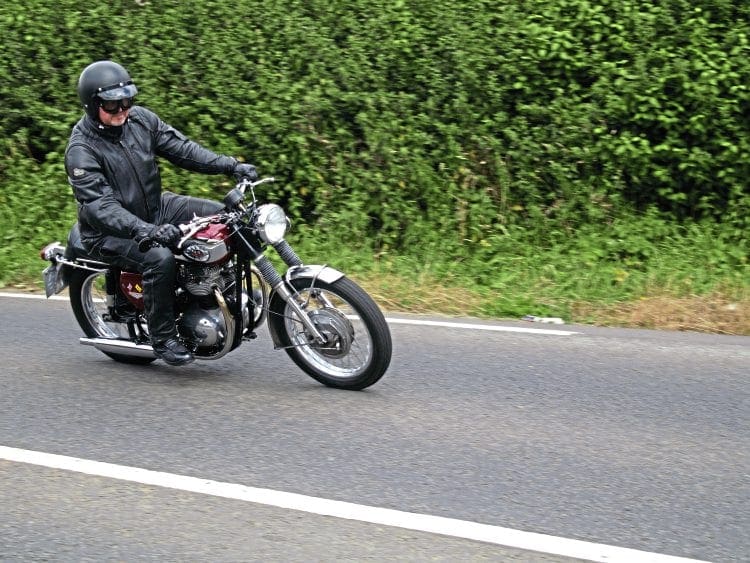 In marked contrast to the old bits and pieces design of the earlier A-series twins, BSA has now produced a ground breaking 'power egg' combined engine and gearbox assembly. The crankcases and gearbox housing are cast in one, there's a new cylinder head with high-efficiency combustion chambers, a triple row primary chain, alternator electrics and coil ignition. That's an up-to-date, tough nut of an engine by anybody's standards.
Even leaving home before first light with a ticket for a special excursion coach trip to the Smoke, the queue is already a mile long by the time you get to Warwick Road in Kensington. But you're surrounded by like-minded bike enthusiasts and with the conversation free-ranging between what you can expect to see, what you've ridden in the past and what the industry has up its sleeves for the future, it seems like no time at all before you're through the turnstiles and into the bustle and bright lights of the main hall.
You know the floor plan off by heart – straight down the centre aisle and turn left three stands down – BSA Motorcycles here I am! And there, centre stage is the new 650, your dream bike. Or maybe not. As a fitting successor to the Shooting Star and the Super Rocket you expect something with pizazz, something with zip. Something going boldly intergalactic, not a polychromatic blue dumpling with a wheel on either side.
To launch its new generation parallel twins, BSA had served up a frumpy, obese C15 with a blobby tank and overly-large side panels. The designers had laid their 'power egg' in a rolling chassis that utilised old wheels, mudguards, front forks and headlight nacelle from previous models – and it showed. If that was the best a major player like BSA could do, no wonder the UK market was going into a decline.
Article continues below...
Advert
Read more in the May issue of CBG – on sale now!
---
Advert

Enjoy more Classic Bike Guide reading in the monthly magazine. Click here to subscribe.
---