It is worth remembering that not too long ago a motorcycle was a form of cheap transport as much as anything.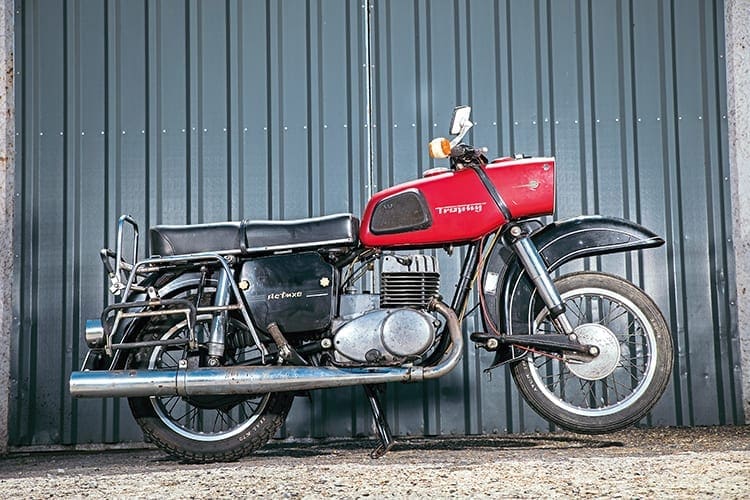 In the early 1970s the budget-priced UK lightweight had gone from the showrooms, but there was still a demand for cheap two wheelers as people watched petrol rising in price and the never-realised threat of rationing loomed on the horizon.
For more content, why don't you like our Facebook page here, or follow us on Instagram for a snippet of our striking pictures!
They worried about their ability to keep their Morris Marina running and bought cheap motorcycles as a fall back, especially as they could ride a 250 on L-plates. For most riders the choice was an expensive, new, Japanese machine, a used bike from the Far East or the likes of an ancient BSA C15, Starfire or rotting Francis-Barnett. At this point a new supply of budget machines from behind the Iron Curtain started to arrive in earnest and these were the ideal workmanlike alternative steed for those hard times. Eastern bloc countries, desperate for hard currency, exported bikes for sale cheaply to eager buyers. Wilf Green started importing MZs in 1970 and kept the nation supplied with these sturdy two-strokes for two decades.
Among the models on offer was the MZ ES250/2 Trophy. In 1974 the MZ cost less than half the price of a Honda 250, and at £225 it was £60 cheaper than the CZ250. Indeed, it was not a great deal more expensive than a BSA or Matchless 250 had been 15 years earlier. These Iron Curtain bikes came from a manufacturer that had sporting pretensions too. MZ had plenty of success on the track in the 1960s until their chief development engineer defected to the West and a job with Suzuki. MZ had even more success in ISDT – something that MZ proudly inscribed on the filler caps of their road offerings, hence the Trophy branding.
The quality of the MZ construction was widely praised in most areas, though the engine tech was a little dated and things like switchgear old-fashioned. The biggest downside was that their road machines were a little odd to look at. The earlier ES250 had rounded off bodywork, and to modernise the look the ES250/2 Trophy had a strange squarish tank/headlamp nacelle unit and large slab-like side panels. Their most striking feature was a pair of Earles-type leading link forks, with twin shock absorbers instead of the telescopic fork legs everyone else was using. This was down to Soviet era-pragmatism as much as anything. Telescopic forks were expensive to make and required tight engineering tolerances. The swing-arm Earles fork was cheaper to make and could use the same or similar components front and rear. They were the fork of choice for use with sidecars which MZ also made, largely for a home market that had a 10-year waiting list for a Trabant or Wartburg car.
The front and rear swing arms ran in cast iron, oil-lubricated bushes (because East German grease wasn't that effective) and the shocks at the back were adjustable by using big cast levers at their bottom end. Those forks did make for an unusual ride though. Featuring anti-dive before anti-dive was invented, riders found that if they had a rare good front brake and grabbed a handful and a footful of the stoppers on a Trophy, the front end rose, rather than dived. The brakes are now rarely powerful enough for this however, and in fact the bike remains completely flat. Use of both brakes, rather than relying on the front, is advised as a well-worn front brake will struggle to stop a moped. The bars can wobble if braking hard in a straight line. Handling is best described as 'interesting'.
The fixed headlight makes for a disconcerting riding experience for the unwary, as does the handlebars being mounted on the steering stem, rather than being fitted to a top yoke. As you steer, the headlight points one way, while the huge front mudguard points another. This can make riding at night on a twisty road a challenge with the 6v headlight bulb adding to the excitement. The indicators, rather than being fitted in two sets, are a pair of two mounted on the ends of the handlebars with lenses on each side of each lamp. One can imagine it being a little difficult to spot this from behind when the machine was piloted through the 1970s drizzle by a rider in storm coat and gauntlets.
The gearbox is best described as 'positive' or 'firm', and you need a hefty boot sometimes to avoid false neutrals. A well set up ES250/2 has an official top speed of 80mph, though anything beyond 70mph will be a struggle. This two-stroke single is all about torque rather than low speed acceleration. The engine is a basic and well-designed 250cc two-stroke single that drew upon MZ's unrivalled two-stroke expertise.
The ES250/2 had a finned cylinder head, a four-speed gearbox and a big, simple carburettor which was covered for some reason with a metal shield. A high mileage MZ with an original carb will be suffering by now as the original BVF carb had loose tolerances in any case. Replacement with a Mikuni VM30 is a good, if fiddly, way to improve running and starting.
For more content, why don't you like our Facebook page here, or follow us on Instagram for a snippet of our striking pictures!