Marmite divides opinion less than Harley-Davidsons. Some riders let them become their world and would never look at anything other than the finest V-twin Milwaukee metal, while others would rather be seen riding a carousel pony than be seen on an American ditch pump.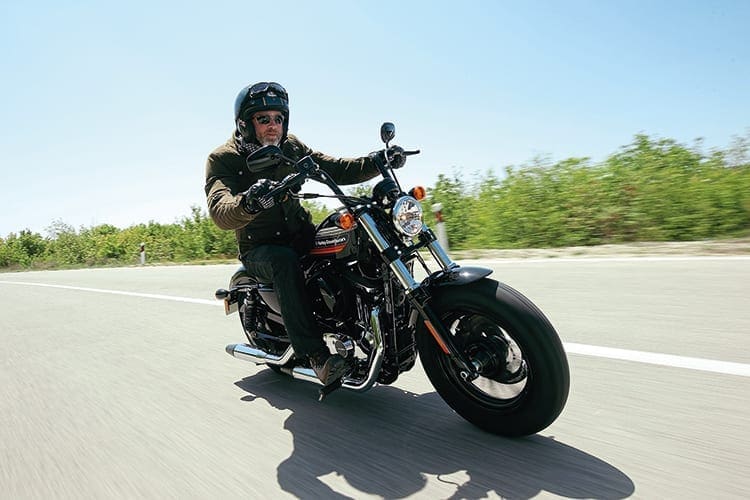 Until recently I was unashamedly on the fence. As a high-mileage rider the smaller bikes just didn't fit my remit; to be fair at just over six foot I didn't really fit them. And the tourers felt too cumbersome at slower speeds, which someone who's ridden for over 20 years shouldn't feel (though I'm told by many that, like anything you get used to it). But I've always admired their ability to keep to their ethos, stay loyal to their core customers and, somehow, keep those rumbling V-twins passing ever-stringent emissions and noise regulations. I've also noticed over the years I'm getting more drawn to that chopper look and the never-ending ways to customise, or personalise your bike.
For more content, why don't you like our Facebook page here, or follow us on Instagram for a snippet of our striking pictures!
Harley-Davidson have seen that the majority of bikes sold never leave the showroom as standard – their accessory catalogue is of biblical proportions and draws you in like a class A drug. So, to make the most of this they've taken their Sportster; a model in constant production since 1957 and brought out two new models, the Forty-Eight Special and the Iron 1200.
At £9995 the new Forty-Eight Special model is the same price as the standard Forty-Eight. So you get Tallboy handlebars, the engine has a chromed bottom-end, a different seat finish and AMF-era decals on that tiny tank – I liked them but older Harley owners look back at that time in a dim light, so I'm not sure how they'll go down. It looks great through these eyes at least, with a true heritage shining through. For my height the tallboy bars and forward foot controls give a dominant, somewhat macho legs-in-the-wind stance. Sons of Anarchy – I'm a'comin for you.
The Iron 1200 is cheaper at £9395, giving you the same as an Iron 883 but with more torque, higher bars, café racer seat, a small cowl, some black engine parts and those graphics for just an extra £500; the main riding difference being the 'mid' foot controls.
Back on the Forty-Eight and the Tallboy bars look high, yet somehow once on the bike they place your hands in a seemingly natural position. And forward controls are the way forward for a lanky git like myself, though those shorter of leg also had an affection for having their feet in the breeze as opposed to the Iron 1200 with its more traditional mid controls. The seat is low, at 710mm which helps. After quite some miles, you do find yourself with an arched back, but there's a multitude of positions to sit in. 50-60mph is most comfortable in a chilled-out kinda way, while 70 plus is easily achievable but a lack of any wind protection starts coming into play. What you do notice is overtakes at 50mph plus – lorries – need more planning than bikes like the Bonneville, also a 1200cc retro-styled bike.
The engine is superb in a silky, ironed-out kind of way. Power, or should I say torque is there from idle but there is no point in revving the Sportster; it's all over from half way through the rev range. Just ride the torque and enjoy how infrequently you have to change gear.
For more content, why don't you like our Facebook page here, or follow us on Instagram for a snippet of our striking pictures!
The Forty-Eight has a 16in front wheel fitted with a balloon-like 130/90 tyre, whereas the Iron 1200 wears a 100/90 19in tyre (both have the same 150/80 16in rear, but with different-styled wheels). You'd have thought this would make a large difference and the Forty-Eight would steer like an overweight doughnut with extra sugar sprinkles, but the honest truth is I couldn't really feel the difference. Both felt sure-footed and while these are no sportsbikes – despite the name – they were consistent, sure-footed and predictable. Just as predictable was the sound of scraping underbellies as tighter corners started coming to us. Various parts touch down depending on how your preload is set, starting with the heroblobs, sidestand on left turns, foot pegs, exhaust on right turns; anything after that starts to get serious. To a rider used to these kind of bikes it's usual and a bit of preload or changing your riding style massively helps, or you could – dare I say it – slow down a little?
The rear shocks and front forks need a mention. Upgraded a few years ago they have transformed the budget boneshaker ride to one of comfort and agility. Even they could easily be improved on, but it's a great start and will please most riders. According to several owners, the finish has got better too, some say since Indian motorcycles have been getting a larger market share – we could not possibly comment but any improvements are welcome.
 I really enjoyed riding the Sportster, though for me the Forty-Eight is much more comfortable for me over the Iron 1200. It all comes down to the peg position – to me legs forward feels better, I have more control and is more natural – though it doesn't look it. And while the heritage of that peanut-sized tank goes right back and aesthetically it looks good, filling up every 75 miles will get right on your nerves. But hey, if you want sensible, go to your Honda dealer…
I didn't understand Harley-Davidsons until this year. But having experienced the early 1964 883cc version we featured last month and riding the new 1200cc this month, I can see why they've been so successful. They are a classic in every sense –  continuous production since 1957, V-twin, primary drive, everything on display (the modern electronics are cleverly hidden on a bike with such minimal bodywork), sound great (insert potato joke here) and give a great, engaging ride if in the speed range that suits. Whether what they offer suits your riding, well that's up to you. But I can now say I get it. 
For more content, why don't you like our Facebook page here, or follow us on Instagram for a snippet of our striking pictures!