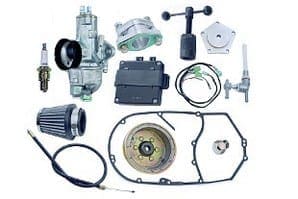 Hitchcock's Motorcycles in Solihull has developed a carb conversion for fuel injected Royal Enfields. Aimed at owners wanting to fit a less restrictive exhaust or other tuning parts where they need to adjust the fuelling to suit.
The kit contains everything you need to do the conversion including all the wiring, a new fuel tap and air filter.
Price is £474 and you can get more information from ww.hitchcocksmotorcycles.com or by telephoning 01564 783192
• The Belstaff doctor
Nigel Eastwood is obsessed with Belstaff. The likeable lad knows as much about the history of the waxed cotton as we do about our motorcycles. "They come to us in all conditions," says Nigel, " from almost new to so horribly abused that they're only good for spares. Even an old, trashed Belstaff, has some kind of value and I'd probably be interested in buying it."
But mostly what Nigel does is restore them. Typical areas of high wear are pockets, linings and collars. All these areas are attended to and while the garments will be returned to their owners in pristine condition they will still have the patina of age that such items attain. Price is from £40. Contact: www.waxjacketscleaned.co.uk, tel: 01663 743000/747474
• New Union Jack design from Davida
Davida UK, has updated its Union Jack range with a new model using a combination of black, anthracite grey and silver. Adding another option to its extensive range of hand built helmets.
Shown here is the Davida Speedster – The Mono UJ Sides is available in all the other Davida Helmets – Jet, Ninety Two or Classic.
The Davida Jet meets the latest European Safety Standard ECE R22-05 and is approved for racing with its ACU Gold stamp.
The shell has an authentic classic shape with a shock absorption liner which is designed to follow the contours of the head. Every helmet interior is leather lined and quilted to provide a superb level of comfort and an exceptionally quiet ride.
Cost is £270 from Davida dealers, see www.davida.co.uk for more details.
• Cromwell return
Cromwell was founded in 1924 and the list of early adopters is impressive. T E Lawrence, George Orwell and Sir Malcolm Campbell, who broke the world land speed record on the Bonneville flats in his 'Bluebird' wearing a Cromwell helmet. Even King George VI wore a Cromwell helmet in his youth on his Douglas motorcycle.
The new Cromwell helmets have all that heritage with Italian design.
The Airforce has a Lexan 2mm thick visor with a scratch proof finish, hand finished synthetic leather and costs £179.
The Tornado Carbon has the same construction but with a central insert of carbon fibre to enhance the shell strength. Cost is £214.99. More information from: www.jackandassociates.blogspot.com