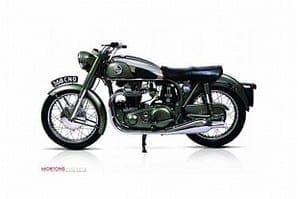 Since the collapse of NVT thirty years ago, the Norton story has been complicated, to say the least. No sooner has the name popped up in one place than it disappears, only to resurface in a different guise eleswhere. Who can forget the Nemesis, that alleged saviour of the British bike industry? We can but try. Then there's the rotary saga, which has been going on now for several decades. Late in 2003, it looked like the end, when the old Shenstone factory was auctioned off, lock, stock and epitrochoid. Yet within hours of that sad event, it emerged that the buyer of most of the rotary-related assets had been the German-owned Norton Motors splinter, which has now set up shop in nearby Rugeley, to the relief of Wankel enthusiasts everywhere.
As it happened, one of the star lots at the Shenstone sale (withdrawn at the last minute) was an updated Commando, as made by yet another Norton offshoot based in the US of A.
It's good to know that here in Britain various companies directly linked to the glorious AMC and NVT past are still looking after the 'real' Norton Commando. If you own one of the tens of thousands of 750s and 850s made between 1968 and 1977, the spare parts situation has never been better. And if you want to improve on Norton's original, the world is your Isolastic oyster.
Which brings us to Burntwood, Staffs, home of The Norvil Motorcycle Co, where Les Emery continues to prove that the venerable twin is anything but obsolete. 100 per cent spares availability means that brand new Commandos have been a possibility since the days when CBG was a grubby black and white baby. I think Jim Reynolds reported on one of the first about 15 years ago, and I've been lucky enough to get my hands on a couple since then.
Very good they were too, and far better in all sorts of ways than the one you might have ridden away from your local Norton dealer in 1975 with your flares flapping in the breeze. But these have all been 850s (or 828s, if you want to be pedantic). Although the latest development may not look very different from the outside, the engine has been taken into a new dimension in all senses, breaking the litre mark. Quite an achievement for a twin originally designed half a century ago with a capacity of 497cc!
To recap, Bert Hopwood's 500 Model 7, intended to address all the perceived weaknesses of the earlier Triumph Speed Twin, had a bore 66mm and a stroke of 72.6mm. Norton responded to the lust for power by expanding it to 596cc (68 x 82mm), 646cc (68 x 89mm), then 745cc (73 x 89mm), with the final Commando's 828cc coming from another 4mm overbore. There were plenty of people who reckoned that they should have stopped at 650, but that didn't stop others from going even further for racing applications.
Norvil had already continued the trend with 920cc and 952cc expansions, keeping the same stroke, but with giant 81mm and 82.5mm diameter pistons. With precious little room left in a lateral plane, the next stage was to increase the stroke. Giving the pistons another 4.5mm of travel resulted in a displacement of 980cc. Having got that far, the obvious thing to do was combine the biggest pistons with the longest stroke to break the litre barrier. In case you don't have a calculator to hand, I'll tell you that this gives 1000.0325cc.
Rocket scientist
You don't need to be a rocket scientist to work out that doubling the capacity doesn't necessarily double the power output, but in this case it's true – in fact, the claimed 68bhp at 5500rpm is rather more than twice that offered by the first Model 7, although we should make allowances for the awful Pool petrol available in 1948. While 68 horses isn't on paper a huge improvement on the efforts of a properly sorted 750 or 850, note that it's available at lower revs. Increasing capacity can (almost) be guaranteed to increase torque, as shown by the 71lb/ft figure quoted, which is the sort of grunt that really makes itself felt when you grab a large handful of throttle in top.
While making bigger holes in the cylinder barrels and fitting appropriately-sized pistons is relatively easy in the early stages, especially if someone else is doing all the work, it becomes extremely difficult once the bores meet in the middle! This is exactly what starts to happen once you go much beyond the 77mm risked by Norton. Now, although Honda once made race engines with oval pistons and two con-rods, somehow I don't think it would work if done accidentally…
So, what you have to do is move the bore centres apart. Which means you have to fit a different crankshaft, of course, and redesign the crankcases, barrels and just about everything else responsible for converting reciprocation into locomotion. But never mind, as you're also increasing the stroke to 93.5mm, nearly all of it would have needed changing, anyway. And don't forget the cylinder head, which might not breathe too well if the combustion chambers are the wrong volume, or don't line up with the bores.
In fact, despite appearances, the litre engine shares very little with its smaller cousins except for its timing gear, so if you're wondering about doing a conversion, think again. It would be easier to sell what you've already got and buy a new 1000cc engine. All the extra work bumps the cost up by around £1100 compared with a standard Norvil-build 850, and it would be silly to fit the boss motor in a bike that didn't have the all the modern transmission, chassis and braking updates. Reckon on a total OTR price of a smidgeon under £10,000, plus the dreaded VAT.
Commando Fastback
The sparkling red Commando Fastback seen here has all the best bits, including belt-drive primary transmission, alloy rims (the rear an 18in instead of the 19in original that limits tyre choice so much), and a huge pair of front discs. These monsters are gripped by Girling calipers, the whole ensemble offering braking comparable with the latest superbikes. As is well known, Norton's original bacon-slicer wasn't the best stopper, being significantly worse than that used by Triumph, even though both machines were produced by parts of the same company. If a brace of 14in rotors seems a bit over the top, Norvil offer various less drastic makeovers, but please don't leave it standard, for the safety of mankind!
Although the 1000 tested wears Fastback bodywork and pea-shooter silencers, bikes are built to order so you can have any of the Commando variations (within reason – asking for a Hi-Rider might not be a good idea), in any colour. Incidentally, GRP tanks and seats have the colour in the gel coat, which is far more rugged than paint. As previously reported in CBG, Norvil also do a special 'low-line' frame, which brings the seat closer to the ground and should be a boon for those of us whose inside leg measurement stops short of 33in. It will also affect the feel and handling to some extent, and I look forward to trying a demo bike at some stage to find out how it works out in practice.
The first one litre engine was only put together late last year and some of the details aren't quite finalised yet. At present it's running on standard cam profiles and ignition, but the compression ratio is still the subject of experimentation. Initially, it was somewhere around 9:1. However, this has since been lowered to nearer 8:1 (spotted the raised cylinder base in the photos?), to make it more practical for road use. As you can imagine, two 500cc cylinders will take a fair effort to kick over (understatement of the century), so any help in this direction is welcome! Even if a bit of performance is lost, the softer power characteristics of a lower compression engine make for a more pleasant everyday ride. The Commando I rebuilt as a CBG project was fitted with 8:1 pistons, and as a result was one of the least temperamental and easiest to start Brit twins I've ever tried.
But of course it was just a pipsqueak 828cc engine. As I discovered, squeezing another 86 cee-cees every turn of the crankshaft makes kicking the expanded twin into life a task not to be undertaken lightly, particularly one that has covered only a handful of miles and is obviously still tight. Dredging the memory bank, probably only two other bikes I've ridden have taken as much effort to turn over. One was another 1000cc British twin, the difference being that its cylinders were set in a vee formation. Yes, a Vincent, said by its previous owner to be tuned to Black Lightning spec. As he had broken bones in his foot, inflicted by a failed attempt to start said beast, he probably wasn't lying. Oddly enough, the other was a rather special Norton Commando, which became an almost permanent resident of the motorcycle emporium where I worked. No one bought it for several years because no one could start it; because the engine had been treated to all sorts of internal devilry, including, according to legend, 12:1 CR pistons. This may have been a slight exaggeration, but the engine was undoubtedly almost impossible to kick over. When a customer was eventually found, we finally got it going by towing it behind a pick-up truck!
No such drastic measures were required with the Norvil: it's not that the engine is a bad starter, just that it takes a lot of effort. Those who weigh, say, 20 stone or more will be able to use gravity to supply The Force, but lightweights have no alternative but to put the bike on its centrestand and brace themselves by grabbing the seat rail while kicking. A longer kickstart lever is a sensible option! Failing that, I wonder if the Mk3's infamous Prestolite electric foot would be able to cope?
Once running, the engine sounds very like a Norton Commando, you will not be surprised to learn. Except that it makes an even deeper, more menacing growl as it shudders on its Isolastics. Blip the throttle and the bellow that comes out of the straight-through pea-shooters is incredible: this is real motorbike, sonny, not one of those plastic fantastics that sounds like a distant Dyson.
Because the merest twitch of the wrist will summon up great waves of instant oomph, or engine braking, depending on which direction the throttle's moved, the 1000 is a bit tricky to ride slowly. I didn't have any tense moments, but I could imagine that opening or shutting the throttle smartly without engaging brain first would have the back tyre losing its grip on the Tarmac. In both cases you might end up in an embarrassing heap. Another disincentive to buy one of these (or any Commando) for despatch riding is the way the rubberised engine mounts only really work at above 3000rpm. Between tickover and about 2800rpm, there's a whole lot of sh-sh-shaking going on. If there isn't, the Isolastics are too tight and need adjusting.
To see what this machine is really capable of, you need clear, dry roads and a warm, sunny day. Unfortunately, what we had was the urban sprawl of Cannock, on a cool, slimy day. While I'd love to be able to brag about effortless 120mph performance like they do in modern bike mags, there just wasn't enough space to attempt any heroics, even if I qualified for the same journalistic exemption from tiresome road traffic laws. What I can tell you is that the big banger always has much more wallop on tap than the 850, a bike already well blessed in that department. The newness of the engine meant that high revs were to be avoided, but the longer stroke would be expected to put a lower limit on crank speeds. It's certainly a different sort of animal from the revvy Combat 750 I tried for CBG a while ago. Having said that, the tacho fairly surged past 5000rpm when I did finally manage to find a clear piece of road.
Extra torque
The extra torque will allow the gearing to be raised considerably if you want a higher top speed. As tested, with 17mph or so per 1000rpm in fourth, this aspect didn't seem to have been explored, unless the instruments were telling porkies. The belt primary lowers the gearing slightly, but simply ginormous front sprockets are available, and I daresay the engine would pull 25mph or more per 1000rpm in top easily enough. Whether this would be an advantage for road use is another matter, because the sub-3000rpm quakes would make life uncomfortable unless fourth was only used at 70mph–plus.
This story is more about the new engine than the Commando, but for the record, the chassis seems to have no trouble coping with the extra urge, helped by grippy modern tyres and brake efficiency that a 1970s Norton pilot could never have imagined possible. Although the test bike looks like an earlier Fastback, it actually has the later frame and fork geometry, which improved the handling. Even the most ardent fan would have to admit that it's not perfect, though. Fiddling with the Isolastic clearances will always have a significant influence on stability. This one had been deliberately set up on the wide side of the permissible range, which makes the engine smoother while introducing a touch of wanderlust to the steering, as I well recall from my own bike. Head steadies are another factor. A standard one was tucked under the tank for the moment, but the superior Norvil variety will probably go on when the engine loosens up enough to make high speed stability more of an issue! Getting back to basics, I have a theory that Commandos are unduly sensitive to tyre pressures, and thinking about it now, maybe I should have checked them before jumping to any conclusions? The main thing to report is that the 1000cc engine is available now and it works very well.