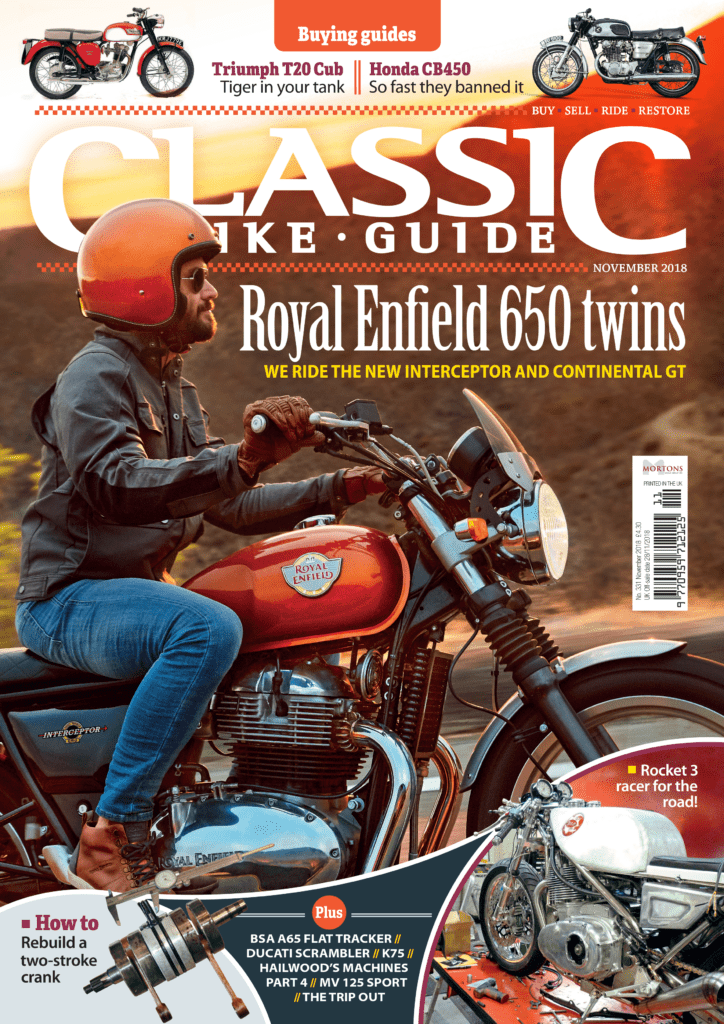 Get your hands on the latest issue of Classic Bike Guide NOW! Here's what you can expect:
From the archive
Dave Aldana wasn't just a great flat track rider
On any Sunday
We take a look at the BSA A65 Trackmaster that was to take on the American V-twins at their own game
Subscribe!
Save money, get Classic Bike Guide delivered to your door and receive one of our limited edition T-shirts. It's simple!
New Royal Enfield 650 twins
The Interceptor and Continental GT are finally here and we've ridden them! What are they like?
News
Métisse is up for sale, Freddy Spencer is coming to the Classic Bike Guide show and more exciting news from the world of classic bikes.
New Retro – Ducati Scrambler
Ducati have enjoyed a runaway success with their V-twin homage to the Sixties single-cylinder scrambler range. CBG gets to ride the latest evolution
Classic Buying Guide – Honda CB450
This was the bike Honda used to show the world they didn't just build little machines. And it was so good it was banned from racing…
Classic Buying Guide – BMW K75S
The 'flying brick' was a brave move from the air-cooled twins for BMW and has to be one of the best usable classics around
Archive poster – BSA Catalina
Born from a race around a Californian island, the Catalina ended up being the last incarnation of the Gold Star
The Trip Out
CBG went along to the Trip Out and spent a great weekend admiring, riding and talking all things custom and choppers
PLUS SO MUCH MORE!!