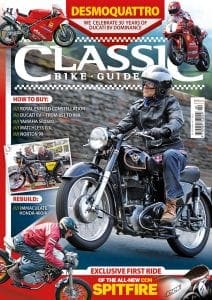 004 From the archive
We lament the apparent demise of Bimota with a beautiful TT shot.
008 News
New bike shops, bike shows and – gin? With bike parts in it?
012 Subscribe!
This month get an exclusive T-shirt. Save money and be the envy of your friends!
016 Shows
We head up to Scotland for Glamis and to Norfolk for the Fenman.
024 What's going on
Our pick of all things classic bike related in the coming months.
028 Buying guide – Matchless G3L
Charming, easy to ride and work on.
032 Buying guide – Norton 99
Now we're talking – one of Hopwood's classics.
036 Buying guide – Royal Enfield Constellation
A great, fast bike with some charming tales to tell.
042 Classic products
Ooh – what can you spend your money on this month?
046 Pro-Am party
RD350LC racing got BSB at Cadwell Park buzzing!
052 CCM Spitfire
We manage to get the first ride outside the factory of CCM's beautiful new Spitfire – and it's great.
062 Mark Williams
Mark tries to look into the future – who knows what he'll find?
064 Paul Miles
Paul is in love with helmets, and we guess he's not alone.
066 From the archive
Mike Hailwood and James Hunt looking cool on a CB750. Three icons.
068 Paul D'Orleans
Paul looks at the
best-selling motorcycle of all time – can you guess?
070 30 years of the Ducati 8V special
Alan Cathcart looks at the first 851 racer.
078 Desmoquattro history
A deeper look into the 8V family tree of this amazing engine.
088 Buying guide – Ducati 8V
Have we sold you the dream yet? Here's what you need to know…
096 Restoration
A once-poorly Honda 400/4 gets a beautiful restoration.
104 Yamaha SRX600
Frank Melling gives his view on Japan's attempt at a British single.
110 Reader adverts
Go on, you know it would fit in the shed. And would anyone notice another bike?
130 Frank Westworth
Frank finds himself chatting about parts – and his love of autojumbles.