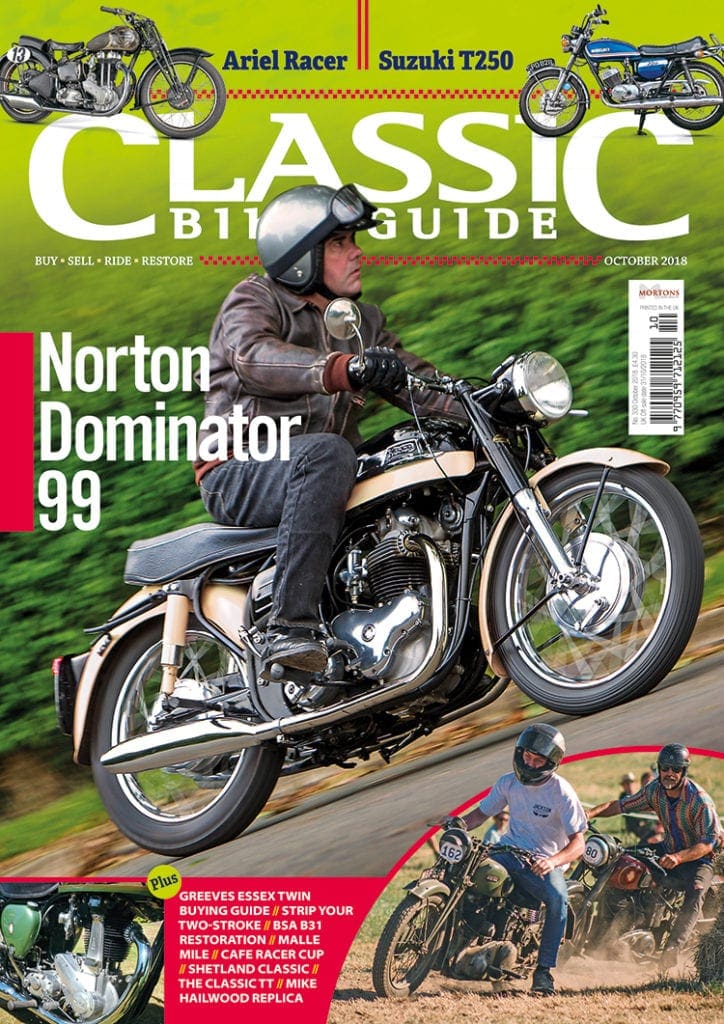 Check out our latest October edition of Classic Bike Guide!! On Sale Now!! Click here to subscribe!
For more content, why don't you like our Facebook page here, or follow us on Instagram for a snippet of our striking pictures!
From the archive
Sammy Miller goes giant-hunting on his Aerial
Ariel racer
One man's mission to create a homage to an early road racer – for the road
Subscribe!
It's cheaper, you get it delivered before it's in the shops and we even throw in a rather splendid T-shirt!
News
Shows, deals and more in our world
Shetland classic
CBG (well, Oli) braved the miles to bring you some great bikes from the most Northerly classic show in the UK
The ultimate replica
Got £110,000 you need to spend? How about a true replica of Hailwood's TT-winning Ducati?
Young guns – Malle Mile and Café Racer Cup
Fancy a new type of bike weekend? We try out the Malle Mile and the Café Racer Cup – and have a brilliant time
Classic TT
What we found at this year's Classic TT festival
Buying Guide – Norton Dominator Model 99
Great name – but does the 600cc twin live up to it?
Buying guide – Greeves Essex twin
These can be cracking bikes, but what are they like to live with?
Archive poster
Greeves in flight, with Dave Bickers as pilot
Buying guide – Suzuki T250 Hustler
Quite simply, one of the best early Japanese twins
Steve Cooper
Some days Steve wishes he didn't have a workshop…
Paul Miles
Paul is turning to the world of really old bikes; and likes what he sees
Paul D'Orleans
Riding hundreds of pre-1929 bikes 3600 miles across America? Of course Paul is joining in
Products
We test screwdrivers, pens and barrels, so you know what's good and what isn't – like Oli's 'too cheap to refuse' valve compressor…
What's on
There's still sun and the nights are still holding out, so get out there
Letters
Let us know your stories and send in your photographs
What we've been up to
Steve's been repairing a tank, Oli has been ripping a Z650 apart, while Matt can't remember where he's put anything…
How to photograph your bike – the professional
We get one of the best in the business to share his secrets to a great bike photgraph
Competition – show us your bike!
We've teamed up with Carole Nash to pick the best photograph of your bike – and you could have your bike on their stand at a premier bike show as well as your photograph beautifully mounted and framed
How to – Strip and rebuild a two-stroke
This month we look into what it takes to strip a two-stroke twin
BSA B31 restoration
From tired but complete to better than new – we followed Tony Clements through his B31 story
Reader ads
Beyond here lies the promise of the bike you've been missing…
Next month
We'll bring you Triumph's Tiger Cub, a BSA Trackmaster, Honda's Black Bomber, BMW K75 and more
Frank's last word
Frank's chums leave him a little bewildered…

Enjoy more Classic Bike Guide reading in the monthly magazine.
Click here
to subscribe.