Manx Norton! Suzuki B120P! Kawasaki GPz750R! The October edition of Classic Bike Guide magazine has everything you need to buy, sell, ride and restore your classic bike!
As ever, this month's issue of Classic Bike Guide magazine is packed with rebuild guides, wonders in the workshop, elegant British twins and new retro bikes.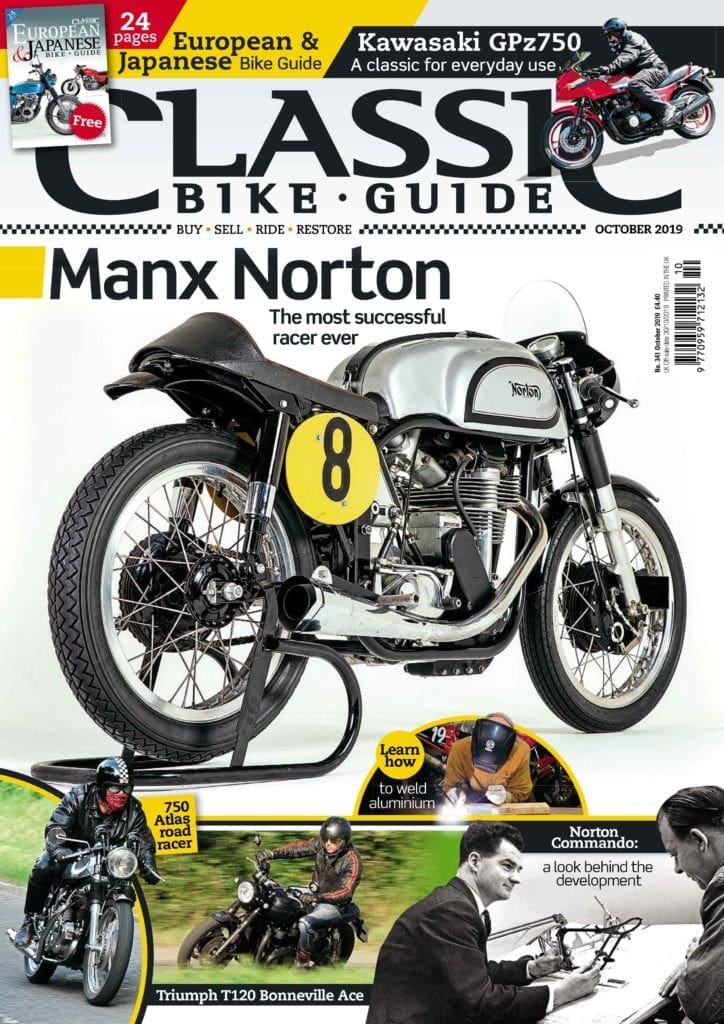 If you'd like to read October's Classic Bike Guide, then cut to the chase and download the digital version, order the print magazine, or better yet save those pennies and subscribe to Classic Bike Guide. Here's what to expect this month…
Suzuki B120P | The 'Bloop' was a tried and tested, if mundane commuter. But a lot of people passed their test on it and if you are looking for a little two-stroke for fun, the 'Bloop' could be it
Kawasaki GPz750R | It's a great bike to ride and prices are low, so grab one while you can
Norton Commando | The development year We take a fascinating look back at the short time it took to get the Commando into production with designer Roger Barlow
Classic Bike Guide magazine is on sale in UK newsagents and supermarkets, and you can buy the current issue in digital and paper formats here!
You can also buy stacks of back issues of CBG, but it's cheaper to subscribe. Subscribers save money, get their copies delivered to their doorstep and never miss an issue.
A word from the editor
If we can't do the work, then who will?
Who HAS told the sun it can knock off early? Still, summer has been kind, with record numbers at our local bike meets, like Two-Wheel Tuesday at Old Buckenham and the excellent Fenlander show at Wimbotsham. It seems there's been something on every other day and I hope your area's been the same.
The TR6 has been riding beautifully, though not charging. I think a sleepy regulator is at fault, as it charges when the lights are on. Trouble is, if I find enough time to really look at it, I want to ride; so it gets left.
Sounds lazy, but when you have a dream bike to ride for a few weeks, to not make the most of it would be plain rude. And oh, how nicely it rides; those big bars, wonderful speed, flowing cornering and first-kick starting. And when I get off I still have to look back at it every time.
Only having one posterior means the Beeza has been resting, but it still makes me smile when I see it. It's slow, the lights give as much light as a politician does truth and the gearchange reminds me of a railway signalman pulling a signal lever – but with its paint peeling off the tank and knobbly tyres, it has 'that look' I love. It's not to everyone's taste, it doesn't have the kudos of the Triumph and the nut wallies love to point out what's wrong with it, but it's mine and I love it.
The Norton is looking sad. With summer shows, events and riding, I've hardly had time to eat, let alone work on the ES2.I must get that motor in one piece. Maria's Benelli is now all there chassis-wise, but the electrics are baffling me. And they're so simple! I'm refusing to ask for help and I want to sort it, so time and a clear head is all I need. And a wiring diagram would be handy.
But I'm lucky, I have an old shed I can work in and I have amassed enough tools to get by.Thanks to the people around me I have also gained enough knowledge to get stuck into most jobs. But what if I hadn't? Does having no mechanical knowledge mean that you can't enjoy old bikes?
Of course, you could learn, though this takes time and not all are suited to it (me included sometimes). But see page 88 to see a great new aluminium TIG welding course I did – I learned a lot in just a couple of days. There are mechanical maintenance courses at many evening classes, too.
But if you need someone else, where could you take your old bike? A main dealer? An independent shop? Some will have somewhere local that likes working on old bikes, yet many areas won't. Maybe, in the workshop of a new bike shop is a mechanic that would love to work on an old bike as a change from the modern machines. No laptops, few fairings to remove and getting back to basics would hopefully enthuse an older mechanic and intrigue a young one.
So together, could we build a 'classic friendly' bike shop/ workshop listing? It would be small at first, but with time we could get others interested and who knows what we'll find? We can publish it every month and you could ask your local bike businesses if they could or would work on older bikes. It's just the chance to help owners and wannabe owners of old bikes to find somewhere they can take their bike. All we need is the name, area and some way people can contact them if they're interested. What do you think? Let us know.
I'm off to pack for a great weekend of old school choppers at the Trip Out festival. Be good. Matt Hull.