At the moment I am a lucky boy and have a varied concoction to ride. Royal Enfield have loaned me one of their new 650 Interceptors, which you can read about what it's like to live with on page 52. I've been enjoying the blend of 'hop on and go' of a new bike, with the 'that's a nice old machine; I used to have one' interaction with folks I come across.
It's good to see the old name growing.
I popped in to see another British manufacturing survivor recently, CCM. The factory, while small, was buzzing, with bikes everywhere, new models being assessed and a really positive feel to what is the oldest British bike manufacturer still in the UK.
For a small player in the modern bike world, they really are punching high: it must be a constant battle being a small business in this large, corporate-led world. But the Spitfire and its derivatives are old-school, with light weight, a great single-cylinder engine and – get this – throttle cables!
And so from the new to the old. At the London Carole Nash Motorcycle Show it was plain to see that Triumph, Indian, Ducati et al were pushing their retro ranges, with the visitors looking favourably towards the older-style bikes.
So it was also great, when Classic Bike Guide was asked to get an interesting bike for the main stand. 'Something old and modified' was the theme, so my great friend Neville had the perfect bike, his 1100cc JAP side-valve engined Ariel WD.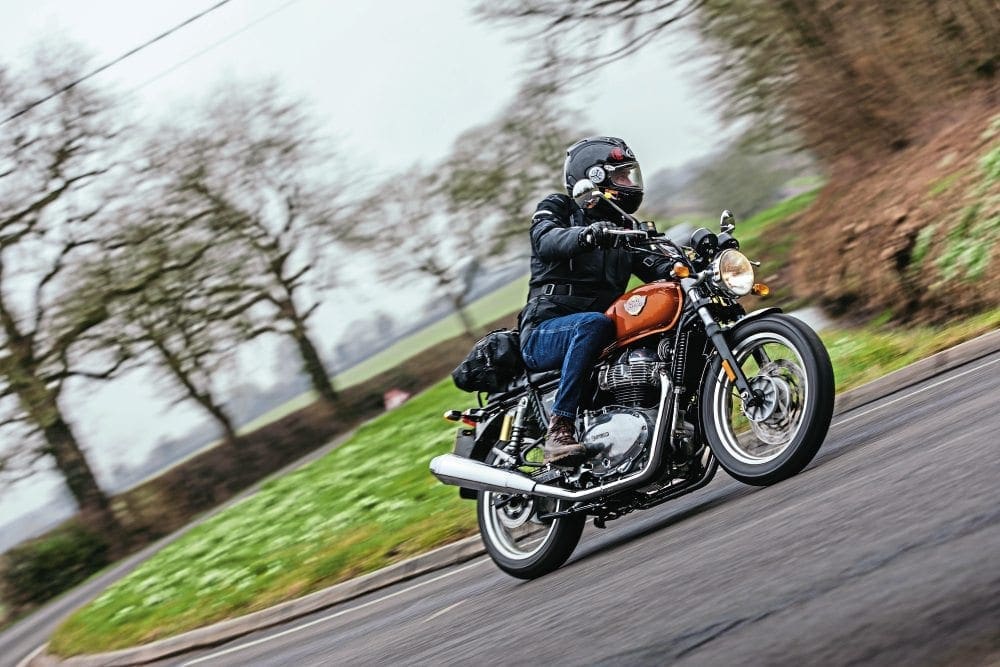 Complete with dirt, oil and grease adorning it, the 'Rough Inferior' really stood out from the shiny, shiny show bikes. The crowd loved it, but what was best was I had to ride it back to his on the Monday! Smooth, low but powerful, the JAP pops and bangs through town, but for an engine that started life powering a rotavator, it carburates beautifully. What a machine and I'd love to ride it more.
Another good friend needed some room in his shed while his Velo Venom (there's a buyer's guide for these great bikes on page 36) project takes shape, so to avoid damaging his Sunbeam, it now resides in my kitchen. The TT Model 90 is of 1931 vintage – the only year they were blessed with a chrome tank, but it's not run for years, there are a few foibles and the carb is flooding, so that's a nice toy to play with while the potatoes are boiling. I really can't wait to ride that, with its close gears, hand change and, its five-inch front brake…
Meanwhile, the B31 has been on off-road duty. I had planned to repaint the tank, but it's just too much fun to stay off! I even took my brother's Honda CG125 to MoT recently and I'd forgotten how much fun you can have on a tiddler – what is it about bikes? Any bikes?
So, with these gorgeous new bikes vying for attention over the old 'uns, who wins? Knowing you'll get somewhere without eau de la oil or having to fettle before, during or after a ride helps me to sway towards the new bikes – they require less mechanical knowledge, you don't need a workshop and they can even overtake.
And starting is so much easier! But for me, when not in a rush, around the country, and being lucky enough to have the wherewithal to keep on top of them, I'll take the old 'uns mostly. "Nev, can I borrow the JAP again?"
Enjoy the weather if it lasts and be good.
Matt Hull
[email protected]
---
Advert

Enjoy more Classic Bike Guide reading in the monthly magazine. Click here to subscribe.
---