'Boy' has a new toy. And 'Dad' has a new pastime – watching boy as he gets to grips with this new trials bike. And it's so much fun watching children learn what we've loved for so many years.
Before my email is clogged up with vitriolic crap about 'this isn't a classic', let me explain. I went to a local trial with boy, not to compete, but for him to play around and watch others.
So many competitors came up and asked about it, how did it work, how much, and did they do smaller/bigger ones?
All who came to speak to us were thinking that they could get their grandchildren into the sport they've loved for so long.
And who knows; maybe their Suzuki Beamish, or BSA would now find somewhere to go in the family one day!
Oset is a British company born from one man's idea of getting his lad into trials. A battery-powered trials bike is silent, so you can practice in the garden, in the evening.
A charge lasts for hours, the suspension is very good quality and adjustable, as is the preload for height and weight. There are also controls to adjust the power, speed and response, to tailor to your little one's experience.
Boy has fallen off it, wheelied it, jumped over pallets, ridden through ploughed fields and crashed it, with no issues apart from punctures from blackthorn bushes.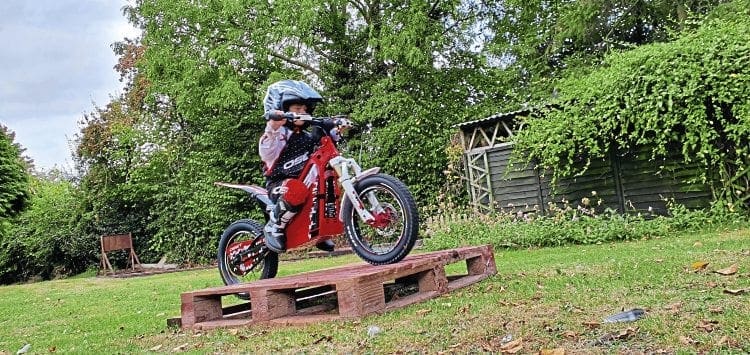 Quality of manufacture seems very impressive and the more trials clubs I speak to, I realise the sport is openly encouraging younger riders to get involved, which is great news.
It takes a little time for children to get into the balance and control, but having no gears or clutch helps – it feels the same as their bicycle. When they're learning it can get a little nerve-racking watching though – I'll warn you!
Seems a weird thing to put in the product pages, but I have been constantly stopped by riders asking about it for their children, and often grandchildren. It's not cheap, but I can't get boy off it.
I bought one and I'm as tight as; I wouldn't buy one if it wasn't any good. It's excellent. It fits in the boot, there's no petrol, no hot exhaust to burn legs and great spares back up and advice.
Now I need a trials bike!
■ From £1600 (this model was £1760)
■ Osetbikes.com
Read more News and Features in the December 2019 issue of Classic Bike Guide – on sale now!
No Caption