Geoff Stray usually saves his time for V-twins, but this gorgeous Panther keeps stealing him away
Words: Adam Bolton Photography: Marco Giuliani
LEGEND SAYS THAT Panthers were built for hauling sidecars around and transporting Foreman Arkwright from his home to t' mill.
And just as their first owners were a special breed, those who retain a passion for Panthers these days are unusual among classic bike enthusiasts.
For the most part it's not about polishing a shiny example within an inch of its life and taking it out once in a while. Rather, Panther owners like to ride their big sloper singles all the time, in all conditions. They like to tinker, and they like to improve the breed.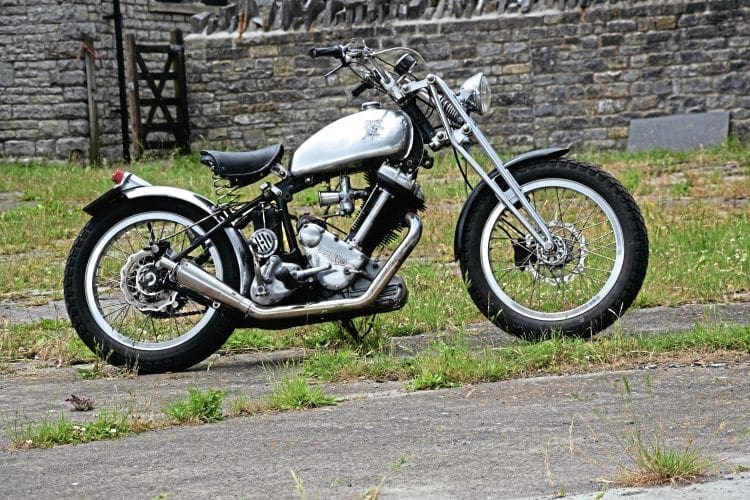 But even so, Phelon and Moore's creations aren't for customising, surely?
Yet deep in the heart of Avalon, one owner has turned a Cleckheaton workhorse into a snarling big cat, and something a world away from cobbled streets and loaves of Hovis.
Like any good custom, Geoff Stray's Panther M100 flat tracker was reborn from a pile of parts and several boxes of spares.
"It had been in someone's shed in Glastonbury for 26 years," says Geoff. "When I found it, it had a sidecar frame with it, which I left behind, intending to pick up later. I never did, which is something I regret now.
"It was all in bits with the heavy wheel hubs and I was going to restore it to original, until I discovered the swingarm part of the frame was slightly bent, so I used a bolt-on rigid back end."
Denuded of its telescopic forks and swinging arm rear end, the M100 might not quite look as if it would be more at home on California's boulevards, but it would certainly have cut it in Chelsea's Kings Road in the late Sixties.
The telescopic forks originally fitted were of Panther's own design and were Phelon and Moore's in-house replacement for a Dowty air-sprung item.
The Panther's forks were primitive in their original version and heavy, designed as they were to cope with the rigours of sidecar hauling.
Geoff went to specialist frame and fork makers Metal Malarkey, who came back with the one inch over girder items seen on the Panther today, fitted with a custom made Hagon damper.
The updated girder-fork tech reportedly provides better service on the road than the original telescopic items, which were technically a more modern design.
Read more and view more images in the April 2019 issue of CBG – on sale now!