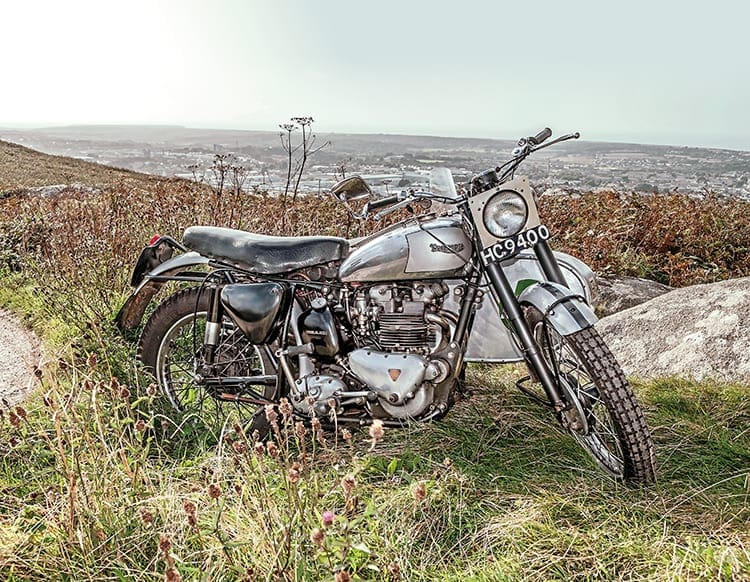 A very special bike gets a new lease of life
In this day and age the chances of stumbling across a forgotten gem of a motorcycle are few and far between. Almost all machines 'of a certain age' have a guardian or two keeping a watchful eye on their whereabouts, even if that isn't the eye of the current owner. I guess that says more about the attitude of the times we live in rather than a genuine concern for the well-being of a piece of old but interesting and, dare I say it, valuable hardware. But that's life. Barn finds, even if they truly are unearthed unexpectedly in some remote rural backwater, seem to automatically command a monetary cachet unrelated to any realistic valuation of their worth.
However, the thought for today is be patient, hold on to your dream, you never know what's waiting for you around the corner. Cheering words to lift the spirits, I hope, and which go some way to introducing the background to this story of a bike not so much abandoned forlornly in the back of a shed to gather dust and moulder, but rather parked in the corner of a motorcar workshop where its carer would give it the occasional wipe with an oily rag. It might even still be there if fate hadn't intervened.
For many of us, a motorcycle represented the first opportunity to break free from the trammels of the bus, the bicycle, the tram or the tube train. For Syd Lang, getting a motorcycle meant he no longer had to row to work each morning across the Penryn Estuary to his job in a boatyard, where he was serving an apprenticeship. True, the journey by road took longer because he now had to go around the estuary rather than over it, but it was more fun, even if he could only aspire to a 250cc BSA C10 sidevalver for transport. And at weekends the bike offered all manner of opportunities to travel.
The C10 soon made way for a Velocette which was followed by a BSA C15 which should have been the best of the bunch but for the fact that it kept nipping-up. Possibly, just possibly, the C15 suffered from Syd's 'heavy right hand'. I think everybody will agree that once you've got the hang of riding a motorbike it isn't long before you get the urge to see what it'll do. Clearly 'not enough' was the answer. Syd next got himself a 500 Norton, at which point his parents drew the line, ruling the Norton too powerful, so he settled for a Triumph 21 – the 'whispering twin' as he calls it – which he owned for five or six years.
In the meantime Syd had finished his apprenticeship as a ship's carpenter and joined the merchant navy. He did a stint on fishing boats and sailed on the maiden voyage of the SS Canberra to Australia in 1961. "That was a busy schedule," he recalls. "Three months on the go, the satisfaction of the passengers being paramount all the time. A complete contrast to when I was working on cargo boats bringing apples back from Port Huon in Tasmania; a leisurely four months out followed by a two-month dash home so that the fruit would be fresh when we landed."
There wasn't much time for motorcycling in those days, but Syd readily admits that "growing up where I did the sea was in my blood and so it had to come first". A friend looked after the Triumph for him when he was away, so it was always up and running and ready to ride when he got back, and when he got married and started a family the bike provided essential transport – and the money to buy a new carpet for the home! "That was how it was in those days. Nobody was flush. When you needed a bit of extra cash you sold the bike."
Inevitably, motorcycling went on the back burner for, well, quite a while, the best part of 30 years in fact, until a chance conversation in a pub got the better of his curiosity. Visiting relatives in Sussex, he'd popped into the local for a pint and got into conversation with one of the regulars. "'Ere, you're interested in bikes," the chap said. "I know a bloke who wants to get rid of one. You interested?" There are days when it pays not to be in a hurry, days when your mobile gets mysteriously switched off or simply left in the car. For Syd Lang, this was one of those days.
WORDS BY PHIL MATHER   PHOTOS BY CHRIS MATHER
For the rest of this story and more, buy the August issue of CBG