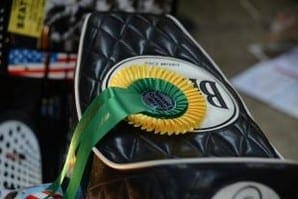 Motorcycle owners from across the land have been working hard restoring, polishing and perfecting their machines in preparation for the prize-giving this weekend.
The judges have spoken and the awards are as follows:
Best in Show – 1955 650 Triumph T110 owned by Graham Holloway
Most Technical Interest – 1980 421 Yamaha RD owned by Dave Yates
Vintage (1st prize) – 1921 269 Reynolds Runabout owned by Ken Thirtle
Pre-War (1st prize) – 1936 500 Calthorpe Ivory Master owned by Trevor Bostock
Post-War (1st prize) – 1952 197 Greeves Prototype owned by Dave Bradley
Continental (1st prize) – 1999 500 Bimota V-Due owned by Norbo
Vintage Japanese (1st prize) – 1976 500 Kawasaki H1 owned by Alan Cooper
Modern (1st Prize) – 2005 1000 MV F4 owned by Dave Legett
Private Entry (1st prize) – 1978 900 Ducati MHR owned by Garry Kendrick
Private Entry (2nd prize) – 1985 750 Suzuki GSXR owned by Alan Goddard
Private Entry (3rd prize) – 1955 510 Matchless Special owned by Tim Aucott
Best Competition (Trials & Scrambles) – 250 Greeves Anglican owned by Dave McGregor
Best Competition – 1958 500 Norton Manx owned by Malcolm Potter
Best Unrestored – 1985 400 Honda NS400R owned by Alex Bolas
Best Restoration – 1956 750 Triton Cafe Racer owned by Tony Cookson
Best Paint Job – 1981 1100 Suzuki GSX owned by Florence Martin
Best Trade Entry – West Country Windings Kawasaki H1E
Congratulations to all our winners and everyone else involved!

Enjoy more Classic Bike Guide reading in the monthly magazine.
Click here
to subscribe.