Rubbing, rubbing, rubbing. A paint finish is only as good as the preparation, but boy is it tedious. Until you see the final finish, then it's all worthwhile…
Words and photography by Matt
special thanks to: Nick and Jack at Ashtons Classic bodyshop (01362 692271), Elk promotions, Steve the welder (thanks buddy you are an artist!).
The previous owner of our 1956 Norton ES2 had the frame, swing arm and other parts carefully shot blasted and then brush painted them in red oxide primer to prevent the parts from rusting.
his has worked brilliantly, so they just needed rubbing down before I could get them in the booth for primer and a nice top coat of hard-wearing black two-pack.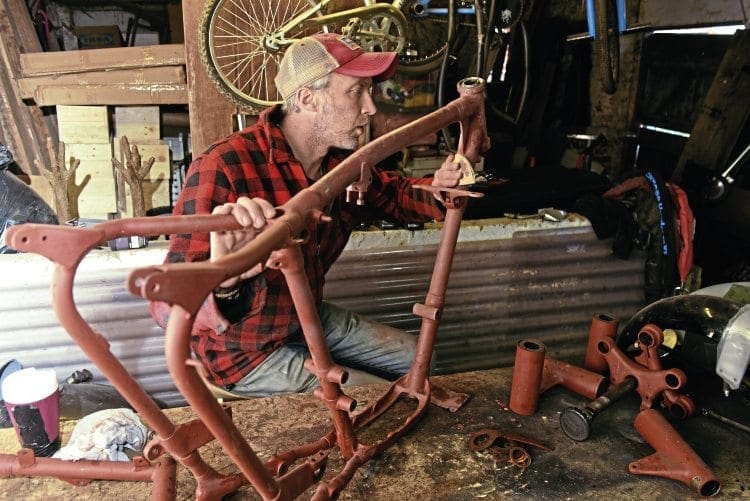 But good though the red oxide is at protection, boy is it hard work to rub down!
Cars I've done in the past can be sanded down with an orbital sander, but a frame and swing arm has no flat surfaces, so it all has to be done by hand. And after 20 years, it is hard work!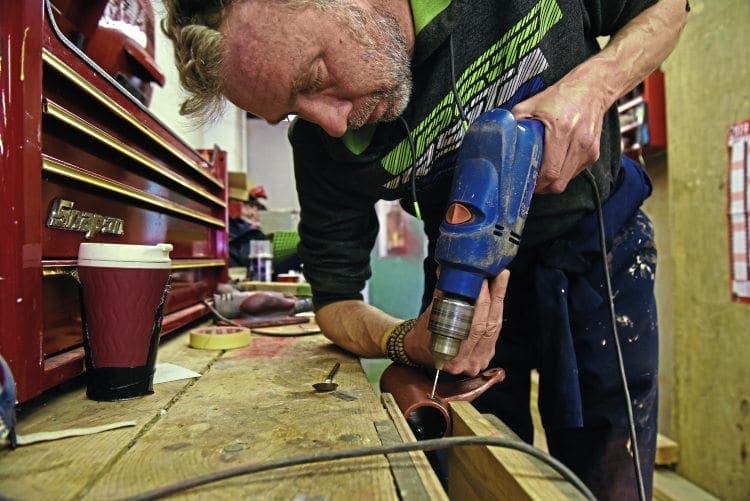 Find a comfy chair and just keep rubbing. I used 180-grit discs which should go on an orbital sander, but instead of the usual paper-backed variety, I used some that are like a fine wire netting, which are less prone to getting clogged up.
Working at my good friend Nick's bodyshop, Ashtons Classics, I used a sanding block where possible as it puts more force through the pads – but it still took more than a day to rub down the parts.
A good cuppa every so often helps you to see the areas you've missed – there was a lot of tea and every time I rechecked the frame I found more areas I'd missed – it's a laborious job.
Read more and view more images in the April 2019 issue of CBG – on sale now!