Fancy a challenge? Rebuilding an airhead BMW can be its own reward
WORDS BY ROB DAVIES AND COLIN WILLIAMS PHOTOS BY COLIN WILLIAMS
AFTER BEING RAISED on the good old British names of BSA and Triumph during the golden years of the 1970s while at the same time being spoon-fed such patriotic films as 'Reach For the Sky' and 'The Cruel Sea', I was primed to believe that the motorcycle itself was as British as fish and chips.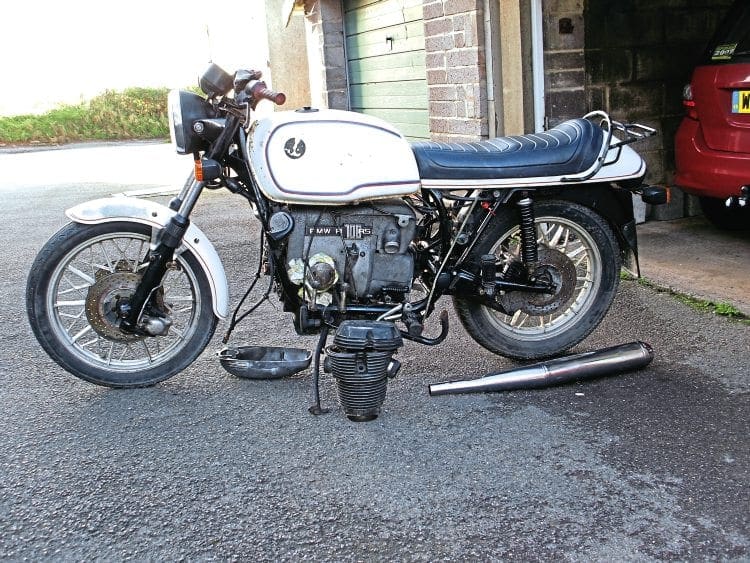 And then… I came to do my first write-up of a BMW restoration, a company that's as German as lederhosen. So, I thought to myself, better do your homework first, just to get the facts right. And I have to say that I was shocked – nay, stunned – as the truths kept poking me in the eye.
Yes, poor reader; I am going to upset you – shock you, even – by the declaration that the Germans beat us to it. Yes, they invented the motorcycle. Not only that, but the first motorcyclist was also a person of Teutonic origin – not the finest bit of detective work I have ever done…
The four-stroke internal combustion engine was patented by Dr Nikolaus Otto in 1876. His assistant, a certain Gottlieb Daimler, went his own way in 1883 to develop his own version of the engine and promptly dropped it into the frame of a beefed-up, two wheeled, wooden – yes I said wooden – bicycle contraption. Actually, it had two small stabilising wheels just like a kiddie's first bike, but we won't
split hairs at this point. Then, his son Paul, went for
a six-mile ride on it – well, why wouldn't he?
Read more in the April issue of CBG – on sale now!
Article continues below...
Advert
---
Advert

Enjoy more Classic Bike Guide reading in the monthly magazine. Click here to subscribe.
---