Strangely under-rated: Never as glamorous as some other marques, AMC's twins were actually quite innovative when they were launched in 1949
WORDS BY Tim Britton PHOTOS BY Joe Dick
DESPITE A SPORTING history with a success list as long as a long thing, Matchless – and the almost identical AJS – road machines are still under-rated compared to the products of other companies.
This may have been due to a dummy-spitting incident in the 50s when AMC took the hump with a mildly critical road test report in the UK press and withdrew all road test machines.
Luckily for the company, their sporting successes were reported and AMC works riders ensured that their machines – be they Matchless or AJS – would finish at the top end of the entry list, thus gaining valuable free publicity.
There are many views on just how this restricting of press access to their machines affected sales, and common sense says it must have had some effect on the company income.
However, AMC did embrace the motorcycle shows and displayed their machines to the public at these massive events.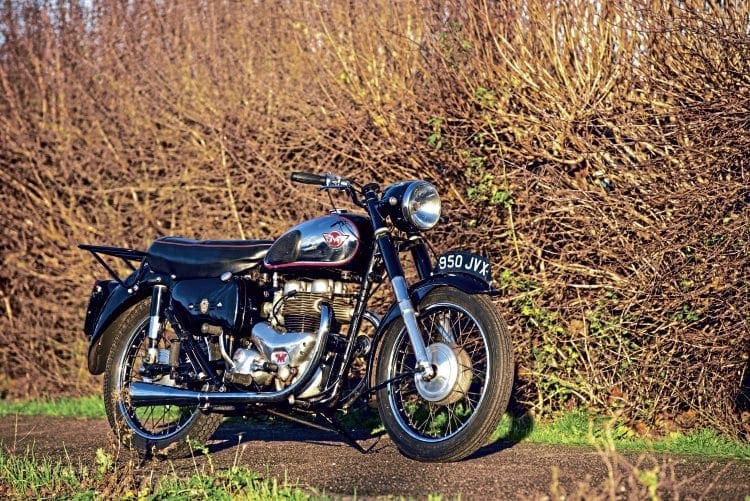 With the UK in post-war recovery mode, the national catchphrase was 'export or die', and every major company pinned their hopes on the lucrative USA market, where thousands of ex-servicemen would have their service gratuity available to indulge themselves with a luxury or two.
In order to help this drive to bring income into Britain, the industry received extra allocations of raw materials if it could prove that the bikes were for export.
A quick scour of adverts in that period will often reveal a small print comment saying a version of 'for export only at this time.'
Just such a situation happened when the Matchless G9 and its AJS counterpart the Model 20 were introduced to those attending the 1948 Earls Court Motorcycle Show.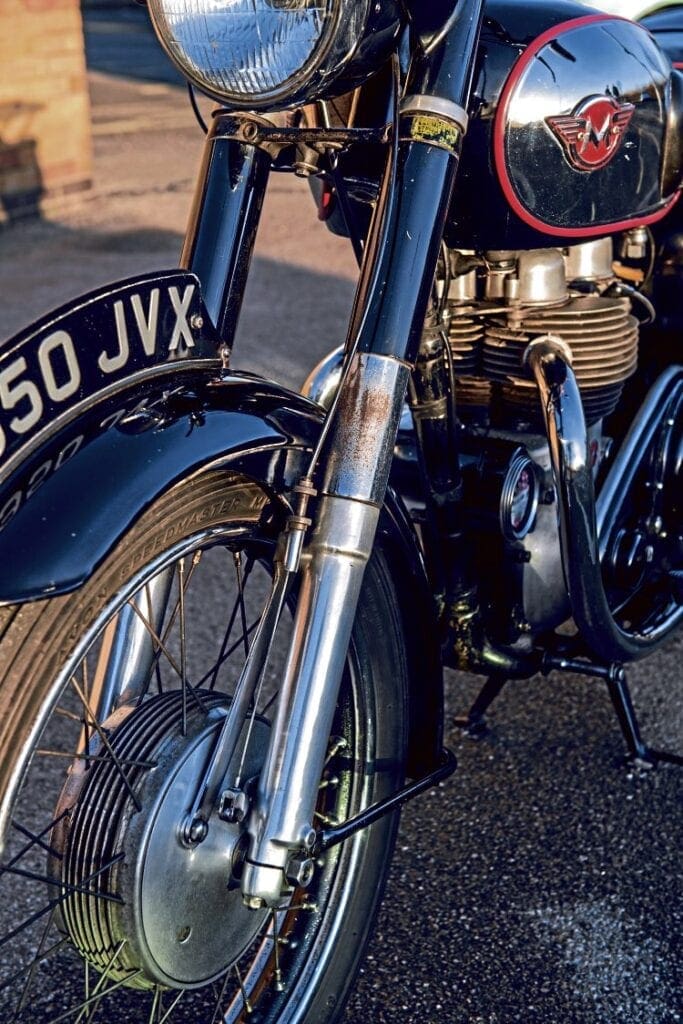 As the bike featured here is a Matchless we're going to restrict references to the G9. The intricacies of badge engineering are not for us to discuss here, suffice to say that with Matchless being the senior marque in the company it was slightly more glamorous than the AJS version.
Phil Walker, a talented engineer at AMC, was responsible for designing a new engine to compete with market-leaders Triumph.
He drew out a parallel twin engine of 500cc capacity which compared well to the opposition.
Aware that such engines can suffer from crankshaft flex, Walker added a central bearing to stiffen things up.
Problem was that at the top end of the rev range vibration was increased and transmitted to the rest of the machine.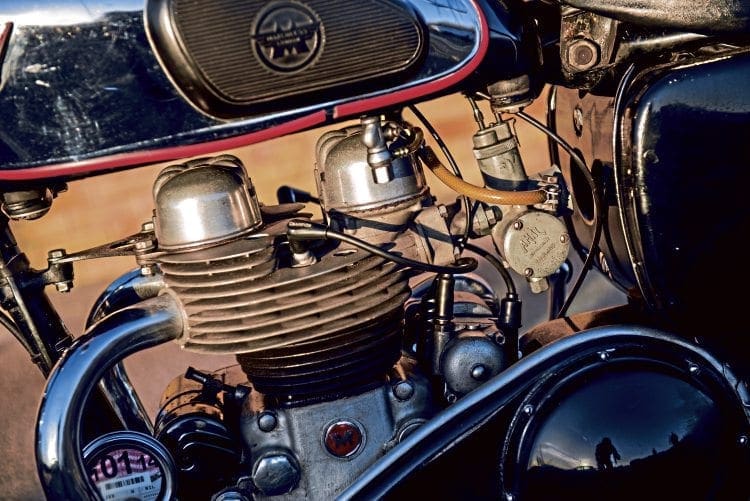 In reality this wasn't too much of a problem as there were few roads where maximum revs could be used, and in more everyday speed and rev ranges the twin was quite nice.
Typically for AMC, the engine is a clean looking unit, with few external pipes and hoses to transport the oil around the bits that need it.
Apart from the supply and return feeds, everything else is handled by internal drillings. When major servicing is required, the owner – expected to be experienced, according to the FW Neill handbook – would find that thetwo-piece head and two-piece barrels allow easy access for any top end work, should it be necessary.
AMC housed the G9 engine and its Burman gearbox in a brazed and lugged swinging arm frame, at a time when most other manufacturers still preferred rigid frames or the oddly-named 'plunger' frames which offered a cheap compromise.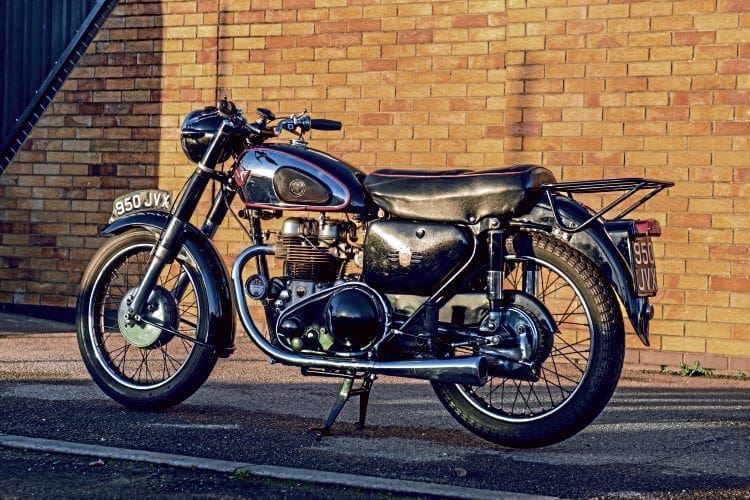 Rigids were OK on smooth roads, while the plungers were arguably better when new – but none were as comfortable as a pivoted fork system controlled by oil-damped suspension units.
Through the life of the G9, three basic types of suspension unit were used, the first two made by the company themselves, with post-1956 machines using Girling units.
Enthusiasts are likely to hear such names as 'candlestick' or 'jampot' or 'Teledraulic' bandied around when G9 suspension is discussed.
These mainly refer to the rear suspension and to the shape of the units, with early devices having a slim appearance akin to a candlestick, while the 1950-56 units are much larger and fatter with an appearance apparently akin to jam jars.
An interesting aside: in the FW Neill Matchless service book the 'Teledraulic' name was applied to both front and rear suspension, both of them being serviceable by owners. In the case of the front suspension, AMC had introduced their oil-damped telescopic struts for their WD 41/G3L military model. The 'candlestick' rear struts were shorter versions of the same design.
All in all, the 500cc Matchless G9 was a pleasant machine with a decent level of comfort which carried out its duties in an unobtrusive manner and returned excellent service if looked after.
For my money, the 1957 model pictured here is an attractive motorcycle incapable of scaring owners, is easily looked after and perhaps ought to be more highly thought of than it is.
It is traditionally made with a separate engine, gearbox and primary drive. It has enough glitter, chrome and polished alloy for most and enjoyed a production run from 1948 until 1961, when the 500 (G9) and 600 (G11) twins were discontinued.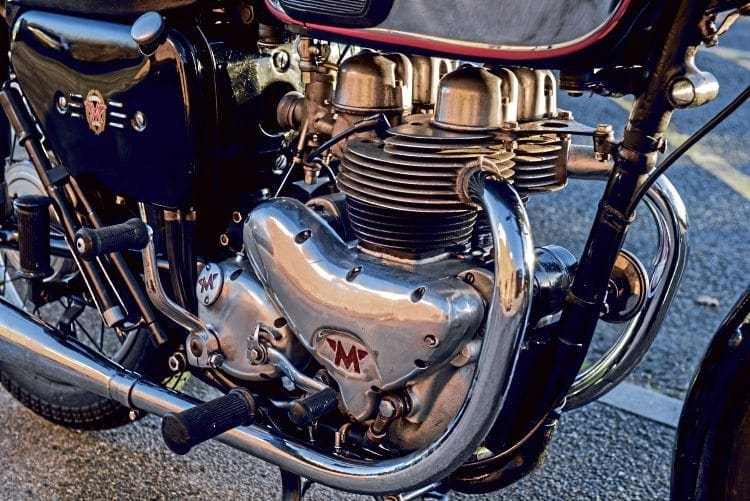 Just in case we've given the impression that the G9 is a staid, unexciting low performance motorcycle, it might be worth mentioning the Matchless G45, which the G9 inspired.
A race machine intended to compete at GP level, the G45 was very quick, and some of the works racers would use the roadster-inspired pushrod twin in preference to the ohc G50 racing single.
Housing the race version of the twin engine – more alloy, more compression, more valve area – in the chassis used for the G50c racer showed that the idea of a production-based racer could work.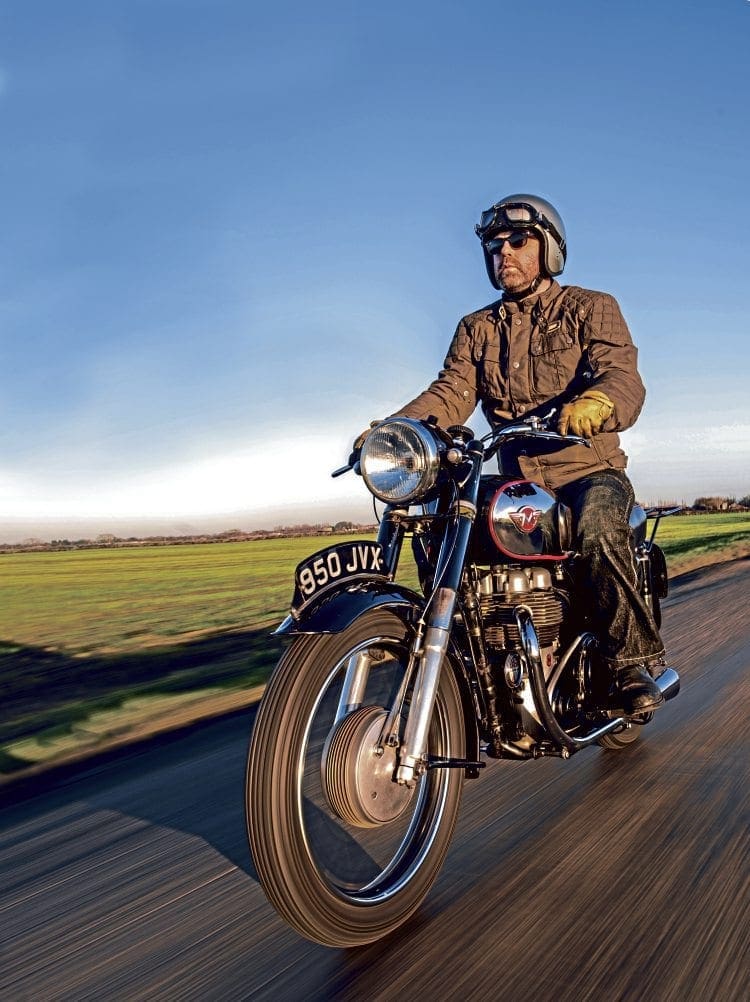 It wasn't just the road circuits where the twin showed a surprising ability to succeed, either. ISDT and American desert racing success hinted at hidden potential for the humble G9.
PRICE GUIDE
£3000 to £4500
FAULTS & FOIBLES
These engines can become leakers unless sensibly maintained. The internal oilways can cause oil to leak at the head joint and at the base of the barrels, where they can 'shuffle' at the crankcase mouth. Cam followers suffer rapidly if the filters and oil aren't changed regularly. Pressed-steel primary chaincases can be difficult to seal after years of bodging…
ALSO CONSIDER
Norton's Dominator 88 (costs 50% more for marginal performance benefits). BSA's A7 or Triumph's 5TA (similar prices to the G9 and more examples to choose from). AJS Model 20 (the G9's almost identical twin, but with different badges and colour scheme)
SPECIALIST INFO
Andrew Engineering:
andrewengineering.co.uk
AMC Classic Spares:
amcclassicspares.com
OWNERS' CLUB
AJS and Matchless OC: jampot.com
BUY IT NOW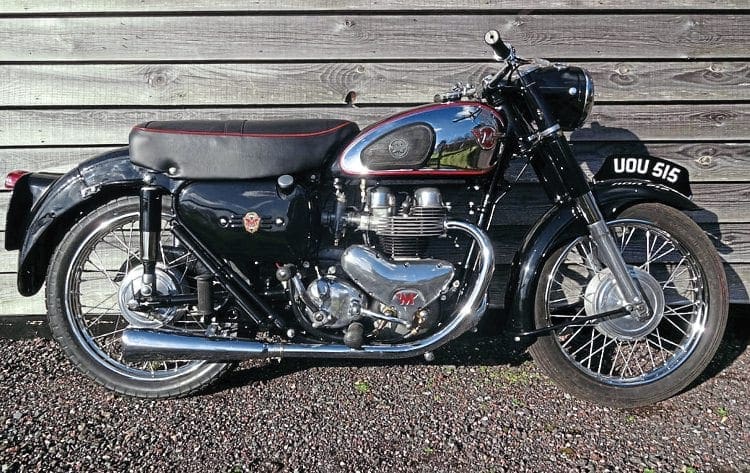 This 1959 G9 has recently been rebuilt with a complete engine overhaul, new exhaust and fresh paint. The anti-sumping valve has been ingeniously connected to the ignition, so it can't be run until the oil's turned on, and it's up for £4850 at A28 Classics in East Sussex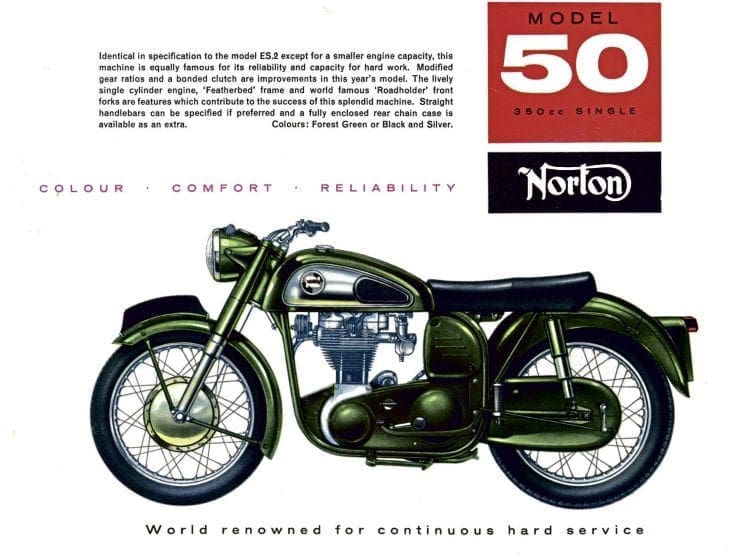 MANUFACTURED: 1948 to 1961 ENGINE: Air-cooled OHV parallel twin BORE / STROKE: 66mm x 72.8mm CAPACITY: 498cc POWER: 28bhp PRIMARY DRIVE: Simplex chain ELECTRICS: Magneto ignition, 6V dynamo lighting FRAME: Brazed, lugged swinging arm full cradle type FRONT SUSPENSION: Oil-damped Teledraulic forks REAR SUSPENSION: Oil- damped telescopics BRAKES: 7-inch sls drum FRONT TYRE: 3.25 x 19 REAR TYRE: 3.50 x 19 WHEELBASE: 55 inches WEIGHT: 394lb TOP SPEED: 84mph
Read more News and Features online at www.classicbikeguide.com and in the latest issue of Classic Bike Guide – on sale now!