Just the ticket: You could win a trad Brit single that's as sound as any pound
WORDS AND PHOTOS by Richard Jones
IT'S NOT EVERY day that you get the chance to acquire a British classic motorcycle for £1, but that's the price of a raffle ticket which gives the purchaser a chance to win this handsome Norton single in the VMCC's June prize draw. That £1 will also buy the winner a lot of history.
The genesis of the Model 50 can be found back in the 1930s when two new OHV machines were added to Norton's range, the Models 50 and 55. Both were 350 singles, a single port and a fashionable twin-port version.
These machines introduced what might be the defining characteristic of the Model 50, a trait that would stay with it in later incarnations.
It weighed much the same as the 500cc Model 18 – unsurprising, as the 350 shared the 500's open diamond frame and cycle parts – but the Model 50 had to make do with a 350 powerplant.
As a result the Model 50 was not the most speedy machine in the Norton range, although 70mph was theoretically in reach; not to be sniffed at in the 1930s.
Gradually developed during that decade, the Model 50 disappeared at the outbreak of the Second World War.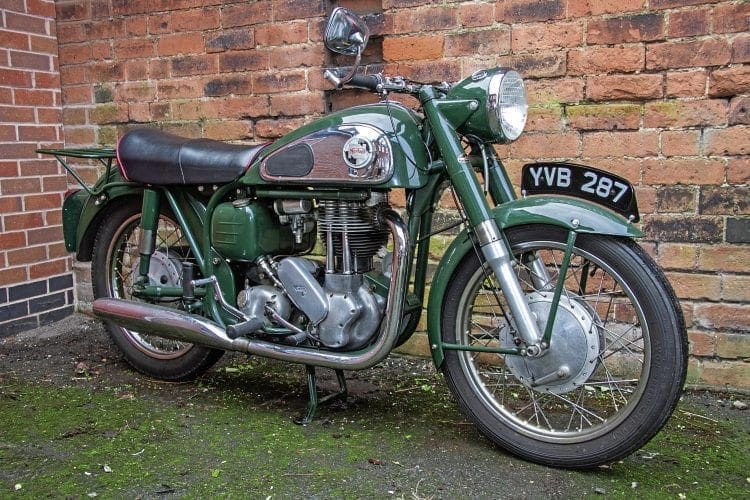 It reappeared in the latter part of 1955 by which time Norton had been acquired by AMC, which also manufactured AJS and Matchless machinery.
If the earlier Model 50 was simply a downsized Model 18, then the postwar reincarnation was almost an ES2 but with a 348cc engine in the 500's swinging arm frame.
The Model 50 weighed much the same as its bigger sibling at 382lb, but it produced some 20% less power than the ES2's 25hp.
Once again, this meant that the Model 50 was suitable for steady rather than exciting riding, despite Norton boasting of 'a sparkling performance combined with economical running… a most comfortable and responsive machine to ride under any conditions.
This is a big machine with a big performance… equally famous for its reliability and capacity for hard work.' It seems likely that owners were more impressed by the Model 50's economy than its outright performance.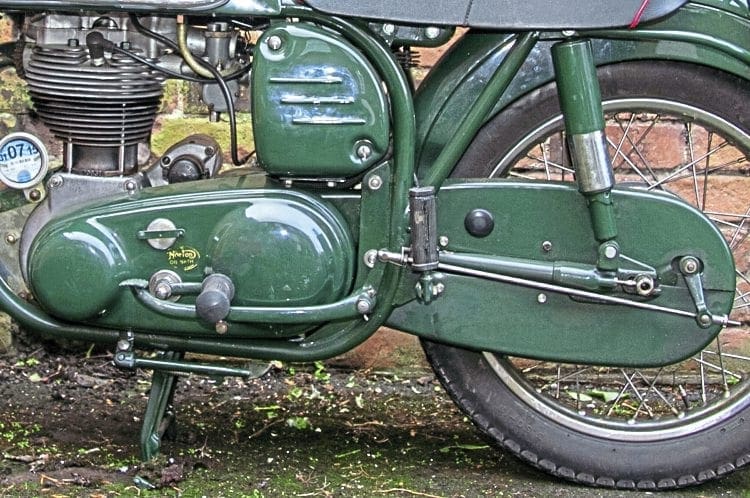 Straight handlebars could be specified at no extra cost. The rear chaincase was an optional extra, but a sidestand came included in the price of £252 – around £6 less than the ES2.
And the Model 50 did genuinely feel like a fully-equipped, well-specified full-size motorcycle, suitable for riders with a full-grown physique, unlike some lightweight 350s, which could be specified to a cheapskate price.
The year 1956 saw the introduction of the AMC gearbox, which was more cost-effective to produce than the earlier Norton unit, and which incorporated a revised clutch lifting mechanism that requires careful spring adjustment.
One of many modifications for 1957 was a new cylinder head, which finally incorporated a carburettor flange, something Norton had long resisted on its OHV engines.
The head also featured integral pushrod tubes, as well as more fins, while Girling shocks were fitted at the rear end.
The next major change came for 1959 when the Model 50 was given Norton's famous featherbed frame in its initial wideline form, together with short Roadholder forks up front.
This 350 may have not been the fastest machine on the road, but it could corner with the best of them!
At the same time, the Model 50 adopted Lucas 6V alternator electrics and coil ignition, replacing the old magneto set-up.
Gear ratios were tweaked for 1960, then the slimline featherbed replaced its predecessor in 1961, making this narrower Model 50 just about the easiest incarnation to handle.
It was a short swansong that lasted only two years until production of traditional Norton singles ceased in 1963. (The Model 50 Mk2 built in 1965 and 66 is really a Matchless wearing Norton badges).
So what will the lucky winner of the VMCC raffle take home in June after the prize draw?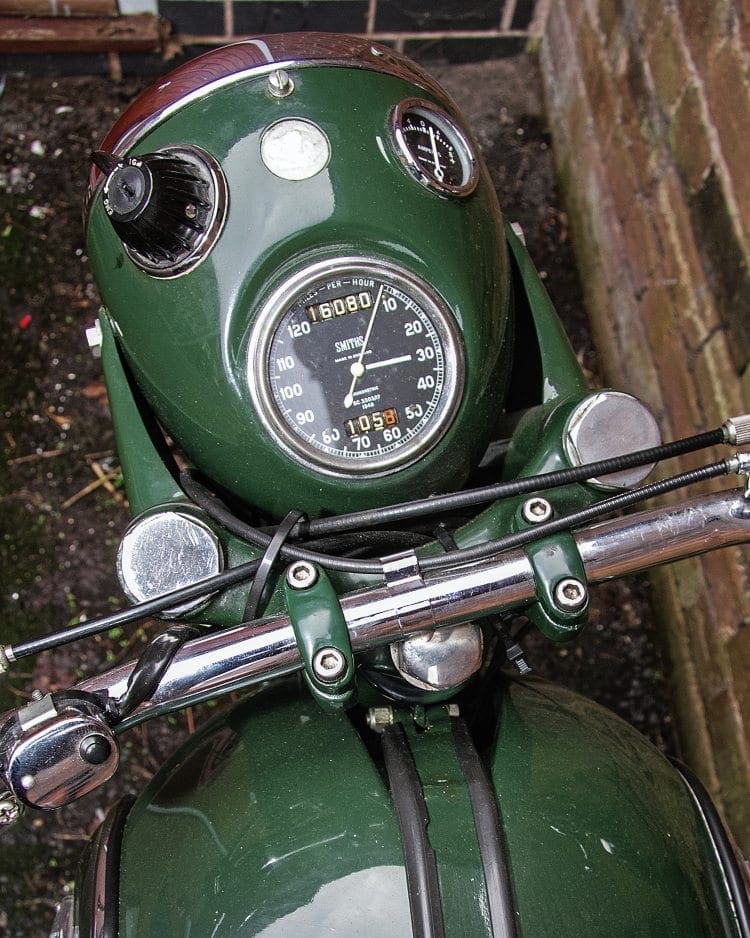 This is a 1960 wideline example, acquired at auction from its previous owner who had covered less than 1000 miles in the previous five years.
Superlative steering comes as part of the fabled featherbed package. Over the decades this has frequently encouraged past owners to dispose of the heavyweight touring equipment and, all too often, the 350 engine itself.
Remarkably, this Model 50 hasn't been transformed into a café racer and instead it retains even its drive chain enclosure, luggage rack and tyre pump.
The single cylinder engine utilises the dimensions of the original 1930s Model 50 of 71mm by 88mm, and runs 7.3:1 compression to give 20bhp.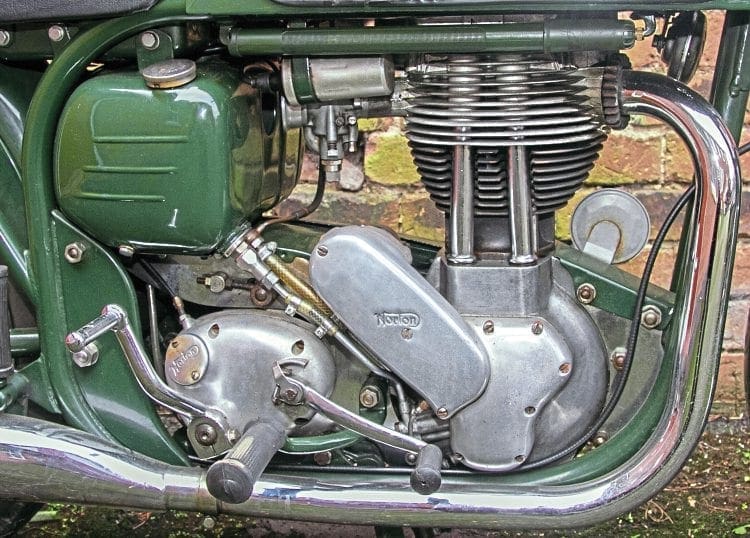 The 19in wheels incorporate Norton's excellent 8in brake at the front. Deemed capable of controlling the mighty output of the Dominator twins, it's easily up to retarding the 350 single's best efforts.
No Model 50 is likely to win any drag races, but that misses the point of the classic British single in its roadgoing guise.
This is not a machine for racing, rather it is a sensible gentleperson's tourer for enjoying along those winding B-roads of the great British outdoors.
VMCC clubman Steve Bullock took the prize bike out for an extended test over several days to gauge its performance. He found no major problems, although he did comment on the lack of intense acceleration.
For a 'full size' classic bike, the Model 50 rolls on and off its centrestand with no great difficulty. Starting is also not an issue, providing the single carb gets a good tickle when cold.
Gear changes were generally silent, although there could be a mild crunch into first, but false neutrals were there none.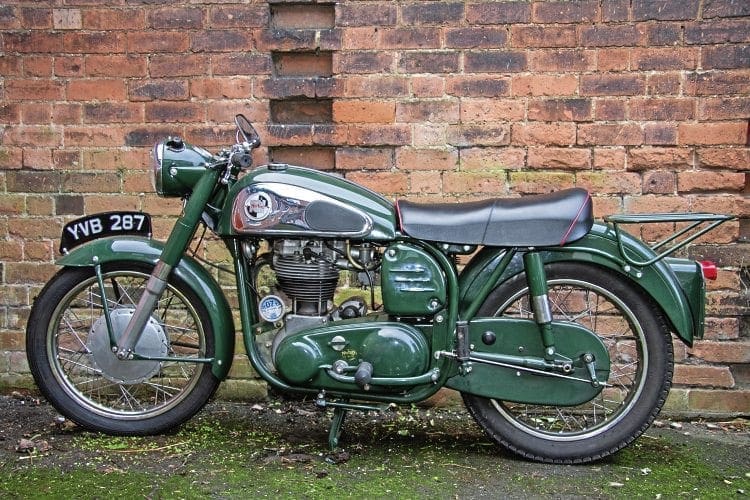 Once rolling, Steve reported smooth acceleration through the gears, and down-changes to tackle steep hills were straightforward.
On level ground, the Model 50 was happy to change into top gear at 25mph and, once there, cruising at 55 to 60mph was pleasant enough. Pushing any faster than that might be considered unkind to the 55-year-old engine.
The brakes certainly proved effective, did not shudder and were well adjusted, easily bringing the Model 50's 377lb to a timely halt.
The dual seat is very comfortable and the bike's pleasing exhaust note came in for some praise: not over-loud but characterful enough to attract attention wherever it went. 'Well sorted' was the overall verdict.
Let's hope the holder of the winning ticket can appreciate this Model 50 for its charming character. It would be a shame for this gentle old traveller to be transformed into yet another 21st century Triton…
PRICE GUIDE
£3000 to £5000
FAULTS & FOIBLES
If there actually was ever a fault-free old Brit banger, then the Model 50 is it. The engine is a charmer, the steering is sublime and the brakes are excellent. It's also comfortable. Faults? These are few and always down to poor maintenance. The pressed steel primary chaincase leaks badly if bodged. Running it dry can wreck the otherwise excellent clutch and devour primary chains. The centrestand feet are too close together and the sidestand lug can shear off too easily if used to kick-start the bike.
ALSO CONSIDER
Pre-featherbed Model 50 (not so hot handling but all of the charm and 30% less cost). Velocette MAC (similar kudos and cost). Ariel NH 350 (equally easy to live with and similar prices to non-featherbed 50s)
SPECIALISTS
Pushrod Performance
Norvil Motorcycle Co
Norvilmotorcycle.co.uk
OWNERS' CLUB
Norton Owners' Club:
nortonownersclub.org
MANUFACTURED: 1955 to 1963 ENGINE: Air-cooled OHV four-stroke single BORE / STROKE: 72 x 88mm CAPACITY: 348cc COMPRESSION: 7.3:1 CARB: Amal Monobloc 376 LUBRICATION: Dry sump GEARBOX: four-speed positive stop CLUTCH: Multi-plate ELECTRICS: Lucas 6V 60W alternator FRONT SUSPENSION: Roadholder telescopic forks REAR SUSPENSION: Swinging arm, twin Girling shocks FRONT BRAKE: 8in drum REAR BRAKE: 7in drum FRONT TYRE: 3.00 x 19 REAR TYRE: 3.50 x 18 DRY WEIGHT: 377lb (featherbed frame) WHEELBASE: 55.5in SEAT HEIGHT: 31in TOP SPEED: 72mph
Read more News and Features online at www.classicbikeguide.com and in the latest issue of Classic Bike Guide – on sale now!