Two Irish friends took on the best custom bike builders in the world and won with a café racer they built in a workshop at the bottom of the garden. And it isn't just for show…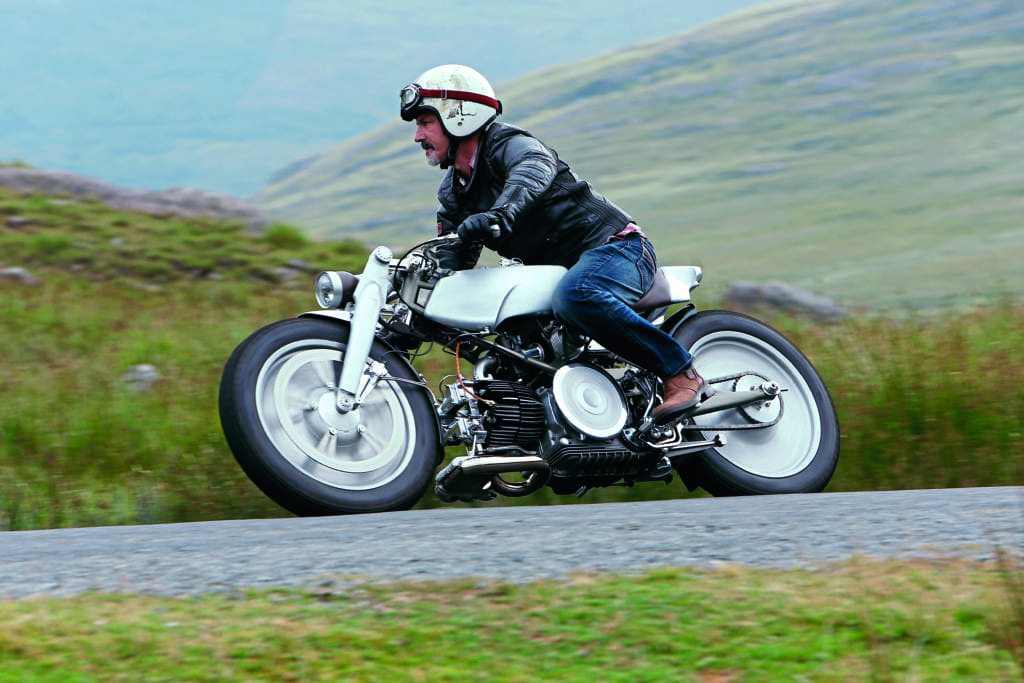 Don Cronin is on a mission. He's travelled more than 60 miles from his home near Kinsale, on Ireland's south coast, to Adrigole, a village on the Beara Peninsular. The 580cc flat single thumps out a deep baritone as he turns off the coast road and heads for the Healy Pass. This is one of the finest biking roads in Ireland, rising 334m as it twists and turns between two of the highest peaks in the Caha mountain range. If any road is going to prove that the Rondine was built to be ridden, then this is it.
With his friend Mick O'Shea, Don had won the 2013 AMD World Championship in Essen, Germany with the café racer-inspired motorcycle they spent two winters building in the workshop at the bottom of the garden. It was the first time that the prestigious custom bike building competition had been held outside the US, and the Irish pair had beaten nearly 600 entries from around Europe and as far afield as Russia, Argentina and America. Not only had they beaten them – but blown them into the weeds. They are too modest to mention it, but I'll tell you that they scored 728 points, with the nearest rival awarded a mere 432.
For more content, why don't you like our Facebook page here, or follow us on Instagram for a snippet of our striking pictures!
After they were crowned best custom bike builders in the world, studio pictures of the Rondine – Italian for Swallow – flew around the internet. Most people who saw them said that it looked stunning, but there were a few comments along the lines of "that's one way to ruin a good Guzzi", and "I bet it will never be ridden on the road". For a man who uses a 1978 T140 Bonnie as his daily ride, keeps a MkIII Guzzi Le Mans for longer trips, and loves hustling his 350cc Morini Sport along the back roads of Ireland, that was an insult. "Sure," says Don, "we built the Rondine to enter it in the World Championship, but we also built it to ride. It isn't going to look this pristine for much longer!"
Don wanted to use a Guzzi flat single as the heart of this bike as he wanted to make the chassis as low as possible. And he loves Italian machinery. "It would be criminal to break up a 1950s Falcone to use the engine, but between 1970 and about 1976 the Mandello factory built the Nuovo Falcone," explains Don, before adding: "They are as ugly as sin." Most of these were sold to the Italian army and traffic police, but there was also a civilian version. The engine carries the oil in a finned 3l sump instead of a separate oil tank, and the external flywheel is hidden behind an alloy cover. A unit-construction four-speed gearbox is all that is needed for a slow-revving, torquey engine that produced an honest 26hp at 4800rpm.
The Nuovo Falcone is massive, heavy and slow, and that's why they don't fetch much money. "I bought a scruffy 1971 donor bike for 1500 euros," says Don. "It was the cheapest way to get a Guzzi flat single, but it wasn't a great bike – overweight and underdamped, it felt like riding a pogo stick on a blancmange."
For more content, why don't you like our Facebook page here, or follow us on Instagram for a snippet of our striking pictures!
The plan was to hang the engine below the frame cradle, but the lack of bottom frame rails meant that the frame jig Don usually uses wasn't suitable. The solution was to make a steel table from 13mm steel plate and inscribe a centre line along its length. Everything would be built using this line as the reference. Then they made four mounting brackets and bolted them to the engine. After using a plumb line to position the engine along the centre line, they welded the brackets to the bench.
Don made the girder fork legs by modifying two left-side Harley V-Rod swingarms, with alloy fork links and a French-made Fournales oleo-pneumatic suspension unit that combines a high pressure air spring with hydraulic damping. Two modified V-Rod front wheels shod with 4.00 x 19in tyres were mounted along the centre line on two more pairs of brackets. He wanted the fork links to be tilted so that the fork ends were lower than the headstock ends. With that in mind Don measured the rake and trail of a number of motorcycles that he liked riding before deciding on 30° rake and 105mm trail. "I didn't want anything too radical," he explains. "I wanted a bike that would steer and handle okay." With the wheelbase set at 30mm longer than the Nuovo Falcone he welded the wheel brackets to the bench. Nothing was going to move now. "I started building the frame between the gaps – it was as easy as that," says Don, as if it is the sort of thing we can all do on a dark winter's evening.
"I drew the engine plates full size on stiff paper and gave the patterns to a friend in Cork," explains Don. "He scanned the drawings into a computer program and laser-cut the plates from steel plate." These plates were TIG welded to seamless cold drawn steel (CDS) tubing. "A number of years ago, I met a frame-builder at a show in England. Then in his eighties, he had 40 years' experience building Norton Featherbed-type frames. The quality of his gas welding was flawless. His advice was to keep it simple, both in terms of design and materials, and he said that CDS tubing is strong enough for most applications and that it is readily available."
The finished frame is tiny. Two long studs and nuts secure the frame to the top of the crankcase through the huge lugs that once carried the Dynastarter, with a third stud passing through the lower rear of the crankcase. Don would be kickstarting this motorcycle.
He also fabricated the swingarm from CDS tube. Each arm is made from a continuous length of tubing with a second tube, cut in half lengthways, welded on to act as a strengthening brace. "I did it that way to maintain the structural integrity from the wheel spindle through to the swingarm spindle," explains Don.
Want to read on, then subscribe to Classic Bike Guide, or purchase the June 2018 copy for the article here!
For more content, why don't you like our Facebook page here, or follow us on Instagram for a snippet of our striking pictures!

Enjoy more Classic Bike Guide reading in the monthly magazine.
Click here
to subscribe.