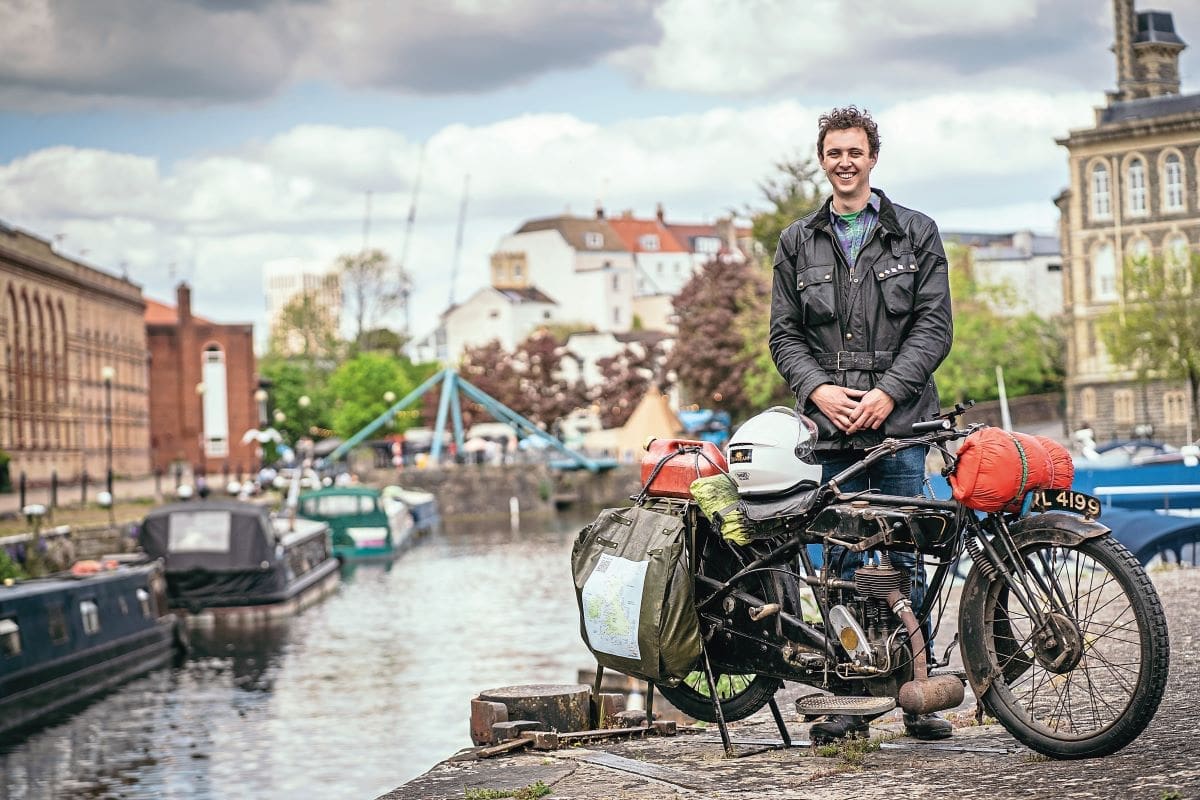 Meet Harry, on the road helping to save lives.
Words by Oli Hulme Photos by James Archibald (jamesarchibald.com)
What to take on a motorcycle tour? Something shiny and new, covered in panniers and fairings? A large-capacity classic? Well, how about covering 8000 miles and doing it on a 1920s flat tanker with a Soviet-era Czech Army surplus bag to carry your kit?
There's a reason for this apparent madness. Twenty-three-year-old Harry Bott is taking on one hell of a challenge, but he's doing it all for the worthiest of causes – raising money for the Royal National Lifeboat Institution (RNLI). And the bike was his great grandfather's, a 1926 Sunbeam that's four times as old as Harry is.
Harry is visiting all 238 RNLI stations in the UK and Ireland on his family's oily relic. The side valve Sunbeam has a top speed of just 45mph, a fuel tank which holds not much more than a gallon of fuel, and runs a total loss lubrication system.
Harry expects his epic coastal journey, plotted with the help of an RNLI tea towel, will take about four-and-a-half months.
"It's more or less a lawnmower engine, but it does its job, when it's working," he said. "Everyone's been really excited to see it. It's not every day you get to see old bikes like this out and about.
"It's a 1926 Sunbeam Model 1, with a 350cc side-valve engine with the fuel coming through the original Amac carburettor. It uses one of the many magnetos and one of the oil pumps they could get at the time stuck on there. My great grandfather, George Fox, bought it in about 1931. He used it as his commuter bike into the 1950s to his job as a shipping agent in Falmouth."
Fortunately, Harry's seafaring great granddad never required rescue by the RNLI during his career but his family, including Harry, are keen sailors and are comforted by the RNLI's reassuring presence along the nation's coast.
"My great uncle rode the machine regularly into the 1970s and then it was stripped for a restoration in around 1980," said Harry. Fortunately his great uncle labelled everything meticulously: "It was all there because it stayed in bits in a granite Cornish barn until 2018 when it was offered to my dad.
"We got the rolling chassis together in an afternoon and all the bits which were labelled and stuck in coffee tins were laid out on a shed door.
"The exhaust outlet of the barrel had a big chip out of it, the magneto needed rewinding, and the valves were knackered, but we were able to fit Ford Transit diesel valves, which should add to the longevity. I fitted new drive chains, relined the clutch, and the brake shoes were sent off for relining.
"It's still running the original big end piston and small end."
It's also still running on the original beaded edge rear tyre which was fitted when the bike went into storage.
On the road
It was decided that if the Sunbeam was going to make it round, some new rubber was needed – but things did not work according to plan.
Harry said: "We fitted modern versions of the 26-inch beaded edge tyres but the rear one quickly failed under all the weight of me and my luggage. The front one has been all right, but on the rear one I had a blow-out on the first day on Barnet High Street, which was fun to deal with, and the tyre split and beaded edge came away on the rear one as I was passing through Wareham, which was my 'Lawrence of Arabia' moment."
Fortunately, Harry wasn't travelling quite as fast as T E Lawrence when the tyre blew at 25mph and he managed to stay upright. The new tyre split along the edge, having worn itself through in less than 500 miles, so an older, tougher replacement was sourced to take Harry onwards on his journey.
It's currently running with tough Chinese mountain bike inner tubes made of latex rather than rubber; they are much thicker and stronger and don't leak air quite as readily.
The engine 'nipped up' in the first week, which Harry described as a 'soft seizure', so the barrel came off, new rings were made up, and the barrel was rehoned, so once fitted he was on his way again. "It's because the pistons are made of soft aluminium alloy, which are prone to swelling up and seizing," he explained. And the original petrol tap leaks profusely despite Harry's best efforts, so that may be replaced by a 'modern' lever-operated item.
What kind of fuel does a 1926 Sunbeam run on? "Premium unleaded most of the time, but I did put in some of the normal stuff and it ran better than ever. It doesn't sit for very long in any case. There have been some suggestions I should sometimes give it a squirt of lawnmower additive, but I haven't bothered so far."
A one-gallon plastic petrol can is strapped to the carrier and Harry fills the tank up whenever he can. Petrol is only one of the issues when running a vintage bike on all roads, in all weathers, for miles at a time: "I will have to change the rear wheel bearings soon because of the condition of the roads, especially around the West Country where the speed stripes make things very bouncy."
Harry's posterior needed looking after, too! He fitted new springs to the saddle, which is not original and comes from one of his dad's stock of old bikes. But after a 70-mile trip to Reading, the new springs were 'hanging off' so a fresh, stronger set was sourced. "It's getting comfortable to sit in, now I'm used to it," Harry added.
The Sunbeam runs rich all the time, so he is reducing the main jet size with smaller and smaller jets until it comes right. There is a mechanical oil pump, and Harry can pump extra oil into the engine when he needs it through a hand oil pump. The bike runs a total loss system that adds a drip every three seconds, and he has to give it a pump from the hand plunger if he's been riding at the bike's 45mph top speed for a while, going uphill, or otherwise putting the engine under strain.
"At 500 miles you have to give it a pump to the gearbox and at 1000 miles you are supposed to strip and rebuild the whole thing. But I think I'll just leave it for now and hope for the best," Harry said.
"The total loss oiling sees the bike burning through a litre every 150 miles, so I have to carry that, and it is over-oiling a bit. But I can use pretty much any oil as its going through it so quickly. I put Straight 40 Weight in if I can get it, but 20-50 multigrade is fine.
"The oil pump is made out of an awful casting material which is porous (possibly Mazak? – Matt). A chap in Weston-super-Mare helped me by doing what he could and that helped reduce the leaks."
The points have stuck open and the HT lead brush got fouled. He's fitted a new, slightly hotter plug. A bicycle light illuminates the road ahead. The kickstarter fell off as he was negotiating Exmoor when he ran out of fuel because of the leaky fuel tap and a stuck float valve. He cleaned out the carb by the side of the road, and as he was trying to restart it the kicker detached itself.
"A chap at a garage helped me sort it out. It looked like it had been repaired before, and they gave me a free tank of petrol too, which was very kind."
It does around 40-60mpg, and the tank holds about a gallon, meaning the wild and empty spaces of the Scottish coast will need to be carefully planned. Harry carries a few tools, but the bike is so basic that he doesn't need many to keep the Sunbeam going: "It's just as well, as the Sunbeam spares department is sadly shut…"
The inspiration
As Harry said, he and his family are keen sailors and are comforted by the RNLI's reassuring presence along the nation's coast. "It's a great charity and has always been very present in my life as I sail," he said, "so it's nice to be able to give back."
A Christmas gift of an RNLI tea towel showing the locations of all the lifeboat stations in Britain and Ireland inspired his trek.
Harry started his journey at Teddington RNLI on the Thames and is aiming to raise £5000 for the lifesaving charity. And by the time you read this, he should have crossed the Irish Sea and will have completed his circumnavigation of Ireland. As a matter of interest, the first RNLI lifeboat station in Ireland was established in Arklow, Co Wicklow, in 1826. Following that, he will be heading for Scotland.
Harry is a mechanical engineering graduate from Oxford Brookes University, but only passed his motorcycle test in March.
However, many years of experience gained while fiddling with his dad's motorcycles and riding small bikes off road has given him as much training as he thought needed for this great journey.
But to help even further, he trained by riding a Puch Maxi moped from Stevenage, in Hertfordshire, to Cornwall – a 300-mile trip that took three days. And he paid for the trip by delivering pizzas – though not on the Sunbeam…
Classic Bike Guide hopes to follow Harry's journey when it's possible to get an update from him and if, hopefully, he makes it to the east coast, Matt the ed has promised him a slap-up dinner and maybe even an ice cream in Cromer!
Judging by Harry's determination, he and his Sunbeam will make it, so if you feel like contributing to the excellent cause, you can donate online at rnli.org
RNLI
The RNLI is the charity that saves lives at sea. Since the organisation was founded in 1824, its lifeboat crews and lifeguards have saved over 142,700 lives.
Its volunteer lifeboat crews provide a 24-hour search-and-rescue service from its 238 lifeboat stations around the coasts of the United Kingdom and Republic of Ireland and its seasonal lifeguards look after people on busy beaches in the summer months.
The depends on generous donations from the public and gifts left in wills to maintain its rescue service as it is independent of Coastguard and government.
If you would like to donate to the RNLI directly, as well as supporting Harry Bott in his fundraising ride, please visit GoDonate.org/RNLI