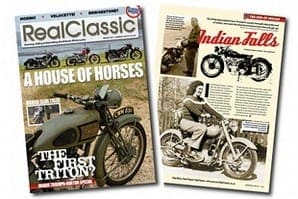 • Editor's intro
Gary Pinchin sets the scene
• Archive
Miniatures tested by the A.C.U
LIVE2RIDE
• Bonneville bound
Brough takes two bikes in search of speed records
• Krazy cafe racer
Rayborn tribute bike with a touch of Evel
• Festival of 1000 Bikes
Pictorial review of the big one at Mallory
• Donington classics
Heritage and legends at the Park
• The classic month ahead
Ace Cafe Reunion pus other great rideouts
• Letters
Great engines and real classics
• Viewpoint
Reaction and opinion from you
OPINION
• Paul D'Orleans
• Sarah Bradley
• George Cohen
• Frank Westworth
FEATURES
• Rocket Gold DStar in triple time
A stunning A10-framed, pre-unit T160!
• 800 Interceptor
Rediscovering a lost prototype Series III
• McEvoy V-twins
The man who dared to take on Brough
• VMCC Founders day
Celebrating specials at Stanford Hall
• Elmore Triumph replica
Ace Classics recreates '66 Daytona winner
• Defining bikes of the classic TT
Riding the XR69 Suzuki and Paton 500
RIDE2LIVE
• Scriminger BMW
Artists of the Boxer twin
• Epson Salt
The Baron's Bonneville project, part 2
• Club guide
The MZ Riders Club
• Dealer special
Royal Enfield Bullet cafe racer
• Maintenance guide
Servicing a Norton 99
Plus all the usual regulars. On sale now!
? Subscribe to Classic Bike Guide
? Classic Bike Guide – from JAP to Japanese, the practical guide to classic motorcycling

Enjoy more Classic Bike Guide reading in the monthly magazine.
Click here
to subscribe.