Triumph TR6! Vincent V-Twin! Honda CB650! The September edition of Classic Bike Guide magazine has everything you need to buy, sell, ride and restore your classic bike!
As ever, this month's issue of Classic Bike Guide magazine is packed with rebuild guides, wonders in the workshop, elegant British twins and new retro bikes.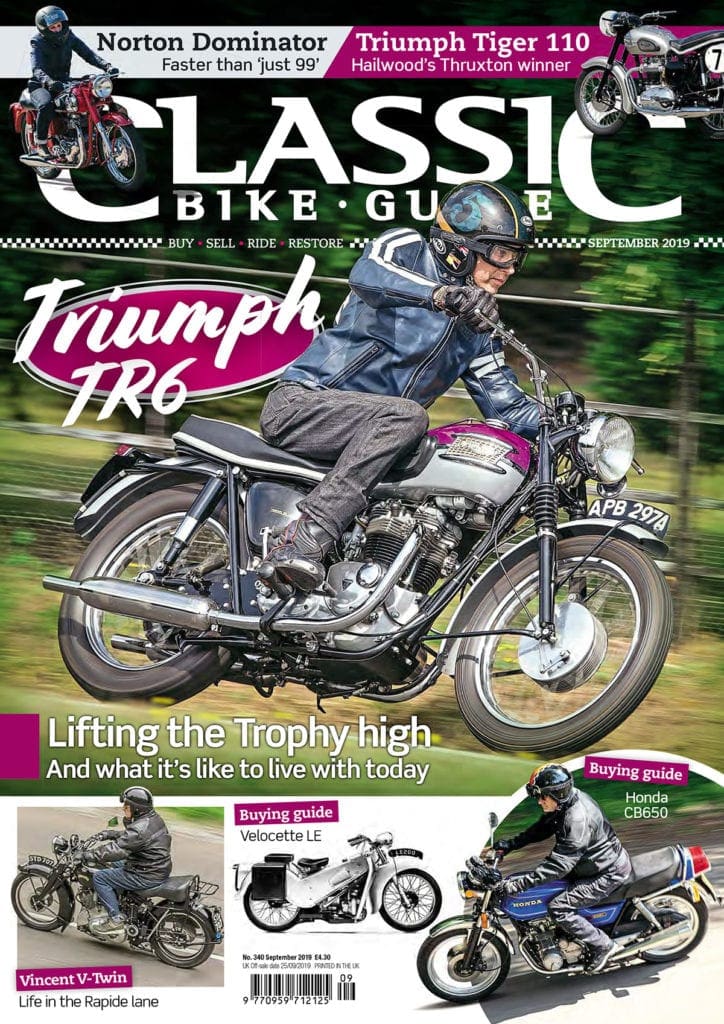 If you'd like to read September's Classic Bike Guide, then cut to the chase and download the digital version, order the print magazine, or better yet save those pennies and subscribe to Classic Bike Guide. Here's what to expect this month…
TRIUMPH TR6 | The Bonneville's better mannered sibling is a stunner to ride and live with.
HONDA CB650 | By now, Honda had got quite good at building big bikes.
VELOCETTE LE | Inventive, practical and for the time – the LE was a great answer to the world's problems.
NORTON DOMINATOR | We look at what the press thought when the Dominator was new and what we think now.
PLUS: Living with a Trophy, from the archive poster, Project Norton and we look at some great bike products!
Classic Bike Guide magazine is on sale in UK newsagents and supermarkets, and you can buy the current issue in digital and paper formats here!
You can also buy stacks of back issues of CBG, but it's cheaper to subscribe. Subscribers save money, get their copies delivered to their doorstep and never miss an issue.
A word from the editor
Firstly, welcome to this month's Classic Bike Guide. With shows every weekend and weather tempting us all out, what more could we wish for? Well, more time would be good!
The Beeza has been ever-faithful, so I treated it to a new rear tyre after the mudguard slipped down and 'remodelled' the old one with the numberplate bolt. And though summer, I must try to improve the headlight as I'm having to use my shooting torch to get home once the sun has gone to bed…
For now, the B31 has been relegated to the back burner as I've been lucky enough to have a Triumph Trophy to use. What a bike! One of the first unit-construction 650s, it's a beautiful bike that once we'd gone through it all (it had been standing for some years with petrol in it) and serviced it, is giving me a new experience, having been mainly a single cylinder rider. It feels like a new bike – keeps up with modern traffic, behaves itself and rides beautifully – what must it have been like when it was new? I wish I could afford one when it goes back.
A friend, Maria, asked for help getting her 1979 Benelli 125 Enduro going, after it's been languishing in a shed for too many years. Little Benellis are tricky to get information about but this one is in surprisingly original condition with just 1400 miles on the clock and what looks like the original Pirellis fitted; so the tank, tap and carb need cleaning and the flywheel removing to sort the points – it's got no spark.
But once going, this lightweight off-roader should be an unusual sight on the local trails, or maybe even the odd competition. And though difficult, getting information about unusual bikes is just another part of keeping these old bikes alive: was the engine used in something else? Are the brakes the same as another model?
And talking about competition, Neville, one of my mentors in all things old and mechanical, has finished building his interpretation of a Gold Star scrambler. After getting in a tiz with his Amal carb, all problems disappeared with fitting a Mikuni. Look out for this in a future issue, on a local trail or even, if he gets his own way, a dirt track event!
Boy is getting into it as well. Though just four years old, his cycling is coming on, so I popped up to Old Empire Motorcycles who not only make some superb Hinkley Triumph specials, but also sell electric trials bikes. Okay, so they may not be classic, but if these silent machines help him learn the skills needed to control a twin-shock, then world – watch out – there may be another two-wheel fanatic on the way.
But all this has brought reality to a head, as Project Norton has had to take a little break. As any one of you that has restored a bike knows, sometimes you just can't fit it all in. I've managed to rub down the oil tank and battery box, but you don't want to read about that. The cam followers are back, so I'll just have to find some extra time next month to rebuild the bottom end. Why does everything take so long?
Send in some photos of shows and meets you're attending to editor@classicbikeguide.com; we'd love to see them. Be good, Matt Hull.

Enjoy more Classic Bike Guide reading in the monthly magazine.
Click here
to subscribe.