I've just rattled back from a show. Any excuse to slope out of the office while the magazine's in the final few days of production. Rode up to Shropshire from Cornwall on the Saturday. It rained a lot. I can reveal that my new Bering jacket and less new Held overpants do not leak. Yet. I was due to borrow a bike on the way – it was lashing down and dark as night, so no joy there. Coffee and laughter instead. Can't be beat.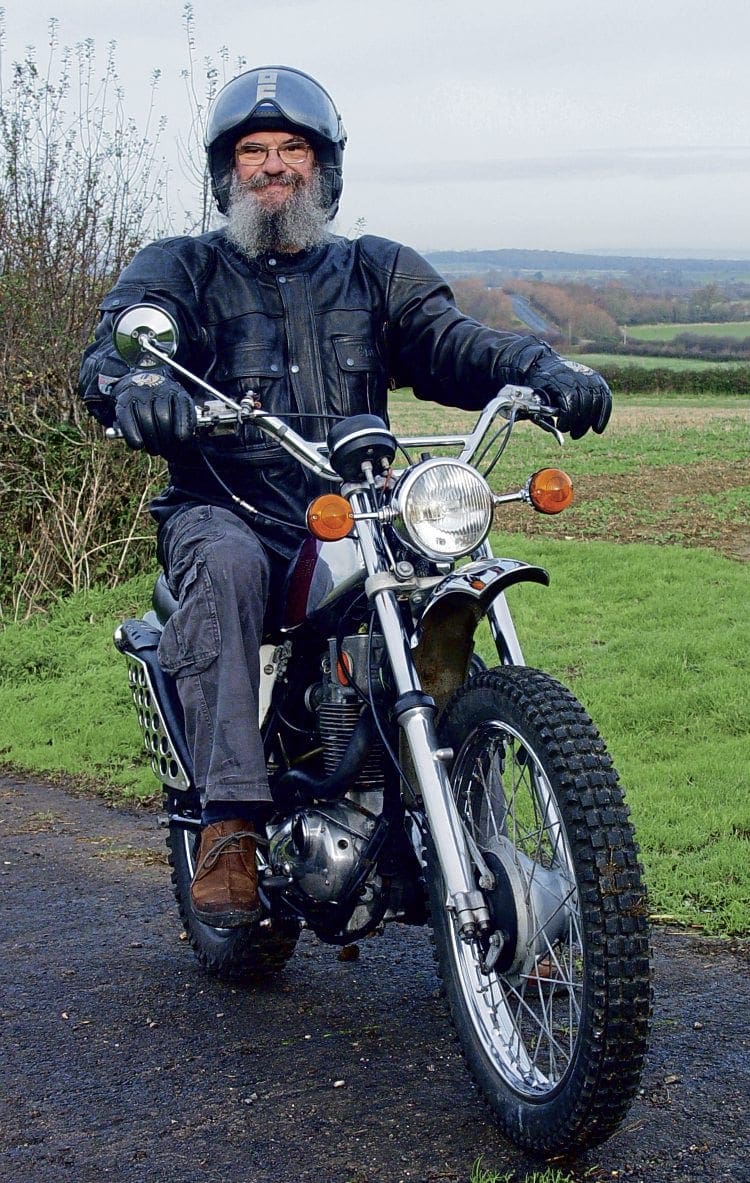 Next, dinner with a friend, a one-time MD of Norton Motors, no less. It was hysterical, as our encounters always are. He paid. Life could hardly be better.
Show Sunday found sunshine, busy roads, mostly because the handsome nearby town of Ludlow was hosting a food festival… my, my, the temptation. But I was booked for the show, so off over the hills and… armed police. Lots of them. Road closures and much mayhem. Interesting. As the roads were closed I rode down the pavement. No one, police or otherwise, shot me.
The show was as entertaining as shows can be. Loads of friends there, ancient and modern, some remarkable bikes, some very shiny mundane bikes and some scruffy gems too – lots there to interest anyone with an interest in old bikes. Which would be all of us, I hope.
The Borders Classic Bike Show, to give it its complete handle, is organised and sustained by Jim Reynolds, who co-founded this very magazine along with… me. Jim and I have worked together for thousands of years, we worked hard, cursed and laughed together, enjoyed the ups, endured the downs, and have remained stalwart friends. His show is always worth my taking the time out, having a 500 mile ride (there and back – my navigation is not yet that bad) and having a couple of Travelodge nights, which may be like Arabian nights but quieter.
The local show is there to raise money for the local school, which hosts it and us every year. Jim, all the organisers and all the school staff are volunteers, giving up their time and their money to raise some more money for a very good cause. So far, so good? Okay; get this. A hand-made cheese roll, fresh that day and made by one of the volunteers, cost £2.50. I had one for lunch. It was great. Whatever profit there is in £2.50 went to the school funds, so hurrah for that and an extra rosy glow for the happy eater.
Imagine my disappointment to read online comments from another showgoer who refused to pay that much for a cheese roll. It's not just a cheese roll. It's part of the fundraising. If the event doesn't raise funds for its hosts then… no more events. No doubt the same individuals will be at the front of the queue complaining – as I hear all the time – that there are no local shows any more. Why don't people put on local shows like they used to? And so on. Is it difficult to make the connection?
Great show, Jim. Thanks. Hope to see you next year.
That's it. See you out there.
Frank Westworth [email protected]