Form and function, family fun for… a solo rider. Triumph moves both forwards and backwards…
WORDS BY ALAN CATHCART PHOTOS BY ALESSIO BARBANTI, PAUL BARSHON, FRIEDEMANN KIRN AND MATTEO CAVADINI
Triumph's all-new Bonneville Bobber is a stylistic and dynamic tour de force from a company that makes bikes that are quite unlike anything else in the marketplace, especially those powered by three-cylinder engines.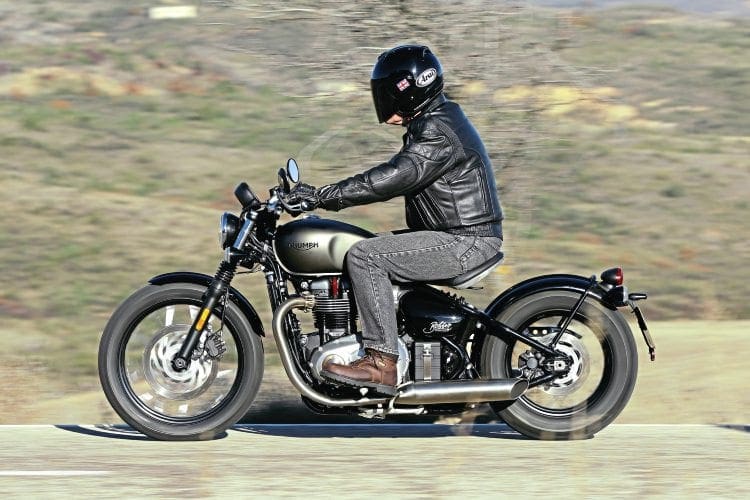 But the Bobber isn't another triple – instead, it's the latest member of the British manufacturer's massively expanded, thoroughly re-engineered, born-again-one-more-time Bonneville parallel-twin range. It's a modern British take on a Yankee-style hot rod that's cool-looking, capable and competent, as the chance to be one of the first group of journalists to ride it through the streets of Madrid and out into the surrounding Spanish hills on a sunny winter day's press launch, adequately proved.
For those not au fait with this iconic piece of
two-wheeled Americana, the Bobber was the forerunner of today's Custom bikes, initially concocted in the late Forties and early Fifties by GIs returning home from war. To do so, they invariably used a Harley-Davidson or Indian as the basis – but also vintage-era Triumph twins of the Marlon Brando Wild One pre-Bonneville generation. As more and more war veterans were demobbed, the massive shortage of civilian machines ramped up prices, leading them to acquire now-unwanted military dispatch bikes that they then 'bobbed' by cutting back the rear fender, aka the mudguard – hence the term 'bobtail' – as well as stripping off other unwanted parts to make the result as light as possible for street racing.
Going from a dead stop to flat out as fast as possible was the bobber's mantra, as practiced in the illegal street drags staged throughout the USA back then. There were plenty of uncompleted freeways comprising Eisenhower's fledgling Interstate Highway System on which you could drag race pretty safely – often for big money in side bets – before the freeways got completed and such racing became commercialised, after they built special drag strips to take it off the streets. So a Bobber represented a minimalist approach to bike building that was made for go, not show, hence anything that didn't constitute a necessity was deleted. Kind of like on the latest variant of the 10-strong Triumph Bonneville family…
Read more in the April issue of CBG – on sale now!
Article continues below...
Advert
---
Advert

Enjoy more Classic Bike Guide reading in the monthly magazine. Click here to subscribe.
---