Personal choice is a many splendoured thing. Few chose the Sachs life…
WORDS & PHOTOS by Grant Ford
IT'S A 'MARMITE BIKE' and opinions vary, love it or hate it. When I first spied the ugly nose cone protruding from a crate I thought, that's got Sachs appeal…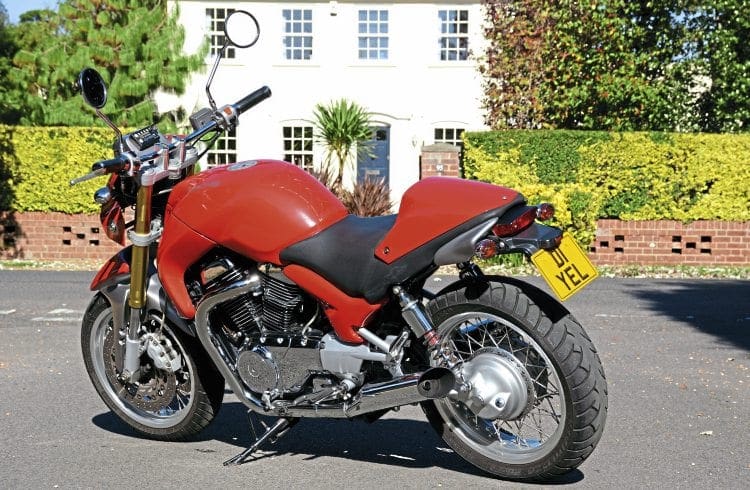 One of the founding fathers of two-wheeled transportation and created in 1895, Fichtel & Sachs produced their first motorcycle in 1904. Ernst Sachs always enjoyed a passion for two wheels, especially within the cycle racing fraternity. He was an accomplished engineer who was granted the patent for the Torpedo freewheeling bicycle hub in 1894, just prior to going into partnership with Karl Fichtel. The company continued with ball bearing manufacture before moving on to install small capacity engines into modified bicycle frames.
After Fichtel died in 1911, Sachs took over the remaining shares before he too passed away in 1932, leaving his son Willy to continue the business. Willy fell in with the Nazi party and it is sometimes claimed that every German tank was supplied with Sachs ball bearings and clutches. Post war, Willy was interned by the Americans and upon release committed suicide. The remainder of the Sachs empire had Willy's son Gunter Sachs at the helm, but he preferred the playboy lifestyle and after the death of his first wife, he went on to marry actress Bridget Bardot in 1966, followed by Mirja Larsson, a Swedish model in 1969.
During the Sixties the company took control of the popular DKW brand, producers of the RT125; the motor which formed the basis for BSA's Bantam and got Suzuki moving. The Wankel-powered Hercules W2000 was one of Sachs' achievements, purchasing the motorcycle manufacturer in the late Sixties just prior to Gunter selling his remaining shares in the company. He would follow his father in a tragic way, also committing suicide in 2003.
German company Mannesman bought Sachs in 1987 along with suspension supplier Boge and the name Sachs continues today supplying OE clutches and suspension parts to many manufacturers around the world.
Article continues below...
Advert
Was the turbulent but brilliant engineering history of Sachs the reason I purchased a B805? No. My biking history resembles most folk; SS50 Honda followed by the two-stroke terrors of the RD and KH, 250s mostly, then on to a CBR600. As I got older and the bank balance looked healthier I launched into the Superbike brigade, including several offerings from the GSX-R range, the ultimate being the 1100R, the last of the oil-cooled beasts. This – along with the Sachs – remains one of the few machines I haven't watched sliding along the road without me still attached to the seat.
Read more in the March issue of CBG – out now!
---
Advert

Enjoy more Classic Bike Guide reading in the monthly magazine. Click here to subscribe.
---