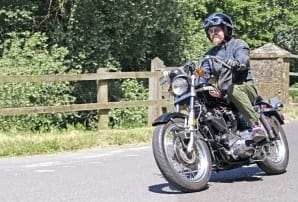 It's the late summer of 1974 and I'm working as a staff writer on the UK's number one motorcycle magazine – Bike. Life, without any shadow of a doubt, is peachy.
No matter that I'm living in Highbury, North London, and commuting on a more or less daily basis up the old A1 to the magazine's offices in Peterborough.
I'm riding bikes for a living and that's all that matters.
Anyhow, somebody has to put in the road miles – did you really think we just took them for a quick spin around the car park?
More was yet to come.
Article continues below...
Advert
One Friday afternoon, after our traditional journo's lunch in the pub across the road (magazine offices always had a pub across the road back then), the editor, Mike Nicks, informed me that I had been chosen to collect next week's test bike while I was down in the Smoke, washing and ironing and catching-up on a fast deteriorating social life.
I would have laid money on it being a Puch Maxi or some CZ or other but no, surprise, surprise, the test bike was a Harley-Davidson XLH Sportster. Zowee!
Read more in September's issue of CBG

Article continues below...
Advert

Enjoy more Classic Bike Guide reading in the monthly magazine.
Click here
to subscribe.