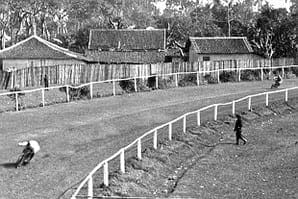 ­British motorcycle racing success on track and road in the Dutch East Indies – a country now known as Indonesia – was reported in The Motor Cycle on Thursday, December 20, 1923.
There was no substance to the text – just a selection of images with short captions. Pic 2 (shown below left) was taken at the conclusion of an arduous 800 mile round-the-coast ride in which a racer called De Raadt and another in a Sunbeam-powered sidecar outfit proved that a modern single-cylinder motorcycle was capable to pathfinding work in the jungle.
The remainder were related to dirt track racing. The surprise perhaps is that it shows dirt track racing wasn't just the preserve of the English, Americans or Australians.
There's evidence that racing on oval dirt tracks in America and Australia was held before the First World War, but it wasn't until the 1920s that the sport of dirt track or speedway – that is, the art of 'broadsiding' – became more common place.
The first British speedway meeting is said to have happened at High Beech, April 9, 1928, although there are some claims of meetings in Surrey and Lancashire the previous year. The Australians however lay claim to have run meetings at Maitland in New South Wales in 1923. And that a gentlemen by the name of Johnnie Hoskins invented the sport. Hoskins eventually came to England in 1928 and helped shape the sport here, remaining a top promoter until the 1970s, founding the Canterbury Crusaders in 1968.
In the States, board track racing started in 1910 at the Los Angeles Motordrome in Playa del Rey, California. It wasn't until 1932 that the American Motorcyclists Association sanctioned Class A Dirt Track allowing manufacturers to enter prototype machinery but it wasn't until 1937 that Class C for street-legal motorcycles began.
But here, in 1923, was dirt track racing in the Dutch East Indies – at the same time the sport of speedway was apparently being invented in Australia.